SakerPride - "Telling the Saker Story & MORE"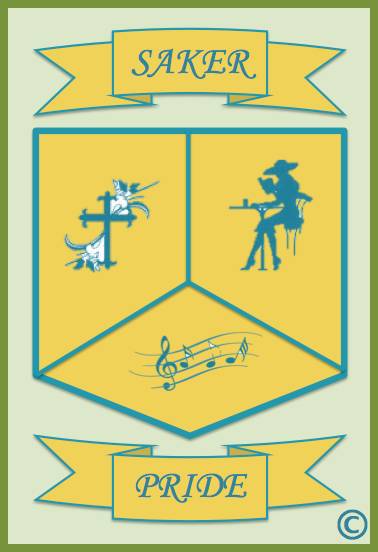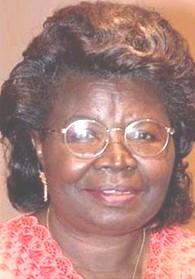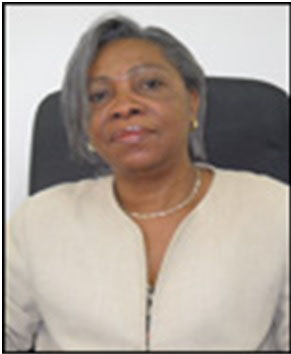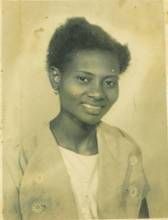 JUSTICE ROSE NGWARI FOMUNDAM MBAH ACHA HONORABLE MINISTER DELEGATE AT THE PRESIDENCY OF THE REPUBLIC OF CAMEROON IN CHARGE OF SUPREME STATE AUDIT (STUDENT #813; FOOD PREFECT; PLUCKY CLASS OF 1977) FIRST SAKERETTE TO BE APPOINTED CABINET MINISTER! Ms Benjamina A.Mbah-Acha (Class of 2011) MAJOR VIVIEN FONJONG ALLO RN, BBA, BSN, MBA, DHA. U.S. Army Nurse Corp. PLEASE CLICK ON THIS IMAGE TO VIEW A FEW PICTURES OF THE PROMOTION/PINNING CEREMONY
8 Ms Igxtelle A. Mbah-Acha (Class of 2004) Décrèt n°2015434 du 2 octobre 2015 portant réaménagement du gouvernement ... Sont à compter de la date de signature du présent décret, nommés aux postes ministériels ci-après : ... Ministre Délégué à la présidence de la République, Chargé du Contrôle supérieur de l'Etat Mme Mbah Acha née Fomundam Rose 9
10
Those who are privileged to know CLASS OF 1983's STUDENT #1330 well, fondly call her by her middle name, "OYERE", and readily describe her as DYNAMIC, THOROUGH, EFFICIENT, DEDICATED & COMMITTED. Interestingly - and amazingly too, these epithets hold true for not just one, but the MULTIPLE facets of her life, because she is just as committed a WIFE, MOTHER & SAKERETTE as she is a DRIVEN, FOCUSED, INNOVATIVE and BRILLIANT, REAL ESTATE BROKER & ENTREPRENEUR!
Born as one of 9 girls, Esther who was 7th in line attended Primary School in two separate localities in the South West Province due to the fact that her father, a PAMOL employee, got transferred. She started off at Government School Ekondo Titi when her father was a PAMOL Manager in Lobe up to class 4 and then went on to Government Primary School, Esuke in the Tiko area when they moved to the PAMOL rubber plantation in the Bwinga area. Following in the footsteps of 2 of her sisters (Emilia and Clara) before her, she attended Saker Baptist College, graduating in 1983, and then attended High School first in CCAST Bambili, and then in CCAS Kumba.
Esther migrated to the United States of America in 1987 to further her education. Guided by her two siblings residing in the Washington D.C. metropolitan area, she immediately enrolled into the pre-Pharmacy program at Howard University. With hard work, determination and support from her sisters, she graduated from Howard University School of Pharmacy in May 1992, and took a full time position with Kaiser Permanente in Kensington, Maryland. In December 1993, she got married to Dr. Augustine Ayuk and relocated to Georgia in 1995 after the birth of their first son, Nyenty.
It was during this six months family medical leave of absence that she started exploring real estate even though not from a business perspective. She researched homeownership, its pros and cons, explored renting versus owning, as well as drove around the various neighborhoods in the metro Atlanta Area. Driven by her inquisitiveness, Esther attended real estate classes for first time buyers and even dared into classes for real estate investors.
Once her leave of absence was over, she was not ecstatic to go back to work. She came to the conclusion that the practice of Pharmacy the way she knew it after working for an HMO, long term care and an occasional retail stunt was too "routine for her brain." She acknowledges that though the pharmacy salary was impressive, the job satisfaction she had envisaged was missing. At this juncture she started contemplating other options including going back to school and enrolling in certificate classes in real estate.
In 1997, she decided to enroll at Emory University's Rollins School of Public Health. She felt a degree in epidemiology would complement her pharmacy career. In July 1998, the family was blessed with the arrival of daughter Ebangha Bessem, and in December 1999, Esther graduated with a Master's degree in Epidemiology . Ironically, all the job opportunities which came up at the time were in the North East, and relocating at this point was not an option because of her husband's career.
Faced with this dilemma, Esther decided to continue her career as a long term care pharmacist at PharMerica. While working at PharMerica, she decided to venture into real estate as an investor. In October 2001, she decided to get licensed as a real estate agent, still with no intention of going main stream. In December 2001, she closed her first transaction, the sale of a home to her sister Margaret and her husband who had recently relocated to Atlanta from Ohio. Without giving it much thought, this action officially put her on the path of a new career in the most unlikely field, given her educational background.
In 2002, Esther was able to close seven transactions while holding a full time Pharmacist job . Asked what interested her the most in her new found career, Esther's response was that "she really enjoyed the interaction with her clients, the time spent in identifying the right property, and best of all the joy at the closing table when clients sign documents to officially become home owners." Between 2003 and 2004, Esther averaged 18 transactions per year, while working full time as a pharmacist. Despite these achievements, the thought of dropping a pharmacy career to pursue a career in real estate remained murky.
In 2005, Esther decided to go part time as a pharmacist in order to devote more time to her real estate business. She left ACE Brokers, a small real estate company and joined an established real estate firm, Century 21 Intown Atlanta. She stayed at Century 21 Intown Atlanta till the formation of Bess Realty Professionals in December 2007.
Esther launched Bess Realty Professionals at the time when the US housing market was at the brink of collapse. She admits her timing was horrible! She had just signed a five years lease for a store front retail space and was facing a very depressed industry. Meanwhile, her pharmacy hours had been scaled back to one day per week. More determined than ever, Esther decided that her full presence was needed at Bess Realty to weather the storm and sustain her dream and investment. In 2009, Esther completely stopped working at the Pharmacy and set herself on a trajectory not only to keep her doors open but also run a successful business. She looked into the Atlanta market in particular, as well as nationally what other agents and real estate brokers were doing to stay alive in the wake of the real estate market crash. She signed up for extensive coaching and mentorship programs through the famous real estate trainer Craig Proctor and explored the default servicing sector of the industry. Through hard work and resilience, the Bess Realty sign still hangs over Suite 128 at 1400 Veterans Memorial Highway five years after it first open its doors. Esther Ayuk owns and manages this boutique brokerage – Bess Consulting and Real Estate Services, doing business as Bess Realty Professionals. The primary goal of Bess Realty is to provide personalized services and client care in the sale, purchase, leasing as well as managing both residential and commercial real estate. Investors constitute a major segment of her business and she handles all facets of the portfolio for her respective clients.
Esther is very passionate about what she does and will usually go an extra mile in helping her local US clients as well as her international clients locate the ideal property for personal use or as an investment property. She has the patience and will work relentlessly with her clients even if the process takes year. When asked how she mastered this niche, her response is that as a general rule selling is hard work, but in real estate the challenge is even greater because repeat customers are few and far in between. Homes are not like electronics that could break down in a year or have new models come out every so often, and you can only sell a limited number of homes to any individual or family. She states that in her business, she values relationships which are the 'bread and butter' of the business, and to that she gives the utmost attention. Most often, she tells friends in conversation that contrary to popular believe, the real estate agent or broker who thinks they are in the business of selling houses got it all wrong because to be a successful agent, you have to constantly remind yourself that you are in "The People Business." Knowing your market and product are obviously key essential elements to running a successful real estate business. Besides real estate, Esther is very involved in her local community and always willing to participate and assist when called upon. She founder and president of the American Cameroonian International Chamber of Commerce in the state of Georgia, an active member of her alumna groups, women groups, and participates in several American as well as African business roundtables within metro Atlanta, nationally as well as internationally. Her take home message is that when you discover you have a passion for anything, give it your best and if done well enough will likely become a source of revenue in the process. A great career is one which you cannot wait to wake up the next morning to get back to. "If you think you can do something, that's confidence. If you can do it, that's competence. Both are needed for success".
N.B. In January of this year, (2013), she granted DUNIA, (a Real Estate Magazine), an in-depth interview that can be accessed via this link:
http://www.duniamagazine.com/tag/real-estate-consultant/ GREAT, BREAKING NEWS!!!!
GENIUS CORPS, ( http://gc-usa.com/ ), and Geeks Gone Global have selected - in their own words: "25 spectacular women social innovators, thought-leaders and enthusiasts that are doing awesome work to impact the world in their respective countries, ... individuals with the minds and hearts to create great change in the lives of others through their work and impact, ... highly effective innovators, ... dedicated to their causes", to be part of a 4-COUNTRY, "FOCUS ON AFRICA" TOUR in February 2014!!
And GUESS WHO IS ONE OF "THE CHOSEN FEW"? Our very own ESTHER OYERE EGBE AYUK, of course!!!!
Over the course of the 2-week excursion, the women will be visiting technology hubs and startups throughout Ghana, Nigeria, South Africa and Kenya including Meltwater Entrepreneurial School of Technology, Hub Accra, Hub Johannesburg and iHub Nairobi. The group will also host a series of pitch parties and mentorship-focused service projects before concluding the experience at the Sankalp Forum, the world's largest social entrepreneurship conference.
In order to fund their inclusion in this February 2014 phase of the amazing initiative whose aim is to cross-pollinate and cross-collaborate innovators in over 180 countries by the end of 2015, these 25 powerful minority women do need support from their respective communities. Therefore, if you are moved to help them build bridges and create a lasting impact in the lives of women throughout the continent by building bonds of collaboration and expanding the African Women Entrepreneurial Ecosystem, PLEASE DONATE! To learn more about the #25toAfrica excursion, itinerary and attendees, check:
and TO CONTRIBUTE TO THE FUNDING CAMPAIGN, GO TO: http://geeksgoneglobal.com/fundyourtrip/campaigns/esther-ayuk/ 11 WEBSITE: http://www.goldstarrx.com/ LEFT: With acclaimed Nigerian Actor, Desmond Elliot ABOVE: Filming the Movie "BELEH" RIGHT: With renowned American Actress, Lynn Whitfield AS DIRECTOR/ PRODUCER
- BELEH (short)- 2013 - DOORMAT: Short – 2012
AS ACTRESS
- BREAK-IN - 2006 - NOT MY WILL - 2008 - NINAH'S DOWRY - 2010 - DECEIT: Short Film - 2010 - LINDA: Short Film - 2011 - UNSPOKEN – 2011 - PASSION: Short Film - 2011 - TRIANGLE OF TEARS – 2012 - DOORMAT: Short - 2012 - BELEH: Short - 2013
AS WRITER
- THE WIDOW : Short – 2013 - BELEH: Short - 2012 - DOORMAT: Short - 2012 - SWAP – 2011 - DECEIT : Short – 2010
Left: Receiving trophy from then SBC Principal, Mr. Paul Luma Haddison Center. Form 5 Graduation Day, 1999 Right: Having fun at the Beach with Rachel Achu
Date: Sun, 23 Mar 2014 08:31:31 +0000 From: eka Subject: Re: More pics To: emonjimbo
Hi Aunty Egbe, I am attaching a few pictures of me in Saker to this email, so you can select the ones you want to use. I visited the Saker Pride webpage and facebook page ... I am inspired! Inspired by these women's stories, their struggles and their achievements. I am encouraged to keep pushing and not give up. And I am grateful to you for this initiative, which you are handling exceptionally well! God bless your heart, and bless your endeavours, Aunty. I think you are doing an amazing job! I am proud to be a Sakerette oh!
I graduated from Saker in 2001. Straight out of high school, I enrolled to study Accounting with the Association of Chartered Certified Accountants (ACCA). I knew I wanted to be an actress but with the way the film industry was in Cameroon at that time, I thought I needed a "backup plan", so I chose Accounting. Halfway through my ACCA course, I was convinced I didn't want to be an Accountant, so I stopped taking the courses. My family was not happy, but I was adamant. They tried to get me to go and continue my ACCA studies in London, but when I was refused a visa, I took that as a sign. That was my cue, my mind was made up.
I didn't even know how I was going to get in the industry, I had no contacts, but I had faith in God and in my talent. One day, I was walking along the streets of Limbe with my friend, when we got stopped by two breathless guys who had been running after us, trying to catch our attention. They wanted to ask us if we would like to appear in a music video they were shooting. My friend was indifferent, I was excited! I saw this as a chance to get in. Music videos were not at the top of my list, but well ... I knew I had to start from somewhere. I asked them when they wanted to shoot this video, and they said right now. I said yes, and made plans to catch up with my friend later. We went ahead and shot that video, and a couple of others. Slowly, I got to know the crew members, and through this same guy who stopped me in the streets, I heard about an audition for a movie, which I attended and that is how I landed my first movie role in the movie, Break-In, in 2006.
My frustrations with the industry are included in the other write up about how I got into directing. I must say, if I am still pursuing this career today, it's thanks to God Almighty, for teaching me through my many trials, to dig deeper to find hidden treasures; for teaching me discipline, and respect for my craft. The complete and unquestioning support from my entire family has been a blessing which I could never take for granted. My dearest mother, God rest her soul, inspired me in so many ways; she taught me to think with my heart and to reach out for my dreams. I know I have the most amazing friends in the world! My friends, most of whom I met in Saker, are my sisters. We've come a long way. They have laughed with me, cried with me, challenged me, and supported me all the way! There's no way I could have done this without them, as well. I know they're going to read the article, and I just want to say thank you, and I love you!! The support and encouragement from my fans have been priceless! They inspire me to want to do better. Off to catch some sleep.
Happy Sunday!!!
From: Egbe Monjimbo To: Christa Eka Assam Subject: RE: More pics/GOD BLESS YOU!!! Sent: Sun, Mar 23, 2014 11:13:39 AM
Hmm! My dear Christa, I don't even know where or how to begin my response to this email you just sent. I am so OVERWHELMED with a "rush" of GRATITUDE to GOD Almighty, I am almost BREATHLESS! WHAT A STORY!!!! And people walk around still believing in "luck", "happenstance" and "coincidence"??? I don't know if y'all still sang that "I KNOW WHO HOLDS THE FUTURE" song in your days in SAKER; if you did, then I'm sure you know the line I am about to quote to you:
"With GOD things don't just happen; EVERYTHING by Him is PLANNED"!!!!!!
My Dear, GOD Himself sent those 2 perspiring and panting dudes to chase after you and BRING YOU INTO WHAT IS OBVIOUSLY, YOUR DESTINY!!!!
You are SMART and very, very, VERY GIFTED, My Dear, and you have the one other thing that needs to be added to the 2 qualities I just cited, if one is to succeed: A DREAM; A VISION!! ! Un seul mot: OBOSO!!! You have gotten yourself one more FAN in this Aunty that hasn't met you -YET, but who believes, with every fiber of her being, that YOU WILL GO PLACES!!! I know you must have heard of LUPITA NYONG'O. (I have 2 whole sections on the REFLECTIONS Page of Saker Pride about her! Did I know we SAKERETTES had our very own "LUPITA"???) You are just as BEAUTIFUL and TALENTED as she is, if not more! So, if she can win an Oscar, so can you oh, ah beg!!!!! Remember what she said in her acceptance speech at the Oscars?
"No matter where you're from, your dreams are valid."
Yours most certainly are, and I join you in asking, begging GOD actually, to make a way forward and to the very top for you!! NEVER, EVER, GIVE UP! God has already brought you this far; I don't think He intends to stop here. As for the part of your email that talks about the website, I think I will print it and frame it oh!! (LOL!!) My Dear, what you said - in just a few lines, is VALIDATION and CONFIRMATION to me that the "Mission" I gave myself in starting the whole endeavor, is being accomplished!!! If you listen to the lyrics of the song that plays in the background on the TRAILBLAZERS Page, (Donnie McClurkin's "YES YOU CAN" which, by the way existed BEFORE President OBAMA made the phrase his campaign slogan), it is clear what my intention was, is, and always will be, by the Grace of God: TO INSPIRE!!! To let my Sisters - both young and old(er) know that their dreams are NOT far-fetched, but attainable, since someone who ate in the same Dining Hall, carried water from the same Likomba and climbed up the same Saker Hill, has done it before!!! Bless my heart? I say, BLESS YOUR HEART, Mammie!!!!! You've made my entire week! MAY GOD CONTINUE TO BLESS & PROSPER YOUR EVERY ENDEAVOR! Aunty Egbe
THE TRAIL-BLAZING SAKERETTE LADIES OF CAMEROON'S JUDICIARY ... LADY JUSTICE VERA NKWATE NGASSA (CLASS OF 1980) VICE PRESIDENT OF THE COURT OF APPEALS OF THE SOUTH WEST ABOVE: Chatting with a Guest at ExSSA-D.C.'s Father's Day Fundraiser in 2012. RIGHT: Attending Late Ma Deborah Lum Shu's Funeral in February 2014 SHE'S A SAKERETTE-CARAT LAWYER "DOWN UNDER" (AUSTRALIA) & "UP THE MOUNTAIN" (BUEA) VIOLET NADUVI ARREY IS CALLED TO THE CAMEROON BAR!! Violet Naduvi Arreys's swearing in ceremony on 6 January 2015 at the Court of Appeal in Buea.
After the ceremony, PLUCKY Class of 1977's Elizabeth Enaka Ako decided that there had to be a special SAKERETTE picture. (Smart thinking, Big Sis!) So then, from Left to Right stand:
- CHRISTA EKA ASSAM : (Class of 1999) Multiple Award-Winning Movie Director & Actress who is featured in great detail further up on this same web page. - EGBE-TANYA ARREY: (Class of 2009?) Architecture student in Australia, SAKERETTE-CARAT of Class of '77's Ebika Egbe epse Arrey. - MOKWE IYA WASSE : (Class of 1999) Assistant state counsel of Tiko. (SAKERETTE-CARAT of Class of '76 Enlightened Teen, JULIA MOKWE. - ROSETTE EBENYE NGONGANG : (Class of 1999) Linguist - FRIDA EBIKA ARREY nee EGBE : (Class of '77) - Pharmacist - Douala - Hon. Justice VERA NKWATE NGASSA : (Class of 1980) Judge, Court of Appeal Buea, Member of the panel of judges who presided over the ceremony. (She features in much greater detail in the entry directly above this one.) - VIOLET NADUVI ARREY (CELEBRANT) : (Class of 1999) Lawyer in Australia who was called to the Cameroon Bar on January 6 2015. (SAKERETTE-CARAT of Class of 1976's Enlightened Teen, CECILIA ARREY. ) - ELIZABETH ENAKA AKO : (Class of 1977) Chief Registrar, Court of First Instance, Buea. - BEYANG ARREY: (Class of 2006) Electronics Engineer in the UK. (SAKERETTE-CARAT of Class of '77's Frida Ebika Arrey nee Egbe) On Saturday, April 4 2015, it was a proud "TEEN SUPREME", Class of 1974's MELISSA NDINGE NAMBANGI who sashayed her way up the stage in Minneapolis, Minnesota to receive a very well-deserved NON-PROFIT AWARD offered by VOICES MAGAZINE on behalf of MAWA, the Organization she founded and has run for about 2 decades now, with AMAZING, FAR-REACHING, ENDURING, and LIFE-CHANGING RESULTS!! All that there is to say about her, her Association (MAWA), the work she has done over the years - including the time she spent pioneering as CTV (later CRTV)'s early crop of Female Anglophone TV JOURNALISTS/NEWS ANCHORS and the COUNTLESS AWARDS she has won along the way, could not possibly fit into this modest space and that is why I strongly encourage you to CLICK ON THE LINKS POSTED BELOW TO GET AN INKLING ...
http://mawanet.org/ http://www.zoominfo.com/p/Melissa-Nambangi/81508551 http://www.ihrc.umn.edu/research/vitrage/all/na/ihrc3888.html http://womenspress.com/main.asp?SectionID=1&SubSectionID=20&ArticleID=3799
CONGRATULATIONS TO YOU, MA'AM!! ​FRONT & CENTER IN IBADAN, NIGERIA: Class Of 1982's Dr. Barbara ATOGHO TIEDEU Senior Lecturer - Department of Biochemistry UNIVERSITY OF YAOUNDE I ~ CAMEROON
COACh-Cameroon Leader, Dr. Barbara Atogho Tiedeu led the COACh workshop at the IITA 18th ANNUAL SYMPOSIUM of the International Association of Research Scholars and Fellows (IARSAF) held in Ibadan, Nigeria, March 24-25, on the topic, "Don't Ask, Don't Get: Negotiation Tactics for Career Advancement" in the presence of a large audience of scientists. Dr. Barbara Mma Atogho TIEDEU is a Senior Lecturer in the Department of Biochemistry at The Faculty of Science in The Biotechnology Center at the University of Yaounde Cameroon. In addition to her very busy teaching and research schedule there, she is the leader of a fantastic and growing Cameroon Chapter of COACh - an entity whose mission is to "Transform the Careers of Women Scientists and Engineers, in Yaounde. WELL DONE, Dr. TIEDEU!
PLEASE CLICK ON PLAY BUTTON ABOVE TO VIEW VIDEO!! MASH FIRE NATION'S "TEAM 234" GIVES BACK TO THE COMMUNITY IN LAGOS, NIGERIA (At Tomia Junior Secondary School Alagbado Lagos, on 30 September 2015) With the 43rd President of The United States of America, George W. Bush (Courtesy, USA TODAY)
I don't think there's a any SAKERETTE who would realize she had missed a call from "A WHOLE" MISS BINDER, and not hasten to call back. I did, 2 Sundays ago, on April 3rd 2016 and that is how I found out that a certain Dr. ESTHER GWAN had been prominently featured in DECISION Magazine, a Publication of SAMARITAN'S PURSE, which itself is part of the BILLY GRAHAM EVANGELISTIC ASSOCIATION. Needless to say, Miss Binder was mighty proud that a SAKERETTE had been so honored but then, she had a "major" problem: She had no clue EXACTLY WHO this SAKERETTE was because the "GWAN" name mentioned in the article was her MARRIED name, not her "SAKER" (maiden) name! We therefore proceeded to do some "Inspector Columbo/Sherlock Holmes" sleuthing, right there on the phone. Given that dear Miss Binder owns NOT any device that could remotely be referred to as "High Tech" even by the longest of stretches, she was unable to Scan, WhatsApp, a thing to me BUT, she was very able to figure out from the dates this "Dr. Esther Gwan" had mentioned in her story, the range of years around which she is likely to have graduated from Saker Baptist College. I, of all people, should have known better than to ask her if she couldn't tell from the PICTURE who this Esther was, given the CHANGES that anyone's PHYSIQUE is very likely to undergo in the space of 43 years!!! Well, I suggested she hang up and go "her" to her Sunday Evening Service while I fished out SakerPride's Physical Records of all of SBC's Registration Lists from 1962 to 2002. I then compiled a list of ALL THE ESTHERS WHO GRADUATED IN THE YEARS BETWEEN 1970 & 1973, called Miss Binder back and started to read the names to her, "one by each"! I dare NOT ask her what the CRITERIA she based the string of "I don't think it's her" she kept saying after each name I read till i got to CLASS OF 1973's STUDENT #513 and read out the name: "ESTHER ACHUA"! You would have thought Ma Bindie had won the lottery, the way she yelled: "THAT'S HER!!!" LOL! Thankfully, the name rang a bell and I proceeded to email & WhatsApp 2 SAKERETTES I felt confident would still be in touch with her, based on ties that go back at least 4 decades and by the time a few days had elapsed, I got an email from THE Dr. Esther Achua Gwan - from faraway MONROVIA, LIBERIA, which is where she had traveled on mission! Here are excerpts from that email
From: Esther Gwan Sent: Thu 4/07/16 3:24 PM To: Egbe Monjimbo
Hello Egbe, I am soo glad to receive this mail. ... Yes, by all means, go ahead and post the article. I had to call the school "Saker Baptist Secondary School" because the Americans said they could not call it college because it will confuse the readers since College in the USA actually means university. I was asked to do chapel to a group of over 700 workers. You can imagine I was very nervous. I just went ahead and told them the story of my life. After chapel, I was told to write my story, and the result is what you have seen. I thank God for SBC. I believe that what I became in Christ later, was shaped by the efforts of all those missionaries who taught us. The Lord is good. I believe I am the one in the Mont Febe photos you mention because I remember that retreat. All blessings, and may the Lord use that article to encourage someone. Peace, Esther K. Gwan Achua.
Below are 2 pictures from the MID-1970s P.C. YAOUNDE MONT FEBE MONASTERY RETREAT RETREAT I mentioned to Sis Esther. I wasn't mistaken!
http://usatoday30.usatoday.com/news/washington/2007-11-30-bush-aids_N.htm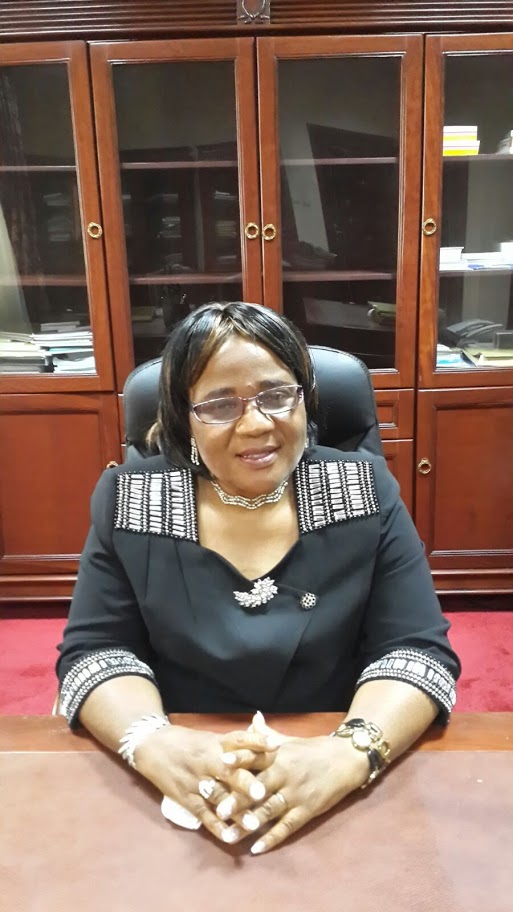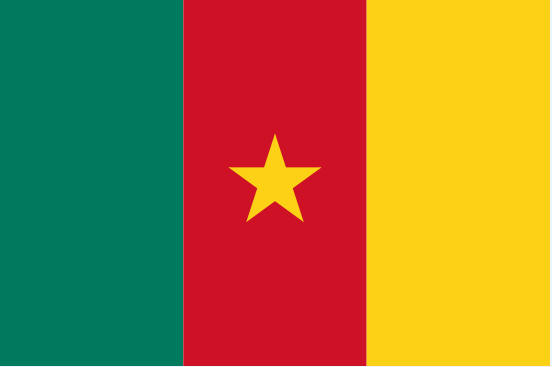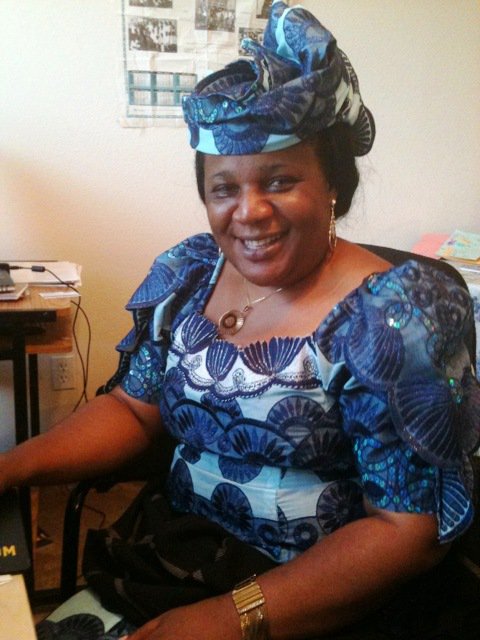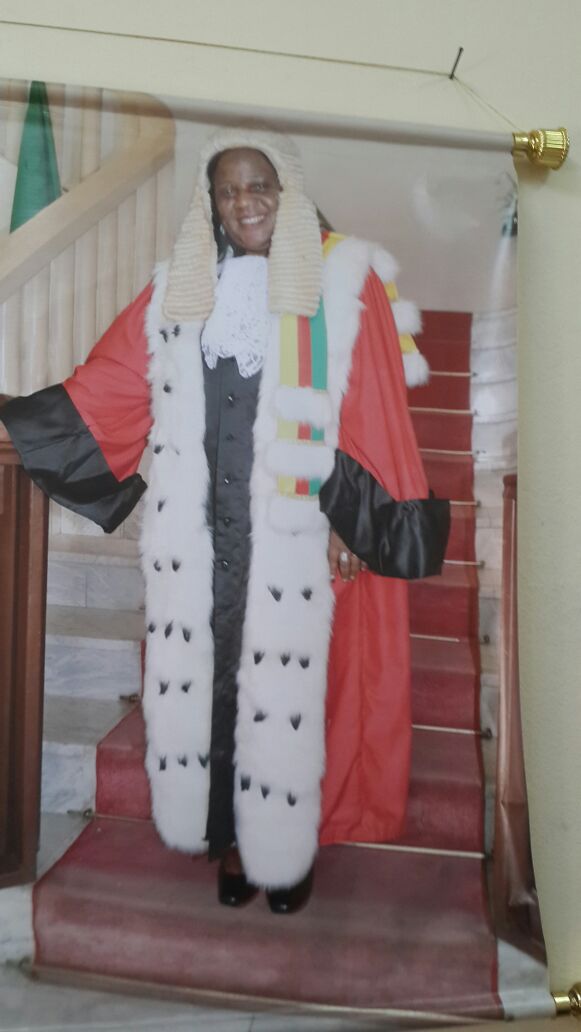 56 years ago, on the 23rd of January 1959 to be more precise, a set of girl twins was born to a Mbengwi veteran primary school headmaster named Mr. Geoffrey Fomundam and his wife Mrs. Christina Fomundam. The couple, now of blessed memory, named them Theresia Anwi and Rose Ngwari. The Fomundam twins wound up – after their primary school education, at Saker Baptist College, Limbe with registration numbers 813 for Rose, (who would become Food Prefect in Form 5), and 881 for Theresia, who, by the way, was always referred to as Terry. (She is now Mrs. Acha.)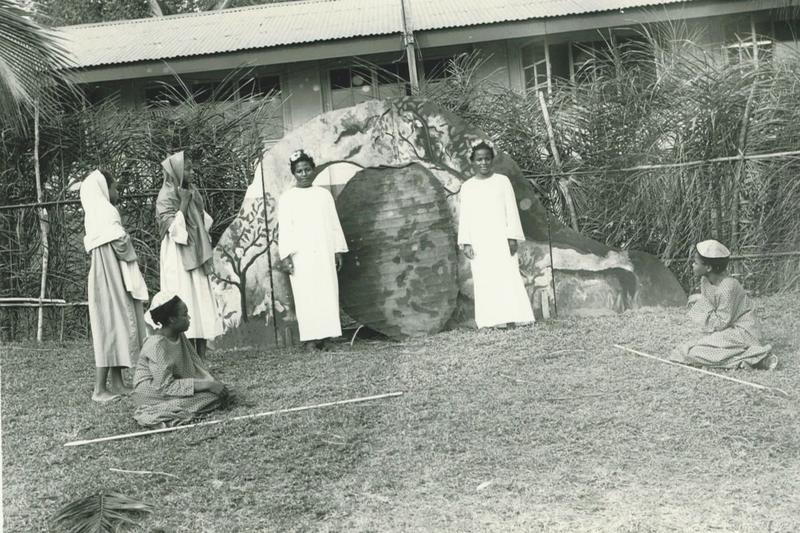 THE S.B.C. YEARS ... Terry (left) and Rose (right) in Form 4, playing the part of the 2 Angels who rolled the stone away on that first Easter Sunday Morning. TERRY ROSE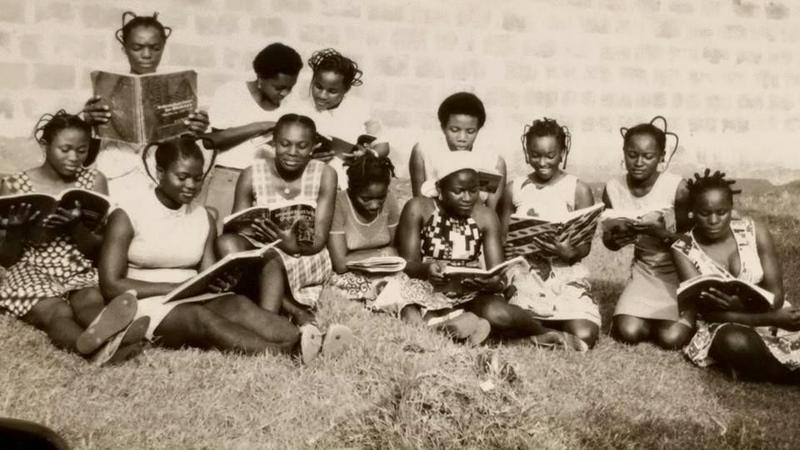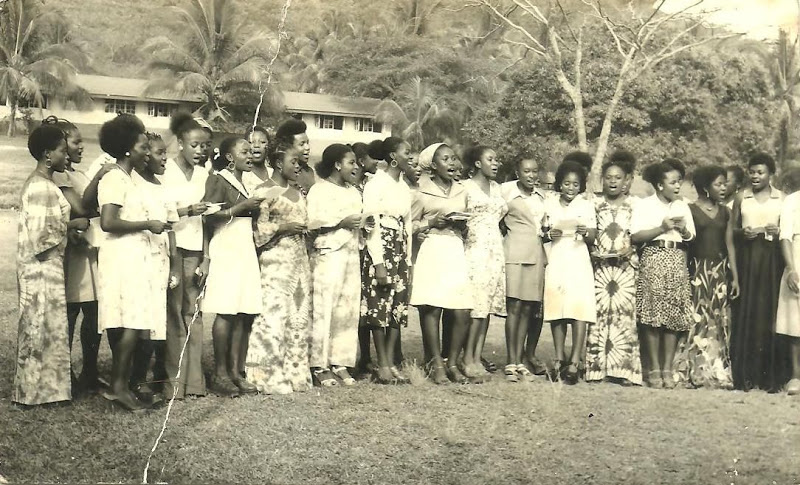 The newly appointed Minister Delegate at the Presidency in charge of Supreme State Audit went on from Saker Baptist College to Government High School Nkambe and then on to the University of Yaoundé and the National School of Administration and Magistracy (ENAM). She got married to Mr. Jonas Mbah Acha in 1986 and they are the proud parents of 5 beautiful and successful children – 3 boys: Leonard, Franklin and Mark, and 2 girls: Igxtelle and Benjamina both of whom are 7-year-straight Secondary & High School SAKERETTES who graduated in 2004 and 2011 respectively.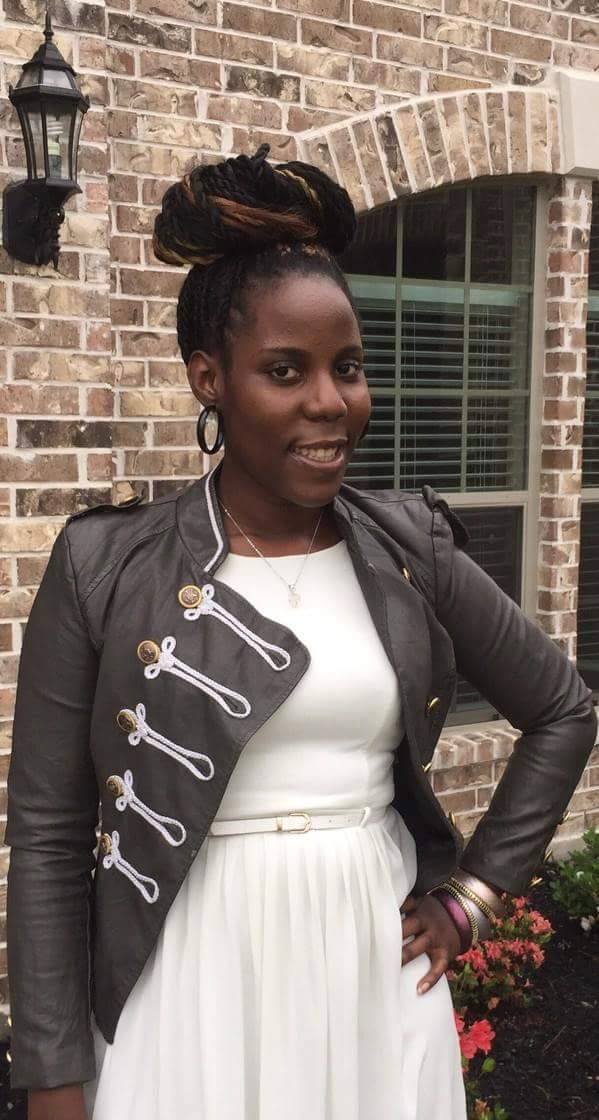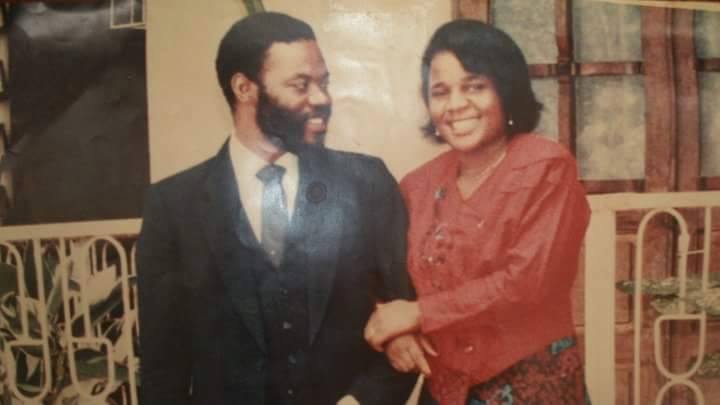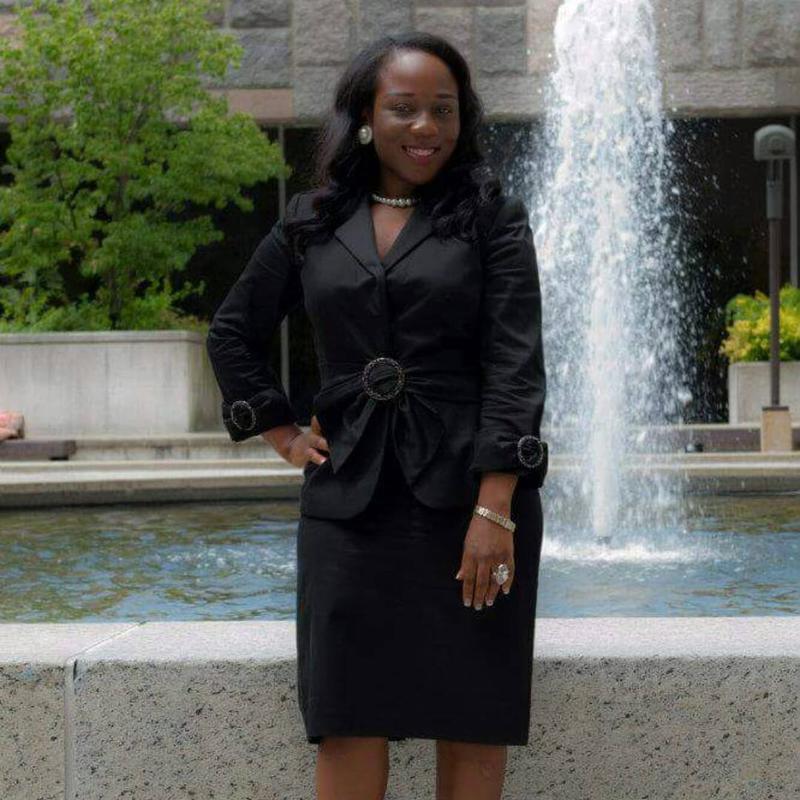 "CAT" Jonas Mbah-Acha & "RAT" Rose Fomundam Mbah-Acha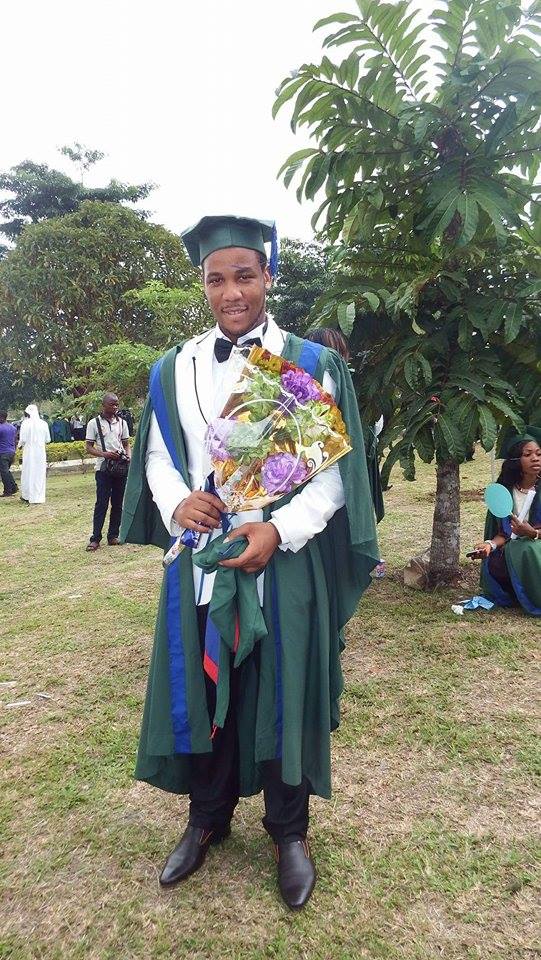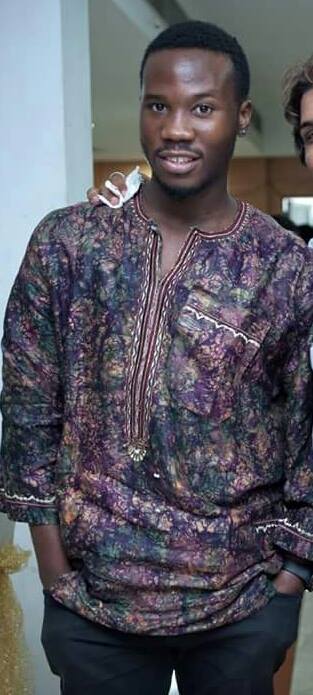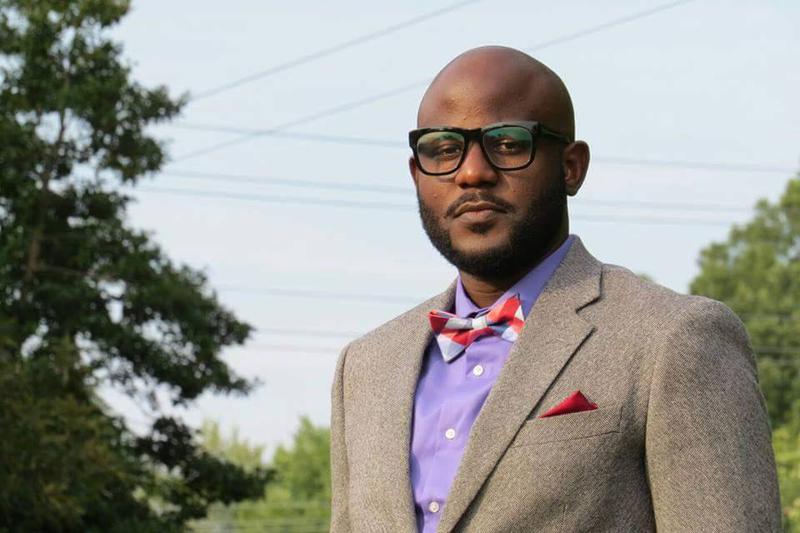 Mr. Franklin Mbah-Acha Mr. Leonard Mbah-Acha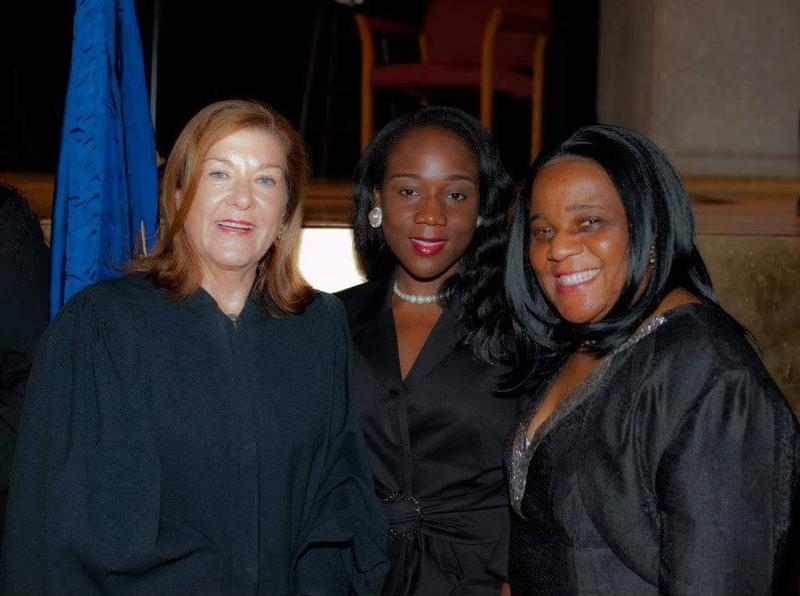 Mr. Mark Mbah-Acha Sis Rose (right), attending CARAT Igxtelle's swearing in to the NY Bar in the company of one of the US supreme Court Judges.
Before her ministerial appointment on October 2 2015, Justice Rose Ngwari Fomundam Mbah-Acha had served as Vice President of the Southwest Court of Appeal and most recently, as the President of the Regional Administrative Court of the Northwest Region. She has also been Judge and Head of Advocates Cameroon. The staunch Presbyterian that she is has occupied a number of respectable positions in the PCC, some of which include Elder, Chair Lady of PCC Tiko and Member of the Board of Trustees of the PCC, and Member (Secretary) of the PCC Electoral Commission. She was also PRESIDENT OF ExSSA-TIKO.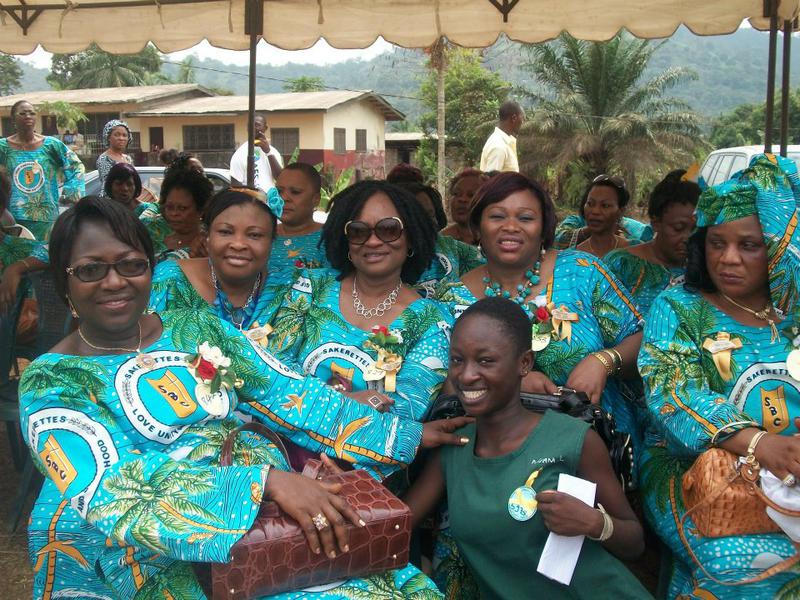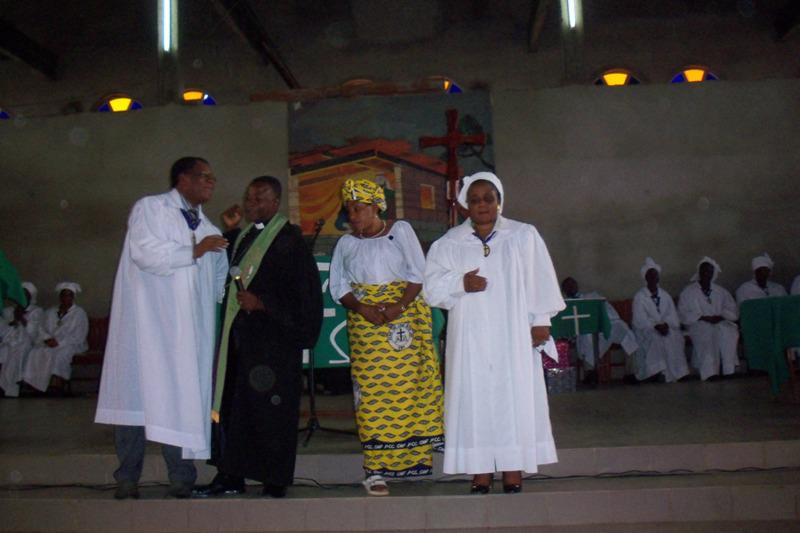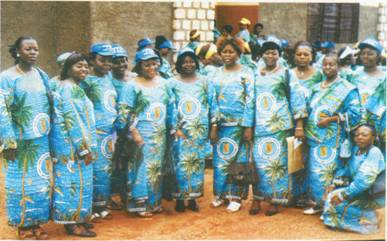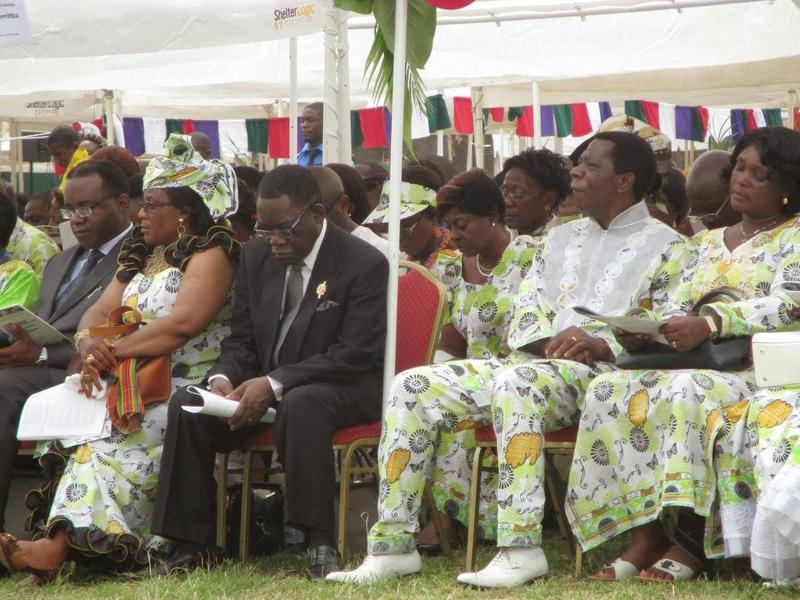 Dedicated SAKERETTE! As President of ExSSA-TIKO Attending Induction Ceremony of the Moderator of the PCC
YOU BET, A THRONG OF BEAMING & SINGING SAKERETTES WAS PRESENT TO SUPPORT THE HONORABLE MINISTER, IN UNIFORM!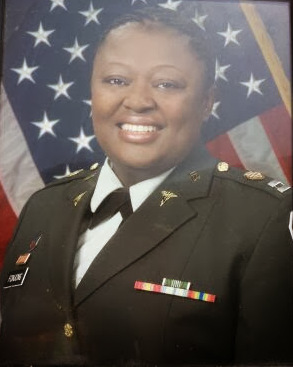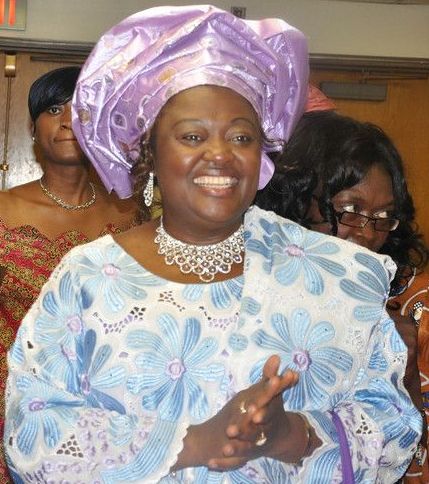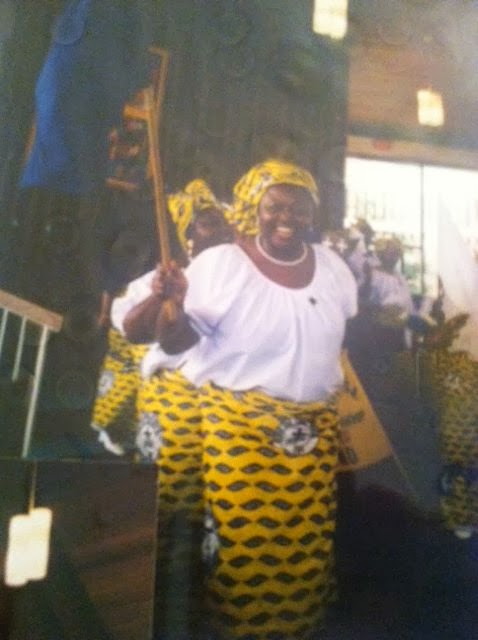 VIVIEN FONJONG ALLO was born in TIKO to Mr. Z.A. Fonjong and Mrs. Rose Mah Fonjong. She did her Primary Education in Catholic School New Town VICTORIA (now Limbe), and then later in St. Anthony Catholic School, KUMBA. She then went on to Saker Baptist College, Victoria, after which she enrolled in C.C.A.S. Kumba for her High School Education. Thereafter, she left for the United States to pursue her University Education. Vivien is a mother of three: 2 girls and 1 boy for whom she would stop at nothing in a bid to see that they excel! Her oldest daughter, Mama Allo is 20, and is a 3rd year Pre Med student at Howard University. Her second daughter, Chenille Mami Allo is doing her last year in High School, while Tata Allo, the youngest, just started his Freshman year in High school.
The Veteran of 2 Wars - Operation Iraqi Freedom and Operation Enduring Freedom whose career with the U.S. Army now spans 12 years, works as an Army Nurse – OIC (Officer In Charge of Missions), at Howard University Hospital, which is the parent hospital for the Residency Training Program. This 450-bed facility located in the northwest section of the District of Columbia, and its predecessor, the Freedmen's Hospital, has been a major provider of health care services in the District of Columbia for more than a century. She is the Director of Utilization Review and Denial Management.
Dr. Fonjong Allo has the following academic accomplishments under her belt: - B.A. in Computer Science - BSN in Nursing - MBA in Finance - PhD in Health Care Administration
Captain Fonjong Allo is the founder and CEO of a group called CASE MANAGEMENT INTEGRITY (CMI), and its website says the following about her: "Vivien A. Fonjong is a nurse executive leader with over 25 years in the healthcare industry, and over 13 years in nurse leadership position. Dr. Fonjong's primary objective is to ensure the appropriate utilization of resources at the appropriate level of care; placement of healthcare leaders in the right opportunities, ensure that regulatory guidelines are in compliance, assist healthcare organization to decrease waste, and increase profitability.
As a RN, Dr. Fonjong has experiences in healthcare management as executive leadership, Nurse manager of surgical and medical unit, nurse administrator, staff nurse experiences in ICU, Medical and surgical units, emergence department, transplant, cardiovascular care unit.
Dr. Fonjong has extensive and in depth experience in Denial Management, Case Management, Utilization review, Social Work, Quality Control, JCAHO regulations, CMS regulations and guidelines, Department of Healthcare and Healthcare Finance Regulations, Revenue Cycle Stategy and Integrity, Milliman Care Guidelines Adult and Pediatric criterias, InterQual Care Guideline Adult and Pediatric Criterias, and a Certified InterQual Care Guideline Instructor. In 2009, Dr. Fonjong was recognised as One of 100 Excellent Nurses by the District of Columbia Nurses Association (DCNA).
As a member of the uniform services for over 10 years, Captain Fonjong is an Officer with United States Army Reserve. During drill, she is the Head Nurse for the Orthopedic Unit.
In 2005, Captain Fonjong received U.S. Army Merritous Award for her selfless-services during Iraqi Freedom. In 2011, Captain Fonjong completed the Army Anti-terrorism Officer (ATO) Basic Course, and currently the ATO for the 2290th USAH. As an officer in the United States Army Nurse Corps, Captain Fonjong has held many leadership positions include being Officer Incharge (OIC) for the 2290th Germany mission in 2009.
Dr. Fonjong is licensed in both the District of Columbia and Maryland"
​MIGHTY IMPRESSIVE, if you ask me!!
A 2008 University of Phoenix Doctoral Student Profile goes further to trace her life from her days in Cameroon, through her transition to the United States and beyond, touching on both her family as well as her professional life.Very significant amongst the details the article mentions, is her battle in 2007 with Grave's Disease, that could have ended her life! The fact that she not just barely survived 4 months of radiation therapy - practically bedridden, but went on to still accomplish her goals is a testament to her tenacity and to the Grace of God!! Please, CLICK ON THIS LINK TO ACCESS the very INSIGHTFUL article: http://www.uopx.com/PatriotArchive/pdf/online_patriot_spring2008.pdf (Scroll down to Page 5)
A profile of Captain Fonjong Allo, no matter how brief, would be incomplete without mentioning her ties to the Presbyterian Church in general, and the SSPC - the Silver Spring Presbyterian Church specifically because she takes her Church activities very seriously. She is a Co-founder of the CWF Movement here in the United States and was part of the very first set of Women in the U.S. to be dedicated, starting off as the group's first Secretary. She is currently an Elder at the Silver Spring Presbyterian Church.
We certainly wish the Captain, who is only a few formalities away from becoming a Major, GODSPEED!
If you noticed, the 2014 article posted above ends with this line: "We certainly wish the Captain, who is only a few formalities away from becoming a Major, GODSPEED!" Well those "formalities" became a thing of the past when, on the PROMOTION/PINNING CEREMONIES took place on December 3rd and 4th 2016, at her unit. MORE (PROFESSIONAL) PICTURES & DETAILS TO FOLLOW! CONGRATULATIONS, Ma'am!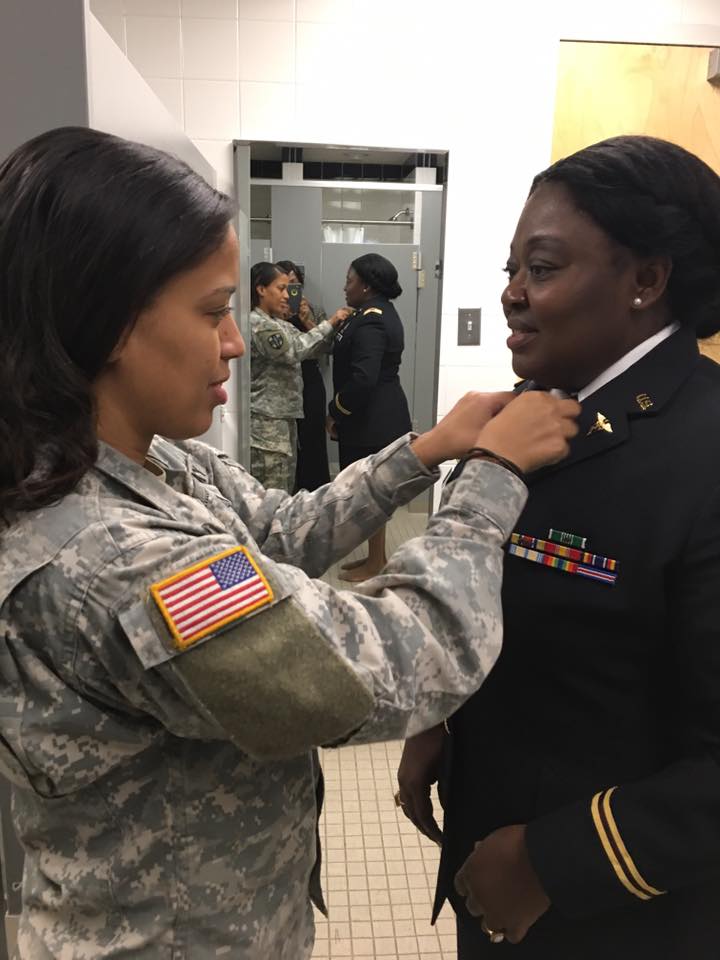 ESTHER OYERE EGBE AYUK PHARMACIST - REAL ESTATE BROKER (ABR, CIPS, CRS, CDPE) FOUNDER, American-Cameroonian International Chamber of Commerce (AMCICC)
Esther Ayuk's presentation on Real Estate Secrets (The Foreclosure Timeline) at the 2011 CPS Distinguished Annual Congress 25 POWERFUL WOMEN INSPIRE AND CELEBRATE WOMEN ENTREPRENEURSHIP AND LEADERSHIP IN 5 CITIES ACROSS AFRICA POWER COUPLE! ASHU OBEN & CARAT-RAT BESSEM ENOH OBEN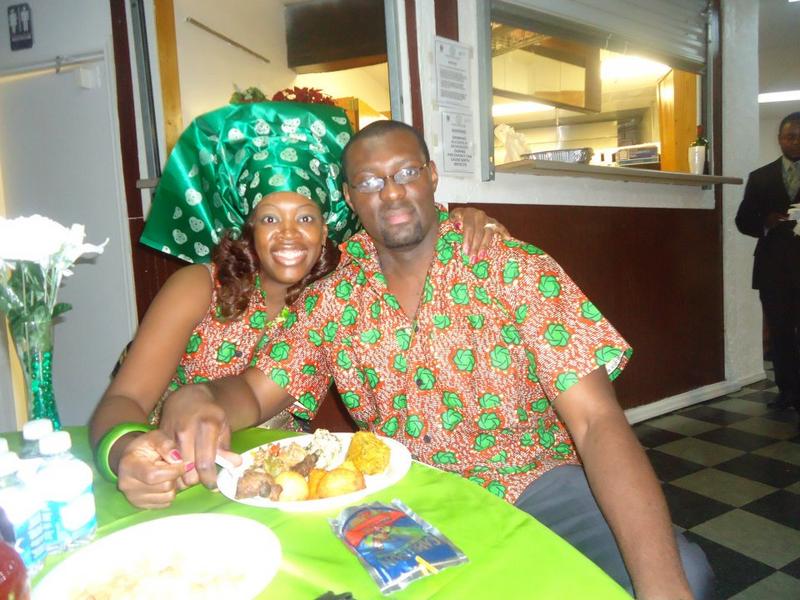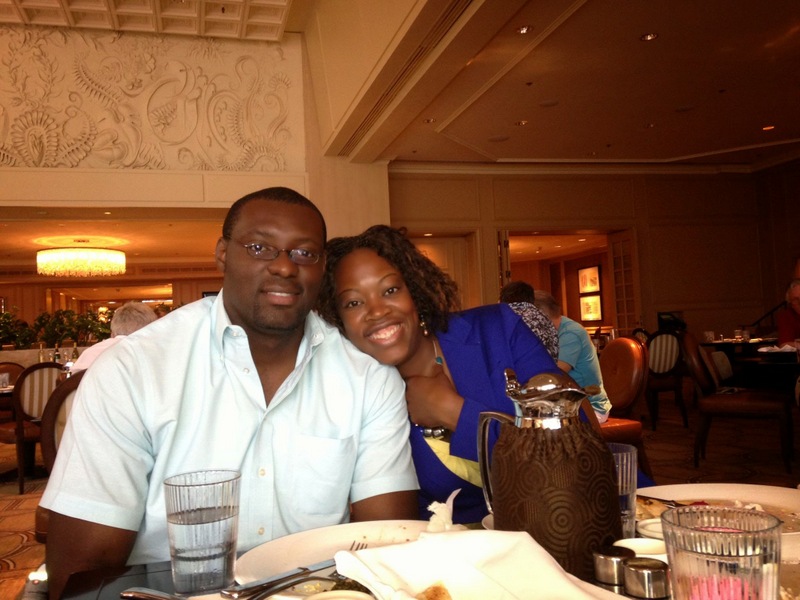 BESSEM ENOH OBEN is a 1995/1997 graduate of SAKER BAPTIST COLLEGE, Limbe, which means she graduated from Form 5 in 1995, and from Upper Sixth in 1997. She holds a BSc in pharmacy studies and a PharmD from the University of Connecticut. Her professional experience thus far has been in retail pharmacy, a career path she chose to pursue, given that she fits the mold of the proverbial 'people's person'. She has thus been afforded the opportunity to influence and affect the lives of the patients entrusted into her care, and for the last 5 years, she has served as Pharmacy Manager at one of the largest retail chains in the world, WAL-MART. She is also the President of ExSSA-HOUSTON, one of the largest and most dynamic Chapters of the stellar Alumni Association, ExSSA-USA, and the daughter of Class of 1972's Late Sis Magdalene Nkongho Enoh (RIP)!
ASHU OBEN , graduated from St. JOSEPH'S COLLEGE, Sasse in 1997, and holds a BSc in Electrical Engineering, obtained from the University of Kansas in 2003. He also has an MBA from Texas A&M University, obtained in 2010. He is a Seasoned Leader with a background in Six Sigma, (Green and Black Belt Certified), General Management, Commercial & Private Banking.
ASHU and BESSEM first met way back in Elementary School, (PNEU, YAOUNDE), but lost touch when they went their separate ways to pursue first their education, and then their respective careers. Ten years later, just before Bessem graduated, they met again, as his first assignment out of school happened to be with General Electric in CONNECTICUT where she was attending College. They got married in 2007, in Cleveland, OH, welcomed their first son into the world in 2008 and the second in 2010.
Four months ago, in Novem ber 2013, they decided to step out in faith and that is when GOLDSTAR PHARMACY was born. As Dr. Mrs. OBEN puts it: "It is a work in progress. My partner in business and in life did the initial research and feasibility studies and ours is a unique partnership in which he handles the business side, while I manage the clinical aspect. GOLDSTAR PHARMACY 's AIM is to provide prompt, courteous and efficient pharmaceutical care to all its patients. Our model is CONVENIENCE. We brand ourselves as America's most convenient pharmacy. Our plan is to expand to multiple locations over the next few years."
​This Spring 2014 Semester, Mr. ASHU OBEN'S Alma Mater, The MAYS BUSINESS SCHOOL of TEXAS A & M, recognized him - and by extension, his wife Dr. BESSEM ENOH OBEN, for their remarkable contribution to the Community through their work within the framework of GOLDSTAR PHARMACY. Below is the article that was featured in the Institution's Electronic Magazine.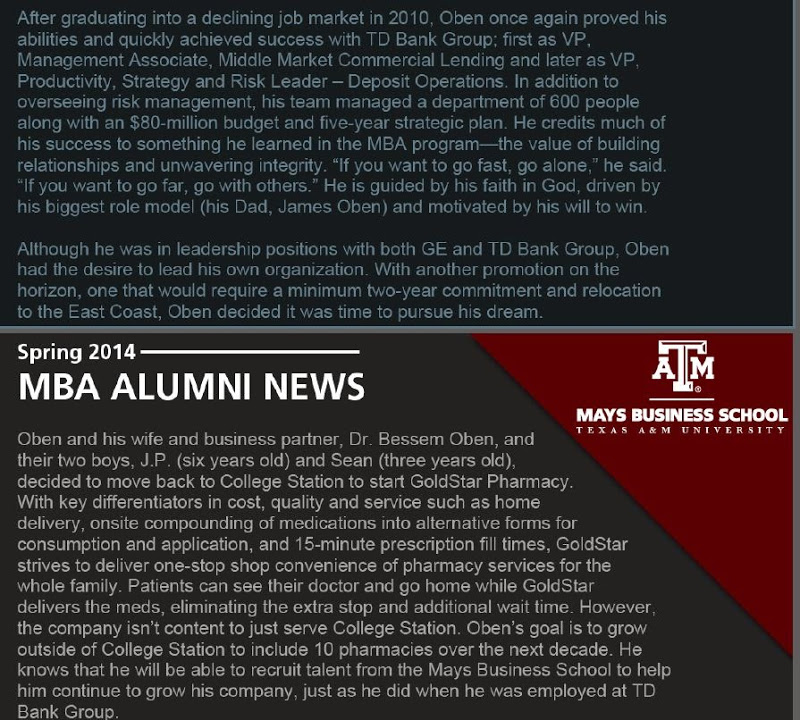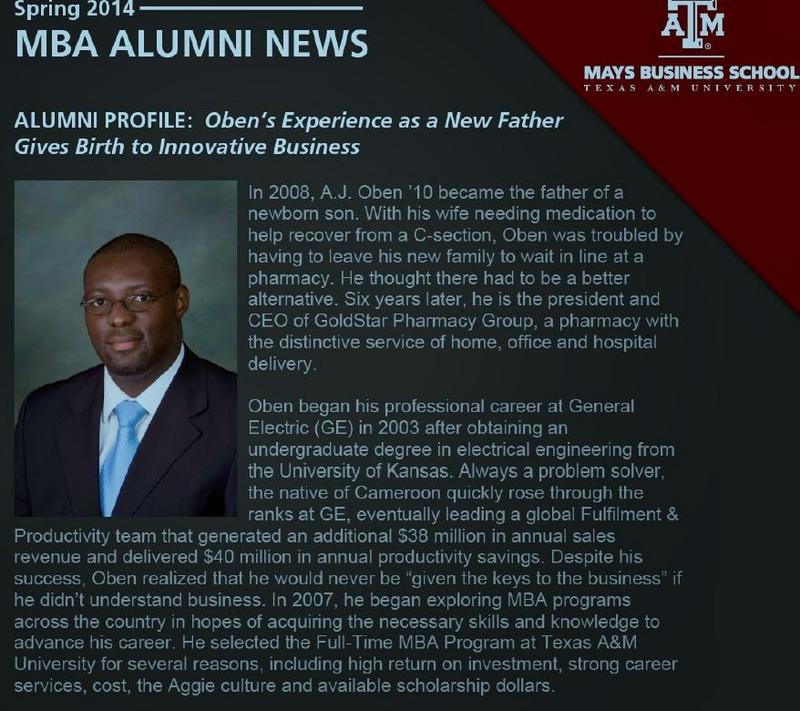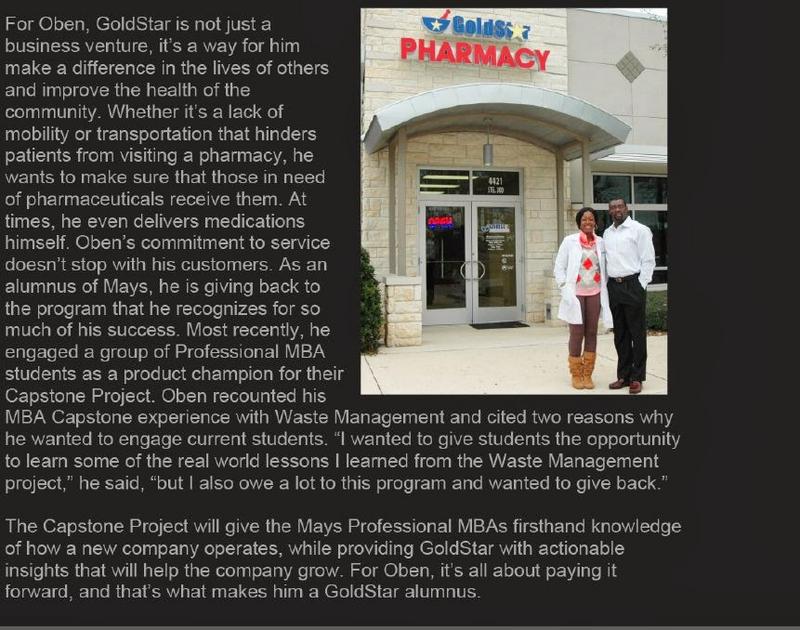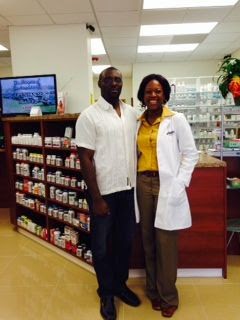 Left: With Actor O.C. Ukeje Right: With Film-Maker Kunle Afolayan With Actress Stella Damasus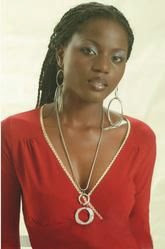 CHRISTA EKA ASSAM was born in July of 1983 in Limbe, and is a 1999/2001 Graduate of Saker Baptist College, Limbe who has a background in Accounting, as well as an ITM (Institute for Commercial Management) Diploma in Marketing, Advertizing and Public Relations from the PAN AFRICAN INSTITUTE FOR DEVELOPMENT (PAID), in Buea, Cameroon. However, all she ever really wanted to do was act, and all she ever wanted to be was an actress! In 2006, she had her first chance to act in a film, BREAK IN, produced and directed by Bill Mosah. It was shot in Limbe, and was aired a couple of times on AFRICA MAGIC MOVIES. Several years of acting followed, YET, she still felt a deep sense of frustration because the few scripts that got to her were never quite right, and she kept turning them down. She therefore decided to write, just so she could act, and that was how she discovered a whole new world of creativity within herself. Soon she finished her first script for a short movie, and wanted to direct, but was understandably scared. She didn't know anything about the technical aspects of film-making and as a result, though she succeeded in directing the film, it never made it out of the post-production stage. She couldn't afford film school, so she started reading books about film-making. She read articles online. She watched lots and lots of films – both African and Western films, and now, she has successfully directed two other short movies, and is working on a third! ​Says Christa, "As a film-maker, I don't feel that I have been able to fully define my own unique style yet. Making these shorts has been a tremendous help, as I have learnt something new – about myself and about my craft – with each one. These shorts are like baby steps. A couple more of them, and by the time I make my first feature, I'll hit the ground running."
In 2012, she registered her own Production House, ACE ENTERTAINMENT , under which she completed her first short, DOORMAT. (SEE CLIP BELOW). A 3-minute excerpt from it got her into the Durban Talent Campus at the Durban International Film Festival 2012, where she got a first-hand experience of the art of cinema. She got to watch amazing African films and networked with industry professionals from across Africa. Her little knowledge about film-making was broadened, and she left Durban a much more enlightened person, as far as films are concerned.
In 2013, she got an AMAA (Africa Movie Academy Awards) nomination for Best Actress in a Supporting Role, for her role in the movie, NINAH'S DOWRY . In the movie, she plays the role of Cousin to Ninah, the lead character. She is her confidante as she rekindles her passion with her childhood sweetheart, while on the run from her abusive husband. In 2013, she also served as Facilitator/Volunteer at the Guerilla Indie Film Building workshop with the Zanzibits Ngo students in Zanzibar, Tanzania. (The Workshop was organized by BINAM Studios.)
Her second short, "BELEH" , which she completed in June 2013 has played in the following festivals and won the following awards: FILM AFRICA - U.K. – November 2013 (screened) AFRICA INTERNATIONAL FILM FESTIVAL , Calabar – November 2013, where it received a Special Jury Mention. ZAFAA GLOBAL AWARDS 2013 – Won Best Short Film TORONTO BLACK FILM FESTIVAL – February 2014 (screened) WINTER FILM AWARDS INDEPENDENT FILM FESTIVAL – February 2014 (screened) AFRICAN FILM FESTIVAL - NEW YORK – coming up in May 2014 In addition to this, BELEH was also broadcast on TV5 AFRIQUE and TV5 MONDE , both French TV channels, on March 11th and 13th 2014 respectively.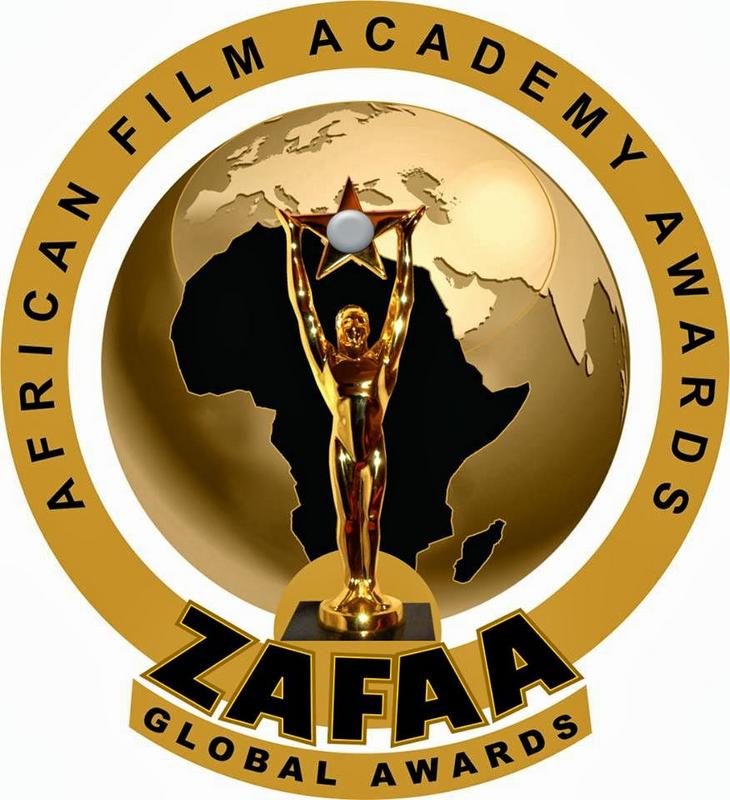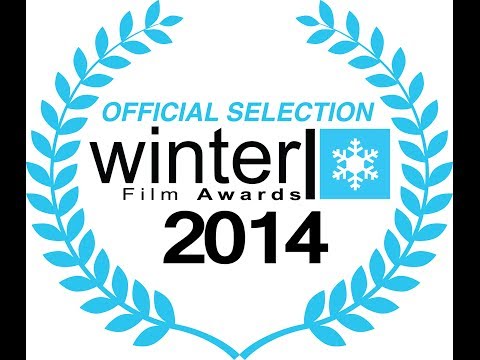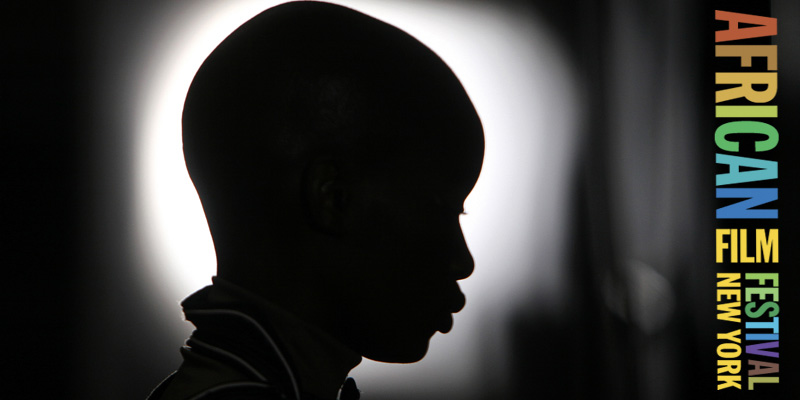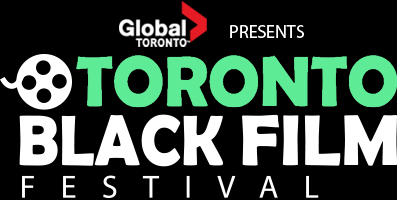 She plans on shooting another short in the next couple of months. However, she is keenly aware of the fact that she needs to get some professional training, so while she gets on with her work, she'll be also on the lookout for affordable courses on filmmaking, in some of the renowned film schools across the globe.
Acting remains her primary passion, so she's always on the lookout for a good script. It hasn't been easy to get to where she is today, and as she puts it in her own words: "I couldn't have done it without the help of God, (Phil 4:13, Is.40:31), the support of my wonderful family and friends, and working with a great team!" Something tells me that far BETTER & BRIGHTER DAYS lie ahead of this talented Writer, Actress & Film Director/Producer whose other interests (oh yes!), include, Reading, (A LOT), Writing, Basketball, Music & spending quiet, "JUST-ME-AND-GOD" time.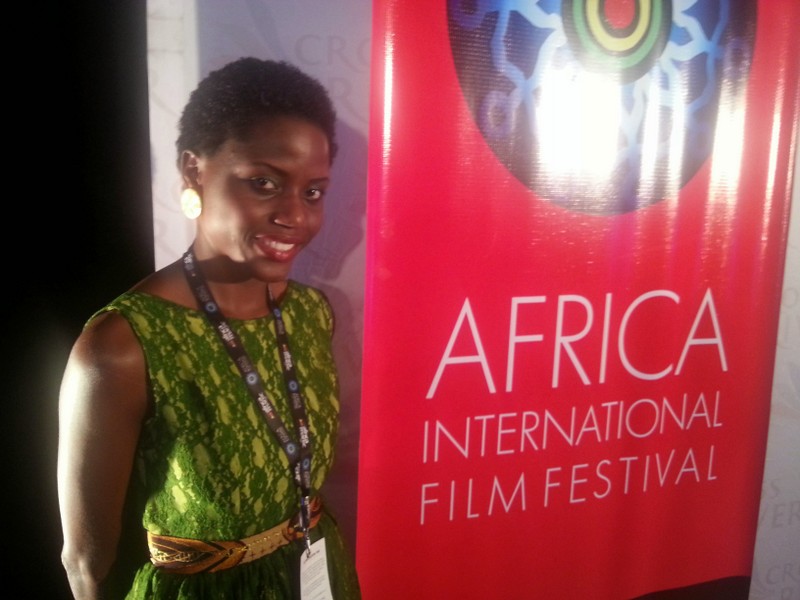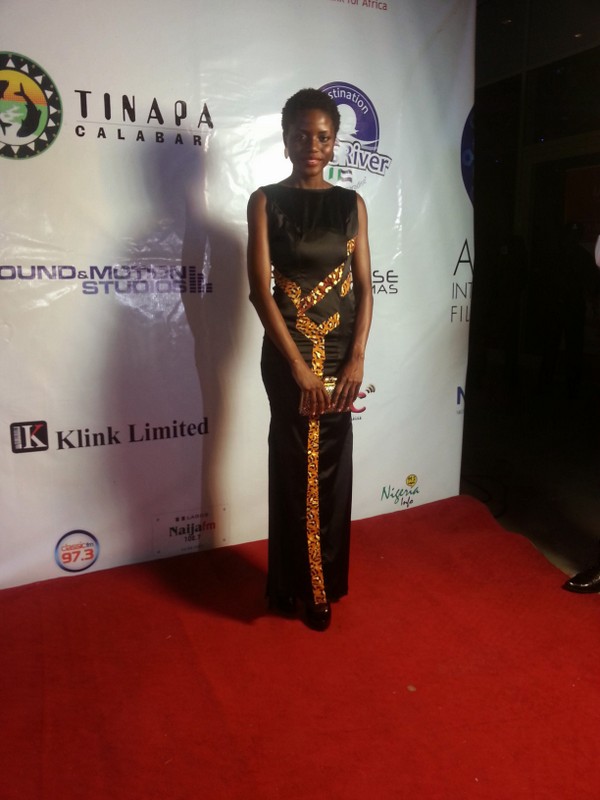 DOORMAT is a A short, no-dialogue comedy about Annie's frustrations as her neighbours insist on using her doormat to clean their dirty feet, and how she finally decides to stand up for her self.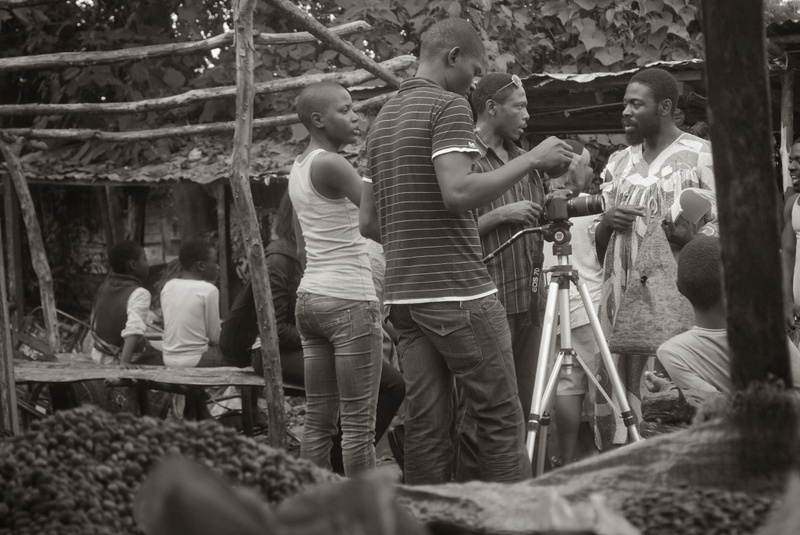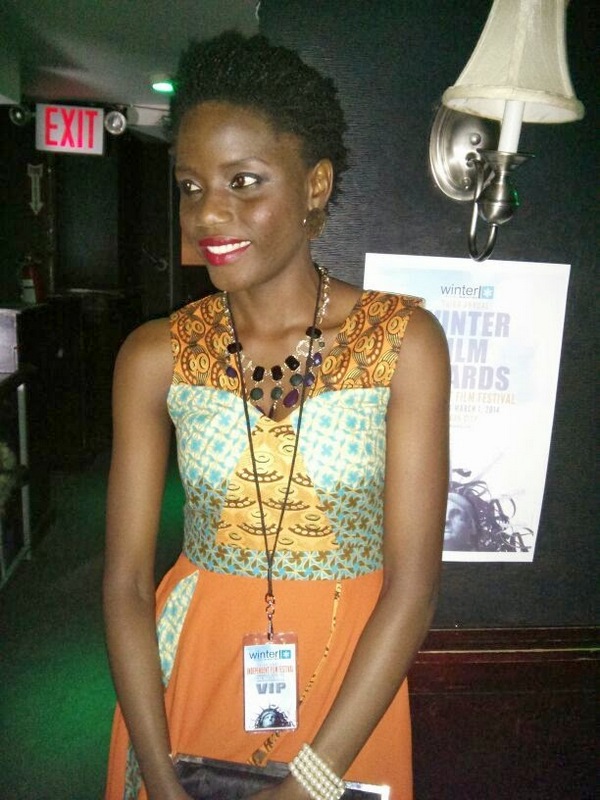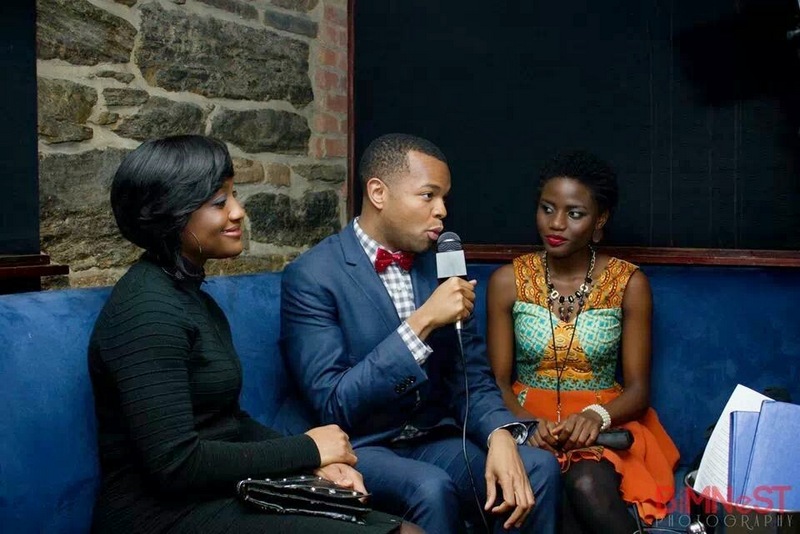 "BELEH" tells the hilarious but insightful story of a Man [Anurin Nwunembom] who gets pregnant after maltreating his pregnant wife [Christa Eka Assam]. He is made to understand, in just 1 day, the stress pregnant women go through for 9 solid months! What is amazing is that Christa is able to skilfully and convincingly convey her message in just 30 minutes.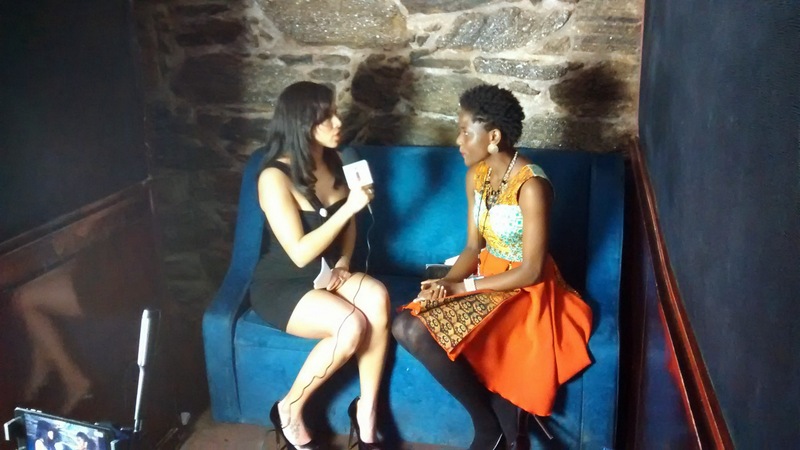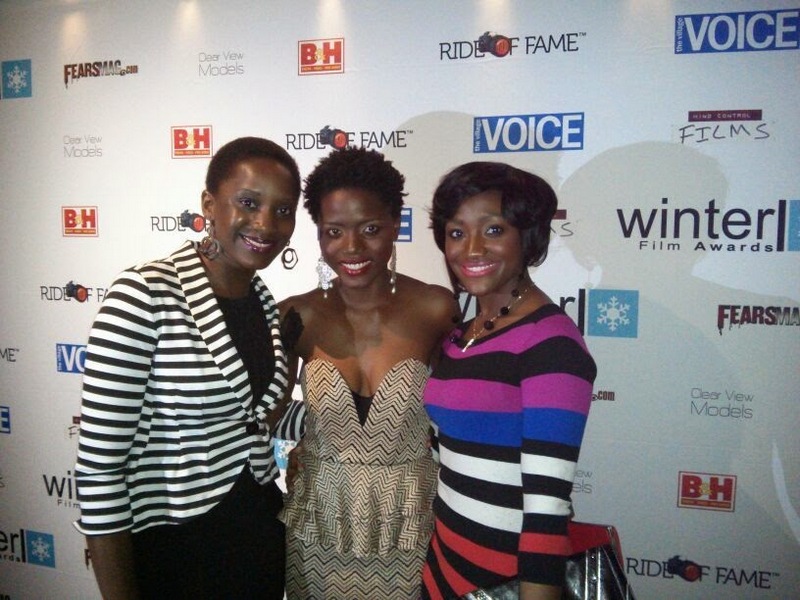 In NEW YORK, at the Winter Film Awards independent film festival last month, February 2014 With her SBC classmates, Boston-based BFF Rachel Achi Achu, (right) and Maryland-based "Sistah" Andin Gwanyalla (left) who came to New York to support her. ON THOSE WHO INSPIRE HER IN THE FILM INDUSTRY ... "My biggest role model is Meryl Streep. I consider her the greatest actress of our times, I find her work as an actress very intriguing as, despite the diverse roles she plays, she always has something new and different to bring to the table. She is an extremely talented actress and every time I watch her performances, I learn something. In Nollywood, there's Genevieve Nnaji, Joke Silva and Edith Jayne Azu." STUDENT #3529 SPEAKS ​ABOUT HER SAKER DAYS ...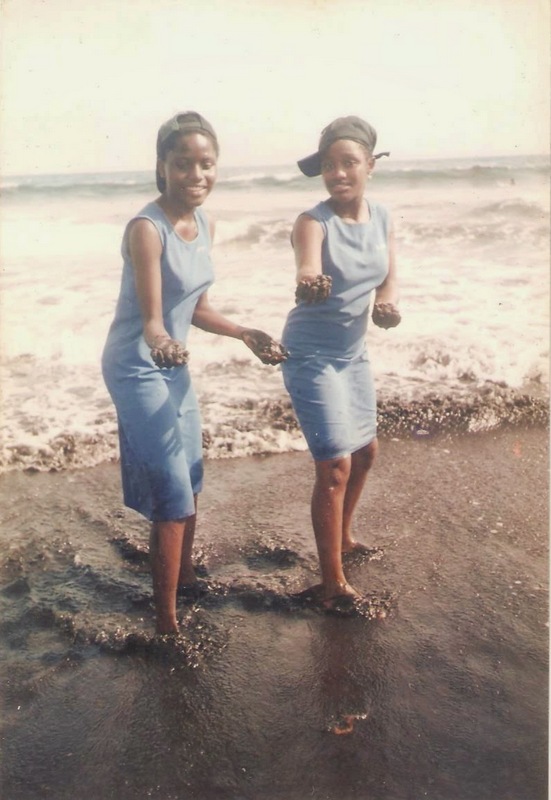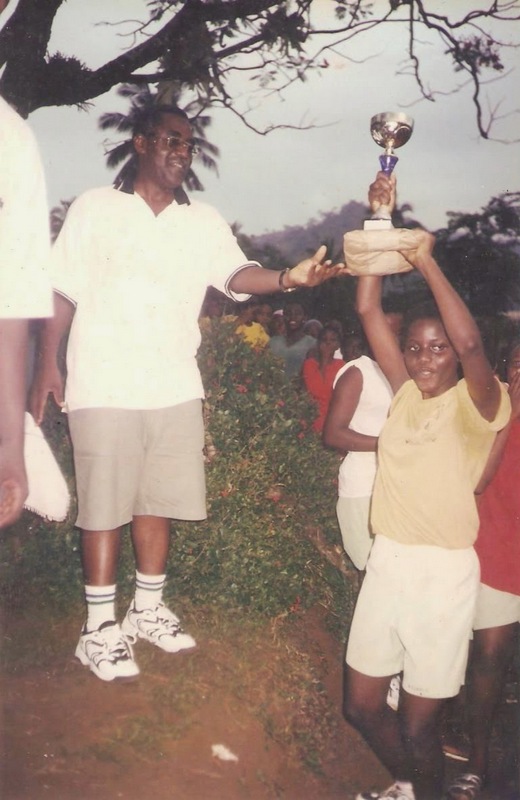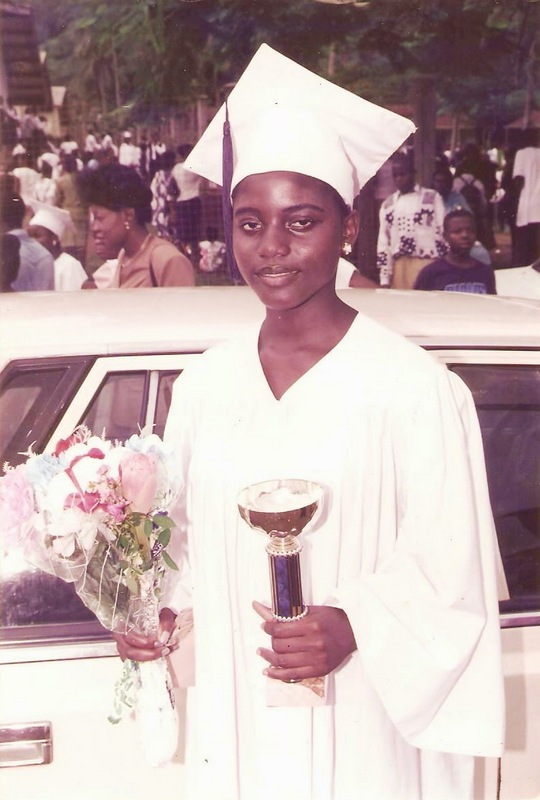 "Those seven years were priceless!! They were very instrumental in shaping me into the woman I have become today. They were some of the best years of my life. I wouldn't trade them for anything, and sometimes I wish I could go back - if even to sing those familiar, heart-warming hymns during morning chapel. That's the part I miss most - the singing. Oh, and sports! I was Assistant Sports Prefect in my final year, and an ace basketball player . I remember holding a trophy in my form five graduation pictures, which I got for basketball - best overall player at a female basketball tournament organised by the South-West delegation for sports. I didn't just pass through Saker, Saker passed through me (that's cliche, I know - but true!). Saker taught me faith in God, integrity, loyalty and unconditional love. Saker drew me closer to God. I learned how to pray, how to really pray, and connect with God on a spiritual level. This, together with my Christian upbringing at home, have been the foundation on which I have built my life, and made my choices. I know I am where God wants me to be, and I'm not afraid of the future because I know He will steer me in the right direction. I know He will put me in the right place, at the right time, and make me willing to do the right thing. Poise and self-confidence - that's a "Saker thing", lol. In an industry where believing in yourself is a must to achieve any form of success, these two virtues have been invaluable. Unity and sisterhood - the bonds we share are so strong. In Saker, friends become family. We look out for each other like our lives depended on it. In saker, I met my BFF and a whole host of friends who are my sisters today. I could go on and on ... you've been there, so you know, lol. I just wanted to give you an idea of how I feel about the time I spent there ... Priceless!!! ... and I'm proud to be a Sakerette. I thank God every day for giving me the chance to go to Saker!"
(DON'T WE ALL, MY DEAR???!!! Funny thing is, I could substitute practically any other SAKERETTE'S name for Christa's in the message above (which she sent to me via Face Book), and most of it, (but for the few specifics), would hold just as true!! SAKER OYAAAAAY, FOR REAL!!!)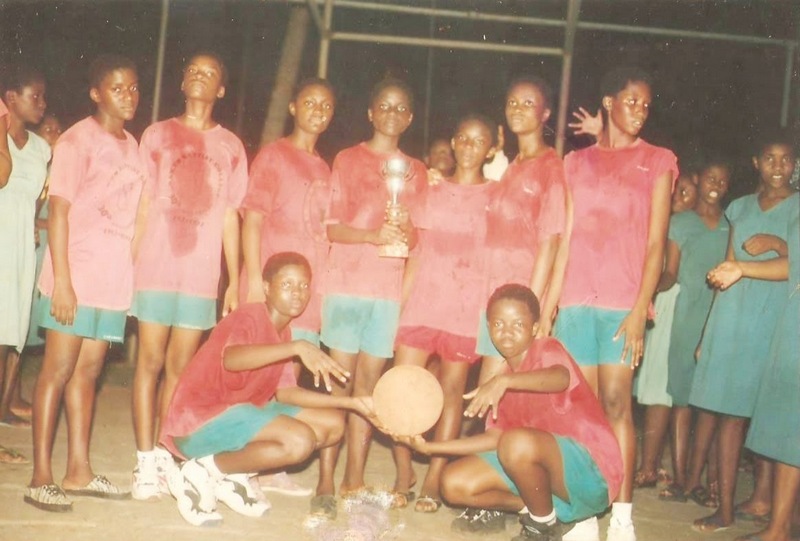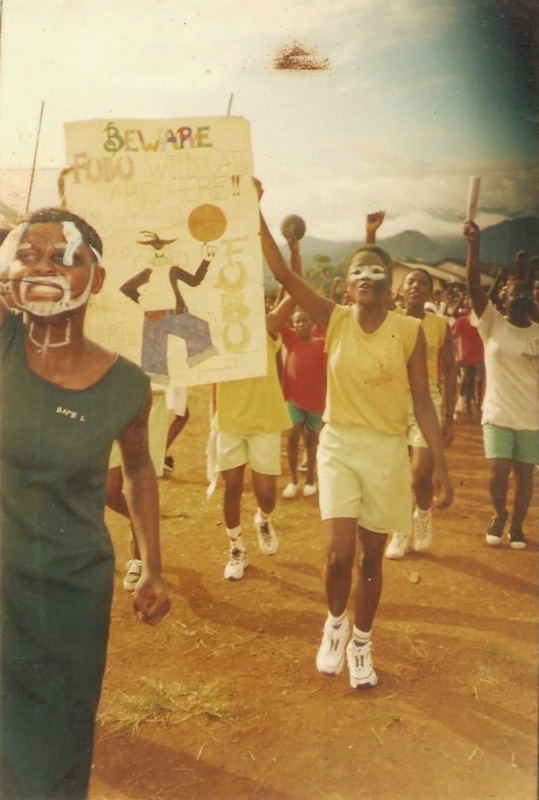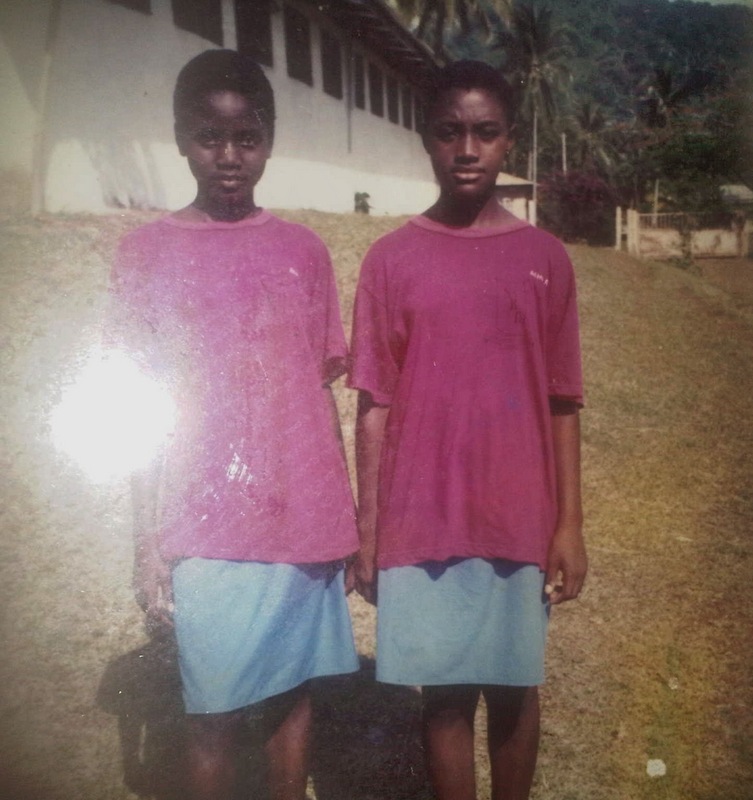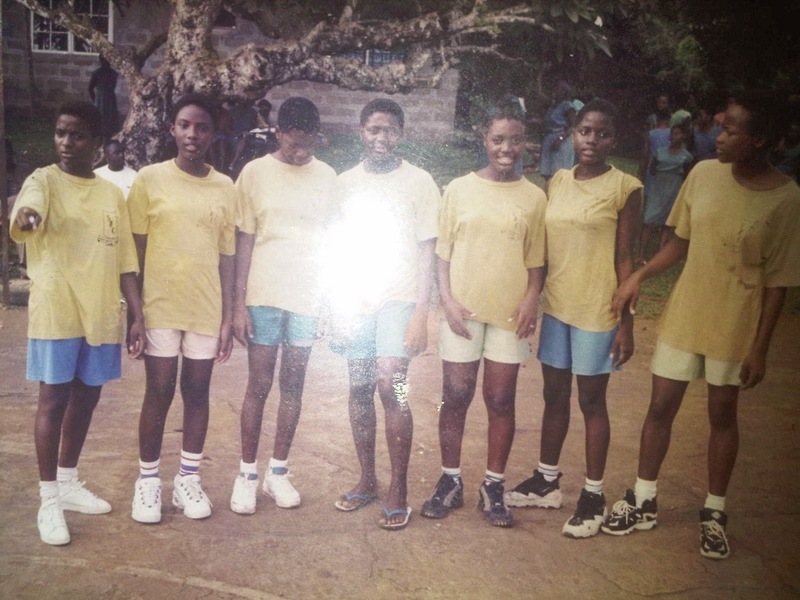 SPORTS - INTERHOUSE COMPETITIONS AT SBC "ADDENDUM" Just on a whim ...
PLEASE CLICK ON IMAGE TO THE LEFT TO VIEW THE MASH FIRE NATION LAUNCHING EVENT ALBUM PLEASE CLICK ON PLAY BUTTON TO VIEW VIDEO FOOTAGE OF THE EVENT'S COVERAGE ON NIGERIAN TV!! (VERY LOW SOUND. PLEASE TURN UP THE VOLUME!!)
If I had published the CHRISTA EKA story last night, it would have ended at the green line above. I decided, just this morning, to include this little bit to it, because it is, in my eyes at least, a very COMPELLING and INSPIRATIONAL addition to the story. The "little bit" is, in fact, an email exchange Christa and I had just yesterday, which I have chosen to publish "as is", not because I don't remember those invaluable MA MUSOKO, Queen's English, SBC lessons on how to write a PRECIS, but because I believe the whole "message" behind it will come across better in its "raw" state. (Sorry Christa!!) Here we go: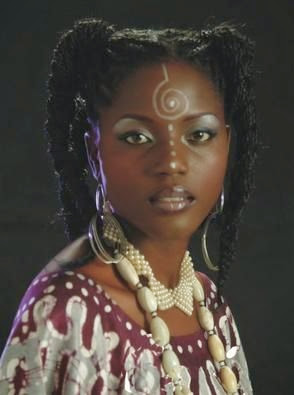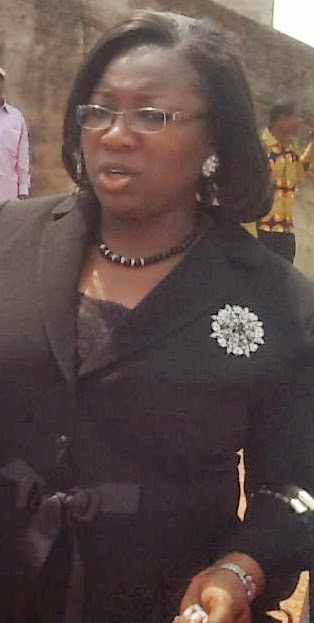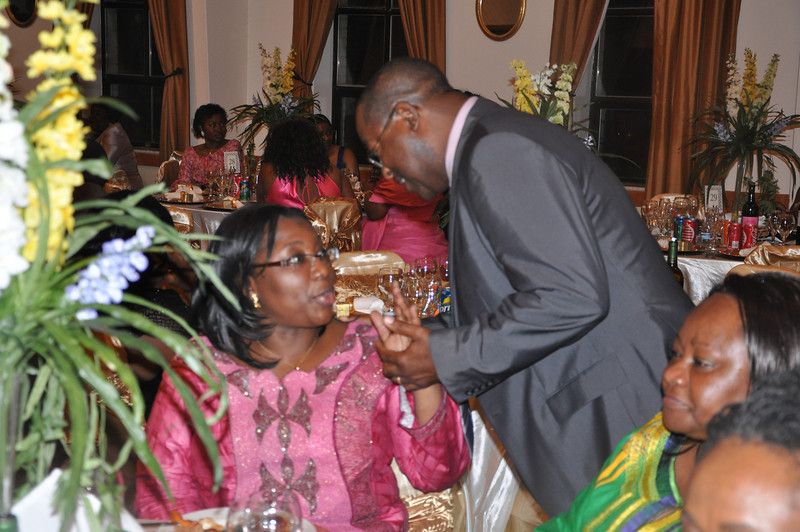 For the past twenty seven years, Lady Justice Vera N. Nkwate Ngassa has served the Cameroon judiciary progressively in responsible positions as State Prosecutor and Judge. She was Procureur de la Republique (State Prosecutor) for meme Division 1998-2005, President High Court of Fako and Administrator General 2005-2007, President Court of First Instance Kumba 2007-2012. She is currently Vice President of the Court of Appeals of the South West, Cameroon. She is also a university lecturer, and teaches "Women, Law and Human Rights" at the Department of Women and Gender Studies, University of Buea. Vera is an International Faculty Member, Haggai Institute for Leadership Atlanta/Maui Hawaii USA. She is the author of several books including "Gender Approach to Court Actions" (Friedrich Eibert 1998), Gender Law Report (1999), Co-author "Issues in Women's Land Rights" (2012) and " Cameroon Women's Land Rights Handbook" (Commonwealth 2013). In her work with women, she travels extensively, speaking on gender issues, including two appearances before the UN Committee on the Status of Women. Vera is passionate about women's rights and as a self-styled judicial activist she has broken new ground in the area of women's property rights and violence against women. Part of her work in prosecuting Gender Based Violence is featured in the award winning BBC Documentary "Sisters in Law." The film which has won 15 international awards was short-listed for the Oscars in 2007. Vera holds a License en Droit from the University of Yaoundé, and an LLLM With Distinction from Georgetown University Law Centre, Washington DC.
VOA's Ndimyake Mwakalyelye talks to Vera Nkwate Ngassa, a LAWA Fellow from Cameroon, about women's rights in Africa. Also featured at the beginning of the Clip is Class of 1977's Sis Elizabeth Enaka Ako, also a LAWA Fellow. PLEASE Click on Play Button Above to listen to her Interview with NPR (National Public Radio)
LADY JUSTICE Vera Nkwate Ngassa (Class of 1980) and and yet another SAKERETTE LADY JUSTICE, Beatrice Nambangi Ntuba (Class of 1977) both starred in the acclaimed Documentary "SISTERS-IN-LAW" which was a Winner of the Prix Art et Essai at the 2005 Cannes Film Festival and which was screened to acclaim at more than 120 festivals around the world. SISTERS IN LAW is a bestselling documentary from internationally renowned director Kim Longinotto, and it is co-directed by Florence Ayissi, a Cameroon-born cinematographer.
On Saturday, August 22nd 2015, the DOUALA-based "WING" of the TEXAS-headquartered philanthropic organization MASH FIRE NATION, (SEE DETAILS ABOVE), visited an orphanage for handicapped children in Douala called A.S.A.P. It is owned by a couple that was inspired to open it when God healed their sick child. The center has 40 children. Not all of the children can go to school. Some are not able to go due to physical and mental challenges. The t-shirts worn at this outreach are the group's official t-shirt which comes in four colors: White, orange, yellow and PURPLE and they were printed by the company of one of the group's members. The visit consisted of prayers, choruses, scripture and one on one time with the children. Back-to-school items and other basic needs were also donated by MASH FIRE NATION. Members also came with personal donations for the children. The "Item 11" took place at FOOD HAVEN #237, which is owned and operated by one of the members.
PLEASE CLICK TO VIEW AN EXCERPT FROM THE DOCUMENTARY FILM "SISTERS IN LAW"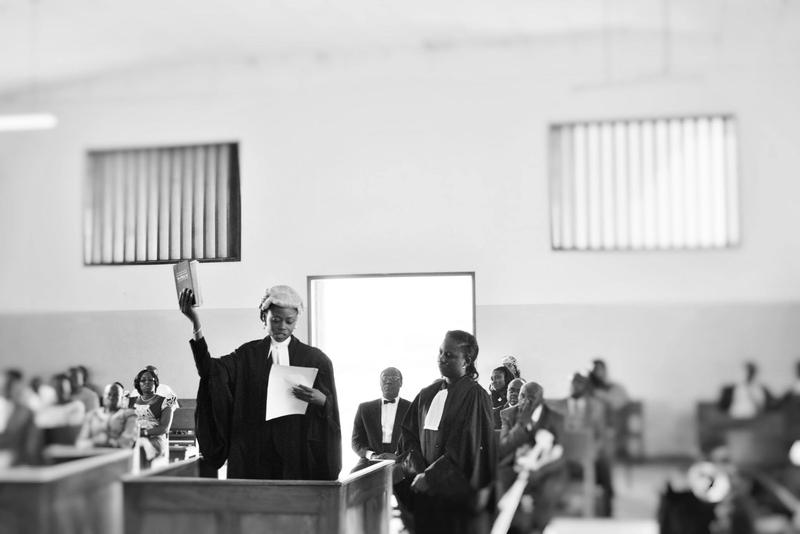 9 DISTINGUISHED SAKERETTES EFFORTLESSLY FLYING THE S.B.C. FLAG SKY HIGH! CONGRATS TO MAWA (MINNESOTA AFRICAN WOMEN'S ASSOCIATION) & HER FOUNDER/CEO, NYANGO MELISSA NDINGE NAMBANGI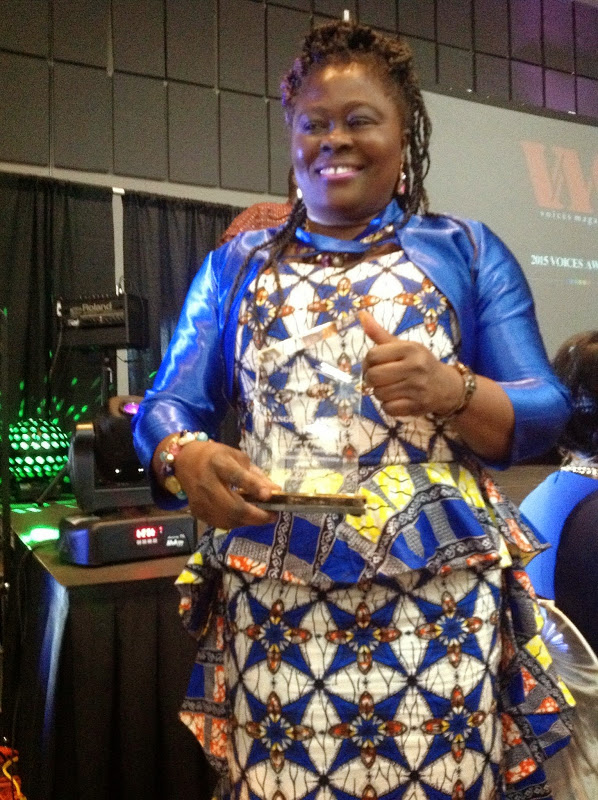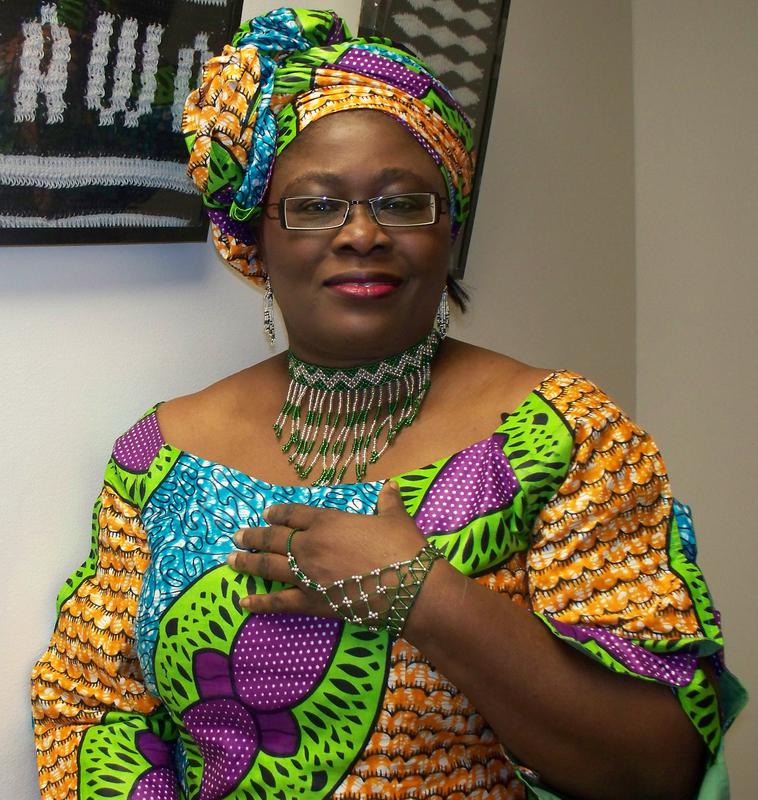 PLEASE CLICK ON PLAY BUTTON ABOVE TO VIEW/LISTEN TO HER ACCEPTANCE SPEECH!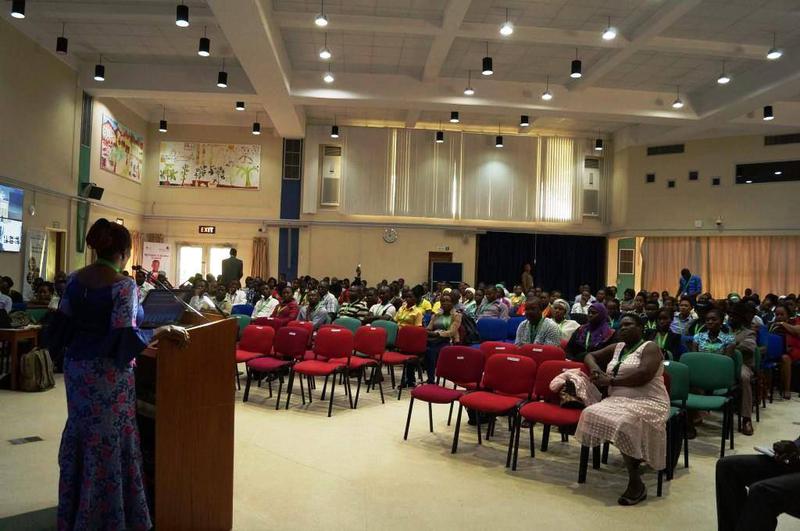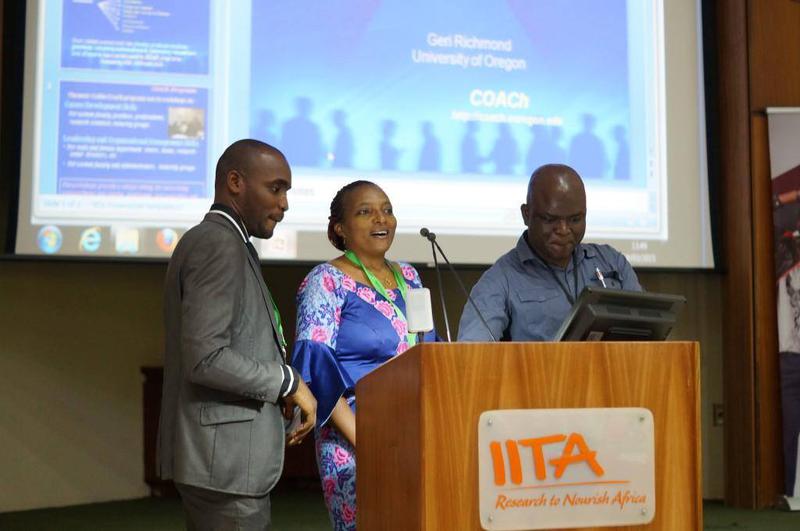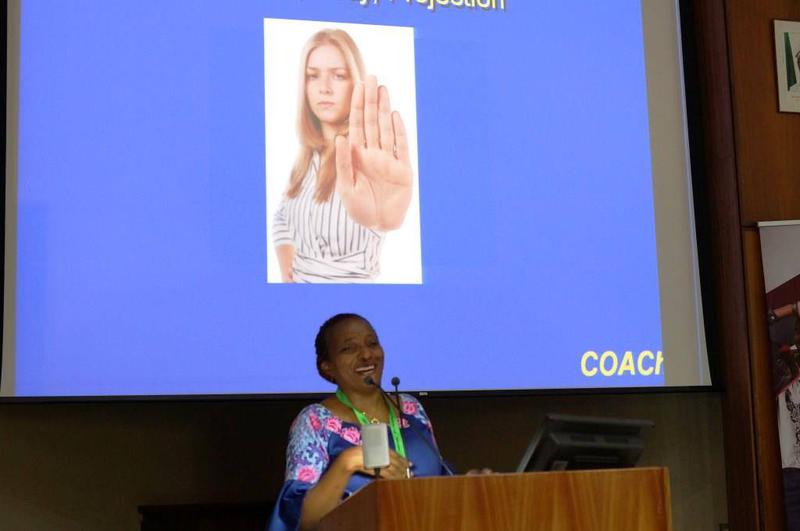 Mrs. KAH KAJIH FOMUSO (Class of '88) & THE MASH FIRE NATION MOVEMENT
MASH FIRE NATION decided to hold a formal Launching Event in Arlington, Texas, so they could explain their vision to the public and let everyone know what they really are about. Here is what The Movement's President, Mrs. KAH KAJIH FOMUSO has to say about The Movement itself, and the Launching Event:
There is a lot more to MASH FIRE NATION than meets the eye. After my presentation, there was not a dry eye in the house. People were so shocked. My original goal in creating this group was just to give free tips to friends who wanted to pursue a healthy lifestyle. I never even thought beyond that. However, later on, the tips and sisterhood became so intense that the "recipients/beneficiaries" said they wanted to pay me something. I intentionally dodged the whole "paying me" idea because I honestly did not see why they or anyone else needed to pay me. So they came up with their own way. They started a program called POTV ( Pass On The Vision). Each of them picked a day to go out and do something in their immediate community for a stranger in honor of what MASH FIRE NATION had done for them. This was so very successful, it was done again and then, as we discussed various topics in the group, the topic of CHILD ABUSE came up. We discovered that a lot of women in the group had gone through brutal abuse as little girls and all seemed to happen to us between age 5 & 9. That's when we decided to do the FLY A PURPLE FLAG CAMPAIGN . During that period, the women in Cameroon decided to buy food & some basic supplies and visit an orphanage to show the world that children have to be loved. (SEE VIDEO POSTED BELOW!) When they came back they were so moved that they said they had to go back.
It is important to point out that the main/core group that powers MFN is our PRAYER WARRIORS. So many testimonies have been reported from women sending in prayer requests to this group of women who are Cameroonian and Nigerian women. They have prayed almost every single day sacrificially for our members for the past year and a half. When women are too embarrassed to ask for prayers from their church or friends they turn to us. Sometimes they contact us at odd hours of the night needing help for something. We have to always have someone to help these women help their children at anytime. So we have a lot of volunteers like doctors, nurses and Lawyers who are members and who dedicate their time to reach out, regardless of country of origin.
Now, our main calling is to reach out to needy children in orphanages. There are children in orphanages who are not even orphans. They are there because their parents do not have the means to care for them or if they are special needs kids, the parents are not educated enough to care for them. Sometimes the conditions in these orphanages are so deplorable that the women said you almost prefer that these children stay in the streets. So our projects are basic. Provide basic hygienic, food, educational materials to these children. While we continue to educate mothers with our posts and write ups on MFN. Wellness is not only physical, it's spiritual, it's financial, it's hygienic, etc.
I wanted to set up the group in a way that gave me no control, so the group is run by a board of directors. Fifteen to be exact. They take all decisions. In the meantime we are trying to decide membership roles. We are fully registered in the state of TEXAS also and I am happy to announce that MASH FIRE NATION is no longer my personal business but a community property. Anybody can become a member of the board, as long as you are active with us. -The following are the current board members: 1. PRESIDENT - KAH KAJIH FOMUSO aka Coachkay (TEXAS, USA) 2. VICE President - Temitope Adu (LAGOS, NIGERIA) 3. SECRETARY - Amalia Nyangha (DOUALA, CAMEROON) 4. ASSISTANT SECRETARY - Nkem Elizabeth (LAGOS, NIGERIA) 5. Publicity Secretary - Bucris Akindutire (NEW JERSEY, USA) 6. Assistant Publicity Secretary - Rahel Akwe (TEXAS, USA) 7. Projects Lead - Ethel Ayuk (MASSACHUSETTS, USA) 8. Assistant Project Lead - Chizoba (Enugu, Nigeria) Kanele-Akinosho 9. Director of MFN NIGERIA AFFAIRS - Ajeyemisi Elizabeth (ABEOKUTA, NIGERIA) 10. Organizing Secretary - Judith Enanga (TEXAS, USA) 11. Treasurer - Bern Ngu (HEIDELBERG, GERMANY) 12. FINANCIAL SECRETARY - OLAWUNMI TORIOLA-SALAMI (Abeokuta, Nigeria) 13. ASSISTANT FINANCIAL SECRETARY - Miranda Ngonga (Texas, USA) 14. Spiritual leader - Caroline Adeyemi Adeoshun (Lagos, Nigeria) 15. Assistant Spiritual leader - Mary Ngong Akwa (Texas, USA)
*MASH FIRE NATION is your nation. Build it God's way!!*
IF YOU'D LIKE TO DONATE TO THIS NOBLE VENTURE, CONTACT COACHKAY FOMUSO VIA FACEBOOK AT:
https://www.facebook.com/kah.kajih?fref=ts
OR, SEND AN EMAIL TO: mash.fire@yahoo.com (Steps are being taken to link our Paypal account to our bank account to facilitate the inflow of Donations and as soon as all is set, the relevant information will be communicated to the public.)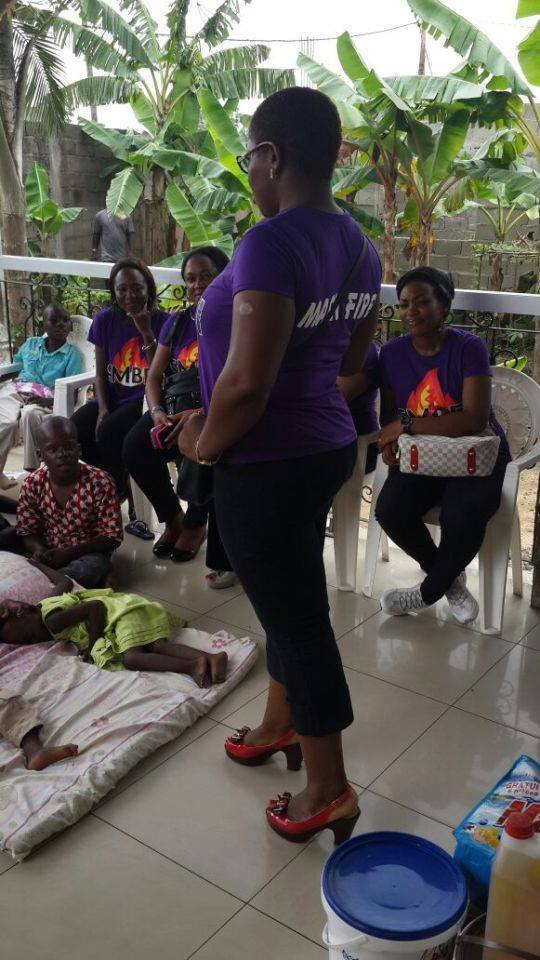 PLEASE CLICK ON IMAGE TO THE RIGHT TO VIEW THE VISIT TO AN ORPHANAGE IN DOUALA BY MFN MEMBERS
MASH FIRE NATION IN DOUALA VISITS A.S.A.P. ORPHANAGE ... (Saturday, August 22 2015)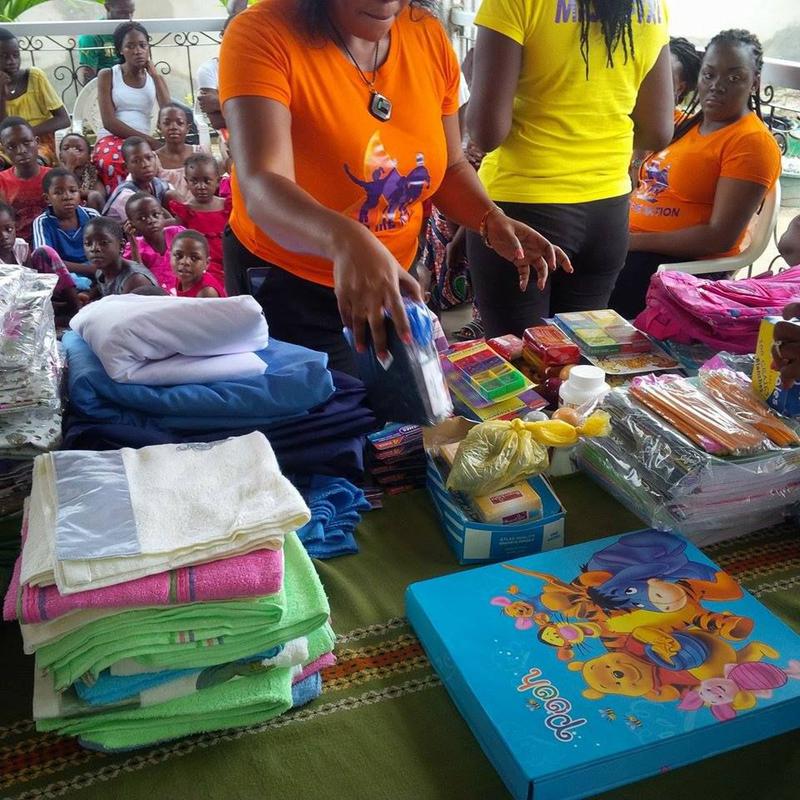 PLEASE CLICK ON THIS IMAGE TO VIEW ALBUM!!
Young Miss Esther Achua on graduation day (June 1973), at Saker Baptist College. (Miss E. Kern's Collection)
PLEASE CLICK ON THIS IMAGE TO VIEW MORE PICTURES
... AND OUR NEW COMMISSIONER ON AFRICAN AFFAIRS FOR THE STATE OF MARYLAND IS ... CLASS OF 1987's STUDENT #1816, LADY KATE ATABONG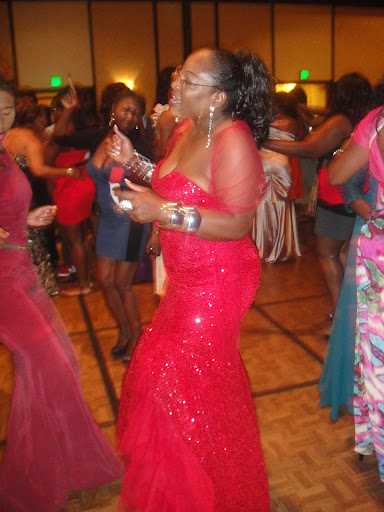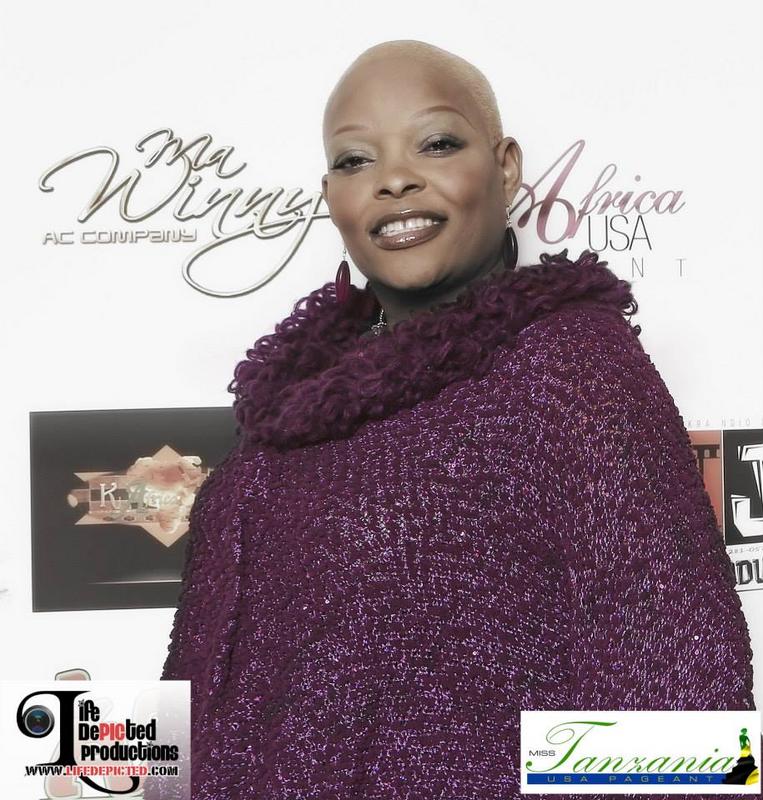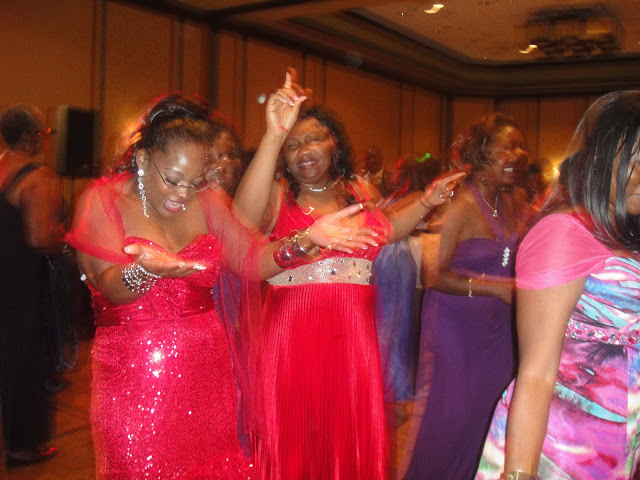 The call from the Governor's Office to Ms KATE ATABONG came in at 10 a.m. yesterday morning, February 11 2014. The person at the end of the line stated that she was calling on behalf of the GOVERNOR OF THE STATE OF MARYLAND, GOVERNOR MARTIN O'MALLEY, to inform Ms ATABONG that she had BEEN "APPOINTED AS COMMISSIONER FOR AFRICAN AFFAIRS FOR THE STATE OF MARYLAND EFFECTIVE TODAY"! What an HONOR which I must hasten to add, is well merited, given the amount of Community Service and tireless work LADYKATE has put in over the years to better the lot of her fellow Africans, with a particular focus on young African Girls via her Annual Pageant which has given its participants limitless opportunities to better themselves which they ordinarily would not have had.
In the role she has just been appointed to, the recent recipient of the NIGERIAN DIAMOND SPECIAL RECOGNITION AWARD, (which was presented to her in a grandiose ceremony at The NIGERIAN EMBASSY in Washington, D.C.), will work with the Governor, the Government, Private Institutions and other leaders, to address needs specific to the African Diaspora community in the state of Maryland.
She will also work to strengthen relations between the state of Maryland and African Institutions, Diplomatic Missions, Communities and other Organisations both in the United States and in Africa.
"THE LADY" IN A NUTSHELL!
After the raised-in-Gardens-Limbe girl graduated from Saker Baptist College in 1987, she moved on to Baptist High School Buea, where she graduated with the Class of 1989. Thereafter, she went to the United Kingdom for further studies and undertook a Bachelors in Economics and Social Sciences at the Victoria University of Manchester. She later became a Registered Nurse and worked for a few years in England before emigrating to the United States. The mother of 2 currently resides in the State of Maryland with her family.
She is the CEO and Founder of the Miss Africa USA Scholarship Pageant which she started in 2005 in Atlanta, GA, as a way of bringing the African Community together to celebrate our culture and at the same time empower young women to embrace their beauty and use that as a platform to serve humanity.
​WE CERTAINLY WISH HER GODSPEED AS SHE STEPS INTO THIS CHALLENGING PHASE OF HER BRIGHT CAREER, CONFIDENT THAT GOD WILL EQUIP HER WITH THE CLAIRVOYANCE, VIGOR AND WISDOM IT WILL TAKE FOR HER TO DISCHARGE HER DUTIES DILIGENTLY! "HANGING OUT" AT ExSSA-USA CONVENTIONS ...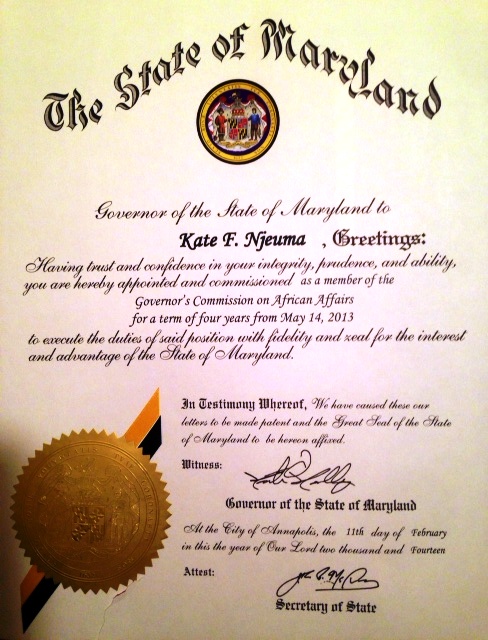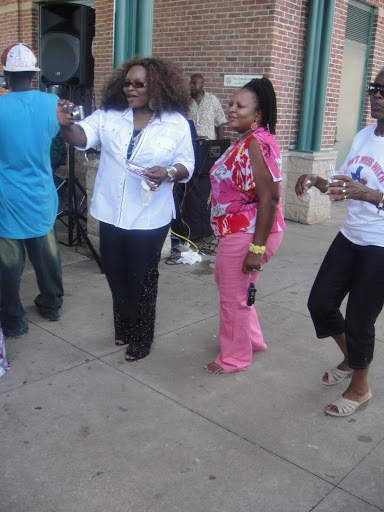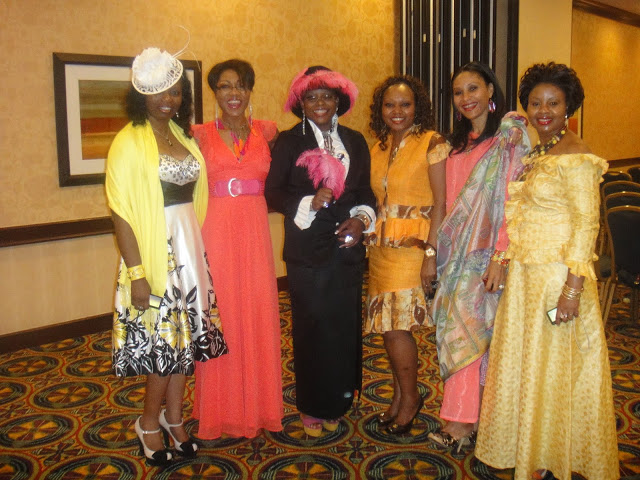 At the HOUSTON CONVENTION With her sister, Constance Atabong Nkwantah (left) and Egbe Mbiwan Monjimbo (below) 2010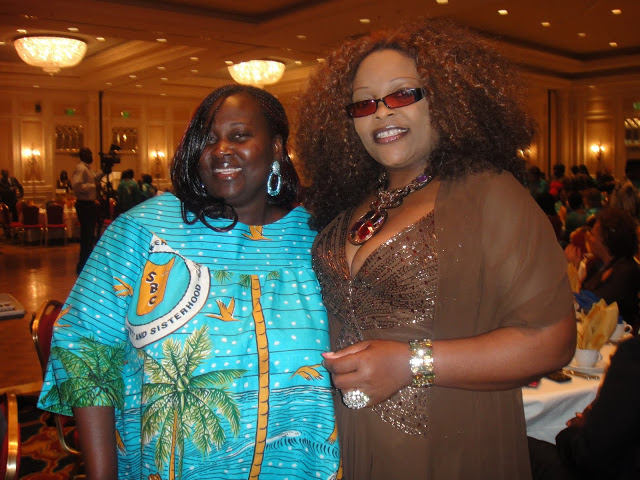 At L.A. Convention Church Service with Faith Sikod Menyoli, Boh Fielding Geh, Hannah Njonjo Dibonge, Sharon Romero Smith & Agnes Achuo Njaba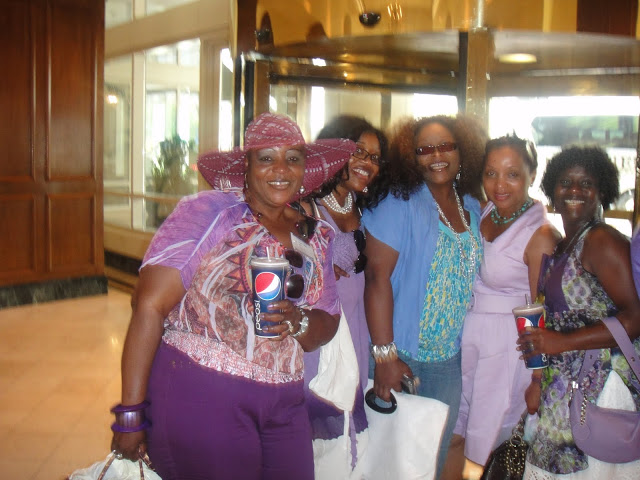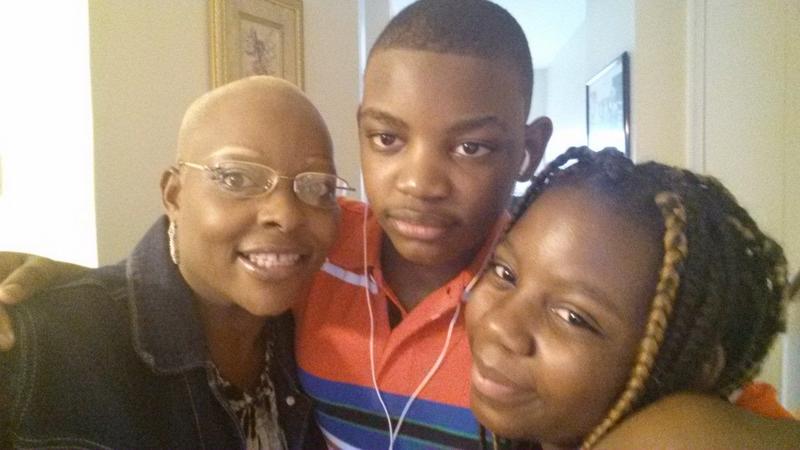 At Houston, with Marie Takusi Njowo, Rachel Kientcha Tita, Susannah Mondoa Nfonoyim and Evelyn Fuoching Fuller. With her precious CARATS, Livite & Embelle Dr. ESTHER GWAN Née ACHUA (CLASS OF 1973's GIRL #513)

SERVING HUMANITY AROUND THE WORLD AS A GLOBAL HEALTH ADVISER WITH SAMARITAN'S PURSE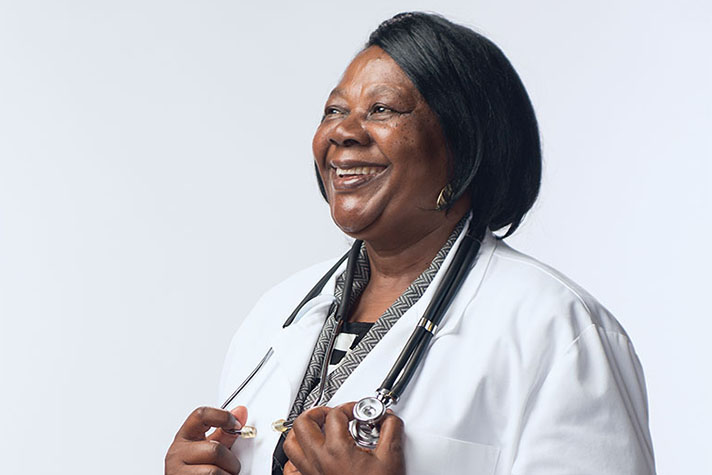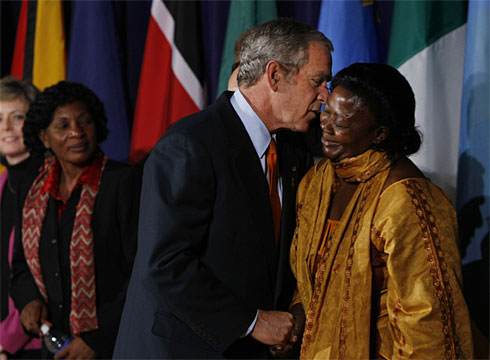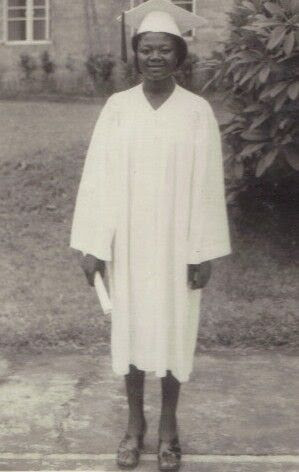 Dr. Esther Achua Gwan (Photo Courtesy of DECISION Magazine)
<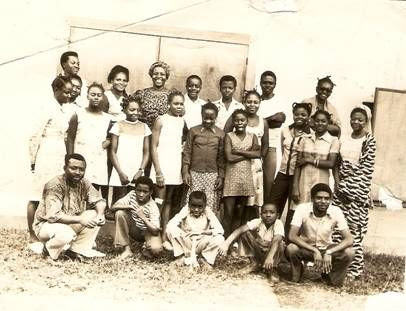 Front row squatting, L to R: Late Rev. NDINGWAN, Mr. Aatsa Atogho, ??, ??, Dr. Joseph MFONYAM. Middle Row: Dr. Mrs. Lilian Tendo Wambua ('70), ??, Mrs. Egbe Mbiwan Monjimbo ('81), Mrs. Jessie Atogho Ekukole, Mrs. Patience Mofor Abiedu, Dr. Mrs. Stella Shu Chungong, ??, Dr. Mrs. Florence Shu Acquaye ('76), Dr. Mrs. Dora Shu Mbanya ('73), Ms Dorothy Mongwa, Dr. Mrs. Esther Achua Gwan ('73) Back Row: Mr. Emmanuel Tamen, Mrs. ATOGHO, Late Mrs. SHU, Prof. Willy Shu, Mr. Fred Tamen, ??, Mrs. Ebob Mbiwan Tanyi
Back Row, L to R: Dr. Mrs. Esther Achua Gwan ('73), Mrs. Ebob Mbiwan Tanyi ('74), Mrs. Patience Mofor Abiedu, Dr. Mrs. Stella Shu Chungong ('80), Dr. Mrs. Lilian Tendo Wambua ('70), Dr. Mrs. Dora Shu Mbanya ('73), ??, Dr. Mrs. Florence Shu Acquaye, ('76). Front Row, Squatting: Mrs. Jessie Atogho Ekukole ('78), Ms Dorothy Mongwa, Mrs. Egbe Mbiwan Monjimbo ('81) And if you are wondering why Miss Binder was so EXCITED and why she felt so PROUD, that might be because you know little to nothing about SAMARITAN'S PURSE which is run by FRANKLIN GRAHAM, son of the Legendary BILLY GRAHAM; Or perhaps all you know about the Organization is that they send out, collect and deliver shoe boxes at Christmas Time for the benefit of needy children around the world. A quick look at their Mission Statement should help you figure out what the "FUSS" is all about and why Miss Binder does see in Dr. ESTHER ACHUA GWAN, the fulfillment of the kind of DREAM she and her fellow missionaries had when they left all behind and plowed time and energy into their LABOR at S.B.C:
Samaritan's Purse is a nondenominational evangelical Christian organization providing spiritual and physical aid to hurting people around the world. Since 1970, Samaritan's Purse has helped meet needs of people who are victims of war, poverty, natural disasters, disease, and famine with the purpose of sharing God's love through His Son, Jesus Christ. The organization serves the church worldwide to promote the Gospel of the Lord Jesus Christ.
I doubt that Little Esther Achua could have imagined - even in her wildest Presbyterian Primary School BANJAH and Baptist Primary School Mile 3 NKWEN dreams in the Late 50s, that she would become a Medical Doctor, particularly since she had never set eyes on any female Doctor - Black or White, at the time. I do not think it could have crossed her mind either, as she watched the flickering, Reel & Spool, Black & White BILLY GRAHAM CRUSADE movies at SAKER BAPTIST COLLEGE, (a School to which she and her husband would later send all 3 of their daughters - Beryl (2001 -HS), Lydia (2002) and Rhoda (2005) by the way), that she would one day not just meet but work FOR & WITH that BILLY GRAHAM and his son (FRANKLIN GRAHAM) directly ! And if she had responded with a Ma SARAH ABRAHAM-type laugh of DISBELIEF to someone's "delusional" prediction that she would one day "rub shoulders" with a President of The United States of America, would you have blamed her? Oh, the wonders that can happen when a person's determination and hard work blend right in with God's Will!!!
Do take a minute to read her story as she tells it herself in the Magazine Article that Miss Binder saw, which I was able to locate, ONLINE, with relative ease! "As a young girl growing up in Cameroon, in Central Africa, I often walked from our small village in the Northwest Province to take food to my father, an orderly at the Bamenda General Hospital. I was mesmerized by the nurses in their crisp, white uniforms and caps, so much so that I dreamed of growing up and becoming a nurse myself.
In school, I worked hard to pursue my dream, doing so well on my secondary school final exams that I was admitted to high school. I took biology, chemistry, physics and French and was finally ready to take the admissions exam for nursing school.
It was at that point I learned that I should have taken the exam two years earlier. That opportunity had now passed, and my dream was crushed. Then Helen, a girl in my village, proposed an idea I had never considered. Why not take the entrance exam for the School of Medicine and become a doctor instead? Her question caught me by surprise. I had met a few doctors, but not a female one, so I was intrigued. When I mentioned this notion to my father and to others, they encouraged me to move forward.
PLEASE CLICK ON IMAGE BELOW TO READ THE ARTICLE IN ITS ENTIRETY!

Please Click On Link Above To Read Article From Which The Picture With George W. Bush Was Extracted. Quite An Eye Opener! MORE PROFILES TO FOLLOW!