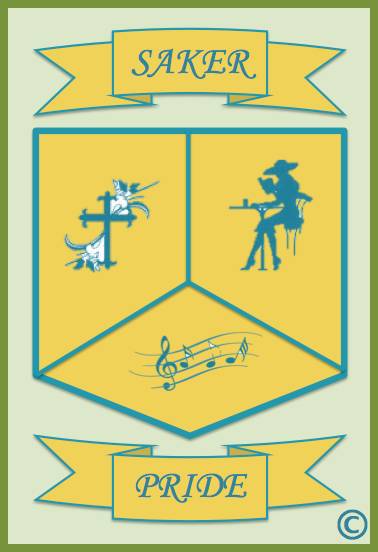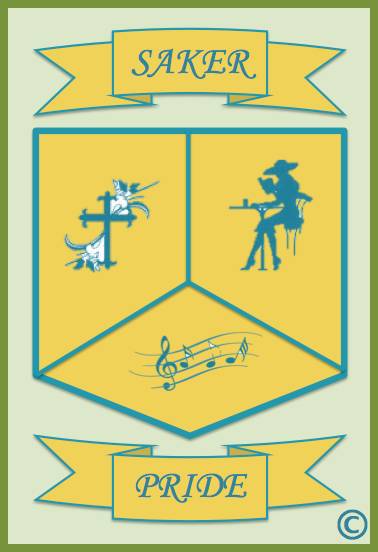 SakerPride - "Telling the Saker Story & MORE"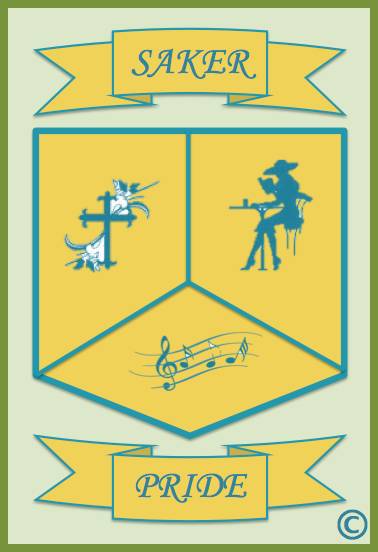 The "SAKER WORLD" is VAST, given the fact that Ex-Sakerettes have settled ALL OVER THE WORLD! Having been raised on the fundamental principles of LOVE, UNITY and SISTERHOOD, they have organized themselves into different Associations under the ExSSA "Umbrella". This page is dedicated to highlighting what these vibrant and dynamic ladies have done, and continue to do within their respective Associations & Chapters! It also seeks to help long lost friends and acquaintances RECONNECT. So, Help someone reconnect with their "Dulong", "Petite" or "Intie", and Find out what's going on around the "Saker World" and be INSPIRED!

Have information to submit? SISTAH! DULONG! INTIE! WHERE AT THOU?? SOMEONE'S TRYING TO FIND ... - Ms Queen Mimba -Ms Mabel Fombu - Ms Doris Njie (Motomby?) - Ms Grace Mbaeri -Ms Esther Chainan MEMBERSHIP/EXECUTIVE
Members Present At 1st Meeting.(From Pretoria/Johannesburg)
1. Stella Anyangwe, class of 69, Adviser 2. Bih Fomukong Atanga, class of 87, President 3. Matilda Azong, class of 89, Treasurer 4. Sandra Matabi Ayuk, class of 89, Chief Whip 5. Vivian Njoke, class of 91, Music coordinator 6. Emily Monjoa Dohya, class of 96, Secretary 7. Ruth Ngomo, class of 98 8. Ayuk Takor, class of 2003, Publicity Secretary 9. Miranda Alubafi, class of 2003, Financial Sec. 10. Muriel Ngantcha Cheyip.
Members Not Present (Capetown)
1. Rylin Elangwe Nchu, class of 96 2. Tabor Elizabeth, class of 98 3. Collet Ajame, class of 99 4. Melody Tata, class of 94 WELCOME, ExSSA-SOUTH AFRICA
Sunday, November 20 2016 will go down in ExSSA HISTORY as the day ExSSA-SOUTH AFRICA held its LONG AWAITED and VERY MUCH ANTICIPATED Constitutive/Formative meeting, at the Pretoria home of none other than a veritable ExSSA BAOBAB, Dr. Stella Nwigwe Anyangwe ('69), the budding group's Adviser! In a letter she wrote to the Chapter's newly elected PIONEER PRESIDENT, Ms Bih Fomukong Atanga ('90), she said the following:
"Congrats on your election as President of our newly-created EXSSA-South Africa. We wish you and your new executive every blessing as we start our EXSSA journey in the diaspora of South Africa. We hope more ex- SAKERETTES will join us, and that we will co-opt ex-SAKERETTES living in other provinces in South Africa, to become a strong and vibrant chapter in this country."
What more can one say to that but "AMEN & GODSPEED"??
PLEASE CLICK ON THIS IMAGE TO VIEW ALBUM!
PRESIDENT: Bih Fomukong Atanga
RESPONSE FROM THE DESK OF THE PRESIDENT GENERAL OF ExSSA, JUSTICE BETTY MUAMBO LUMA:
Your wonderful inaugural ceremony has brought joy to every heart. We are all moving towards the vision of having each Sakerette identified anywhere in the world. We hope to hear from you as you progress in your activities. God bless you all and thanks once more your able adviser, Aunty Stella. In Love, Unity and Sisterhood.
ExSSA-NIGERIA IS BORN!!!!! ExSSA - U.K. ExSSA - U.S.A. ExSSA - D.C. METRO DIE HARD ExSSA-YAOUNDE BEAUTIES, Back in the day!! L to R: Sisters Joan CHUO, Bertha Njie EFFANGE,(RIP) Stella Nwigwe ANYANGWE, & Grayce Ebai NJUMBE! ExSSA-BUEA UNIVERSITY CHAPTER CHAPTER EXECUTIVE PRESIDENT: BELINDA OBEN ASSAM VICE PRESIDENT: CHANTAL KAMGA SECRETARY: LUCY ELANGO AJANG VICE SECRETARY: EVELYN MBONDE TEMDIA TREASURER:TENGUH FOMUKONG FOKAM FINANCIAL SECRETARY:DORCAS MONJIMBO SOCIAL/ PUBLICITY SECRETARY:ETONDE MARTIN SPIRITUAL LEADER: MBINWI AWUNTI WAINDIM SONG LEADERS: JUSTINE NDIP, ELEANOR NDI TAGUIA CHIEF WHIP: COMFORT AYUK MBUAGBAW AUDITORS: NAOMI ATANGA, AYUK TAKOR ADVISERS: HILDA EPIE, HELEN FONACHU, MARY GWEI

CLASS OF 1976's HELEN NJOMO MOLUA IKUNDI IS AWARDED KNIGHT OF THE CAMEROON ORDER OF VALOUR MEDAL! PLEASE CLICK ON PICTURE DIRECTLY BELOW TO VIEW DAZZLING PICTURES OF THE HISTORY MAKING EVENT! ExSSA-MINNESOTA ExSSA-DALLAS PLEASE CLICK ON PICTURE ABOVE TO SEE THE STORY IN PICTURES! (The Ladies visiting with the student from the school whom they are sponsoring through SBC) ExSSA-UK MIDLANDERS' MEETING ~ BACK TO SCHOOL EDITION! PLEASE CLICK ON IMAGE TO VIEW ALBUM
PLEASE CLICK ON IMAGE TO VIEW ALBUM ExSSA-UK MIDLANDS GOES RETRO For Their March "BORN HOUSE" Meeting! ExSSA-YAOUNDE @ P.C.C. NSIMEYONG CELEBRATING SAKERETTE PCC PASTOR, REV. CHRISTINE TANTOH (Sunday, March 22 2015)
​IT'S LEGIT! ExSSA-NIGERIA has OFFICIALLY been recognized as a Chapter, with 18 duly registered, full-fledged members! The blooming chapter held its first official meeting on Sunday February 28 2016 in LAGOS! WELCOME TO THE FOLD & GODSPEED!!!
PLEASE CLICK ON THIS IMAGE TO VIEW ALBUM!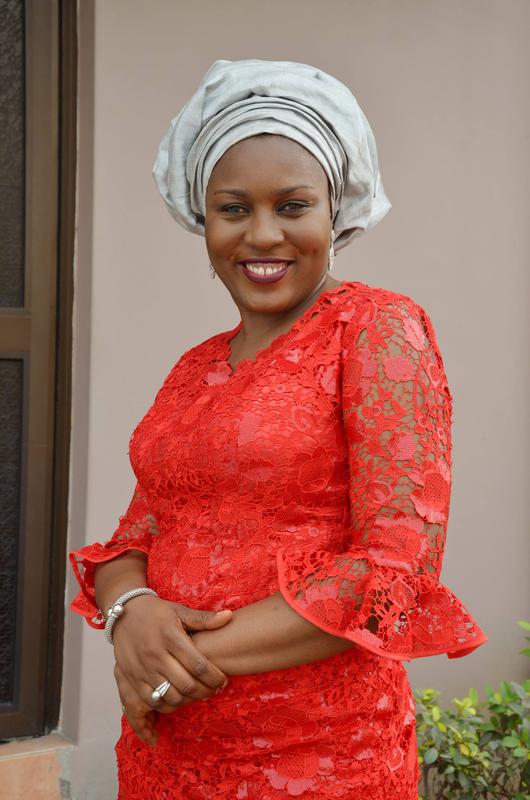 PRESIDENT: Grace Televi Nyajro Orife
ExSSA - L.A.
ExSSA - GEORGIA
ExSSA - LIMBE ExSSA - BAMENDA
ExSSA - BUEA ExSSA - DOUALA PLEASE CLICK ON IMAGE ABOVE TO SEE CHAPTER EXECUTIVE PHOTO ALBUM!
ExSSA - TIKO
ExSSA - KUMBA MOMENTOUS EX-SAKERETTE MEETING IN CAPE TOWN - SOUTH AFRICA!!! L to R: Sister IRENE TAMAJONG (Plucky Class of '77), Sister DAISY HADDISON ETYA'ALE (Class of '69), & Sister REGINA MBAH MBAFOR (Class of '77) Q uite a few Ex-SAKERETTES who reside in CANADA are currently VERY DEDICATED members of the MEMBERS-AT-LARGE Branch of ExSSA-USA but, at the rate at which they are going, I have no doubt that they will be able to stand on their own STURDY feet, in the near future. PLEASE CLICK ON THE PICTURE TO VIEW PICTURES of their Chambly Quebec Meeting yesterday, SUNDAY JUNE 30 2013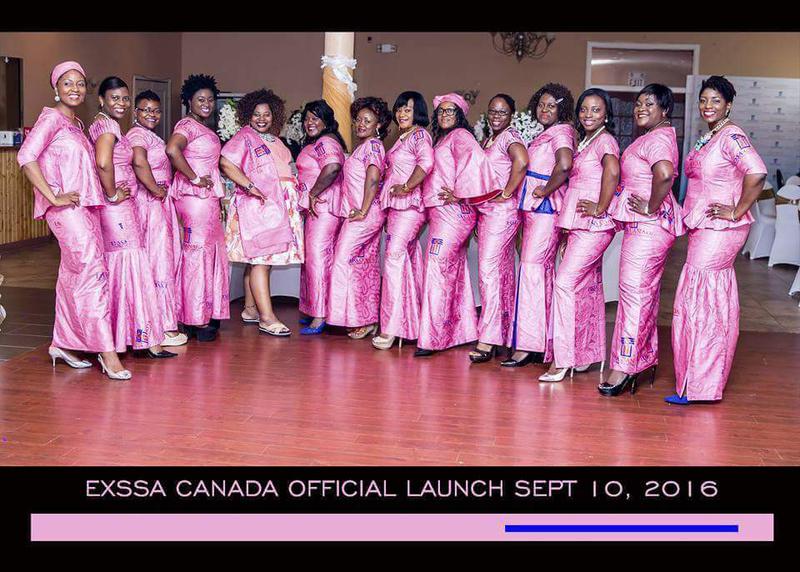 President: Lucy-Lisette Ngole Vice President: Anita Fonderson Kome Secretary: Becky Ayuk Allar Treasurer: Dorothy Tabe PR Olivia Meyia Takoukam Music Director: Enih Achah Djeudo Law and order: Charlotte Ikome Uniform Affairs: Francisca Walter Wandji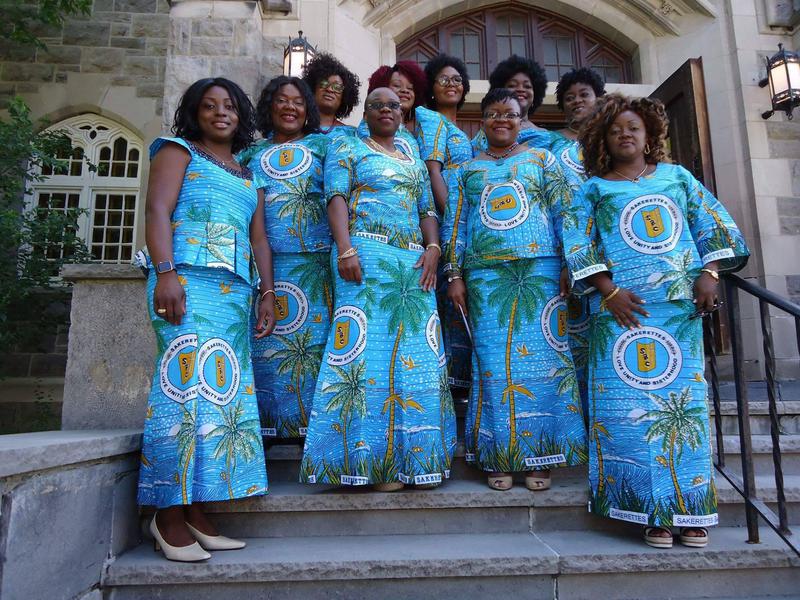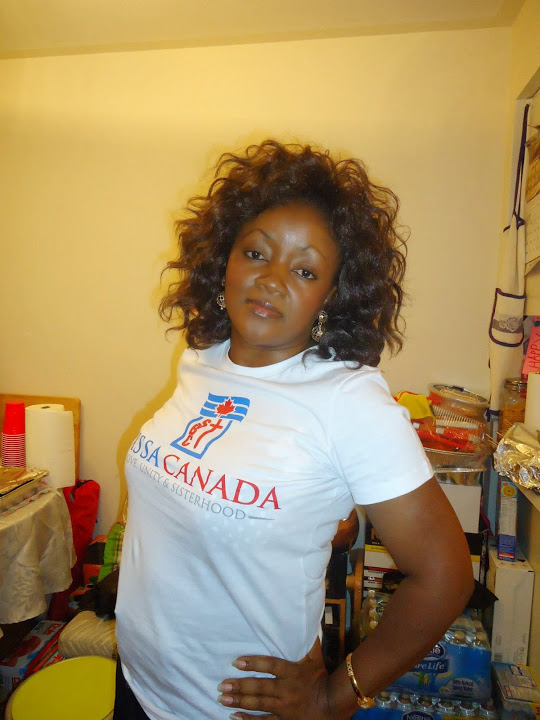 PRESIDENT: Dr. Lucy-Lisette Ngole ExSSA-UK celebrated Saker's Golden Jubilee in COVENTRY, in GRAND STYLE! They later held their 2012 Convention in BIRMINGHAM on September 1st 2012! Click on icons below for accounts of the COVENTRY & BIRMINGHAM Events, and CLICK ON IMAGE TO BELOW TO VIEW THE CONVENTION PICTURES!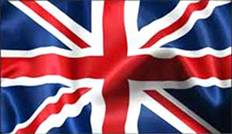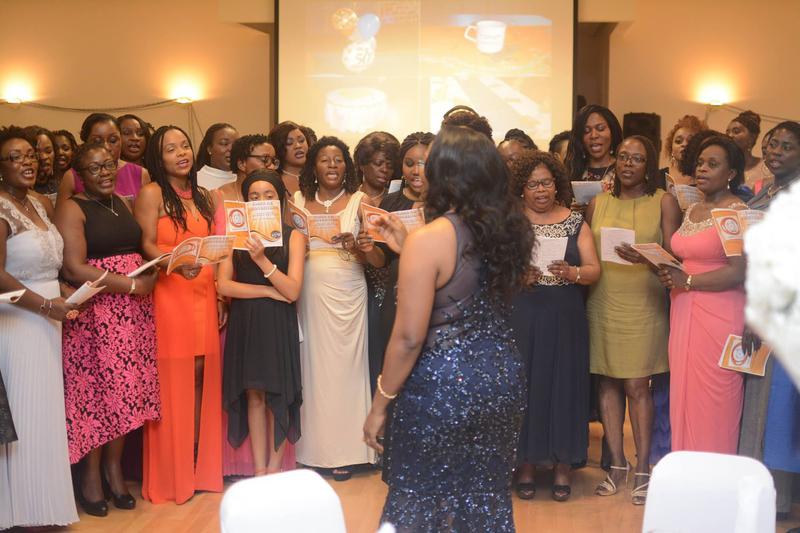 President - Irene Tamajong Vice President/Sec Gen - Mantina Njie Ntuba Publicity Sec - Ethel Dialle Mofa Takang Treasurer - Yoti Mofa Obenge Music Leader - Jayne Tabot Music Leader - Dora Ekiko Auditor - Doreen Mbuagbaw Auditor - Patience Akemche Adviser - Celine E Loader
Trustees Mr. Julian Tabi Ebai Mrs. Janet Kokovi Kale Mrs. Mary Bamu Ndifornyen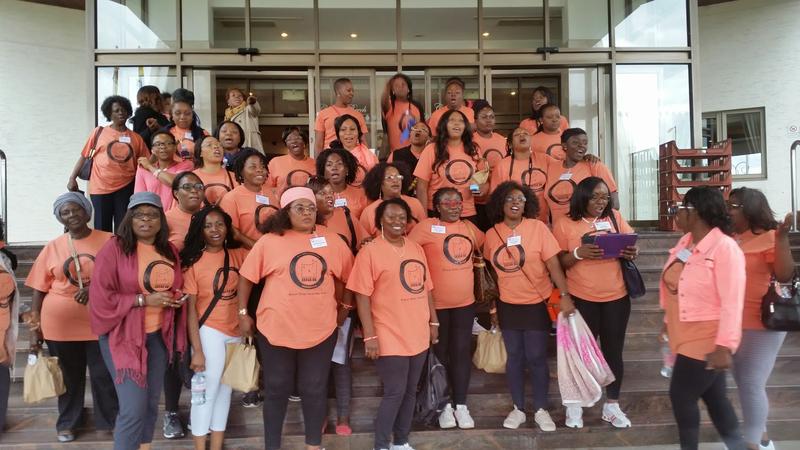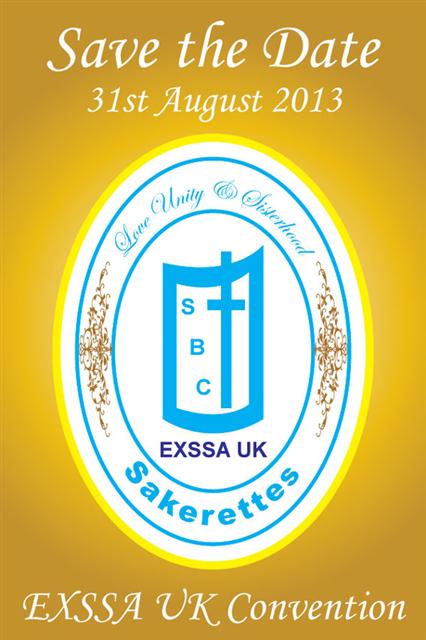 PLEASE CLICK ON ExSSA-UK LOGO ABOVE TO VIEW PICTURES OF ExSSA-UK'S NATIONAL EXECUTIVE & TRUSTEES
Please click on icon above to read AN ACCOUNT OF THE BIRMINGHAM BASH! Please Click on Icon above to read AN ACCOUNT OF THE COVENTRY EVENT!!
ExSSA-USA NATIONAL EXECUTIVE
PRESIDENT: Susan Jiofack Tar VICE PRESIDENT: Ethel Tambe SECRETARY:Mercy Bekondo Akpo-Esambe VICE SECRETARY:?? TREASURER: Georgette Abonge Ngembus FINANCIAL SECRETARY:Isabelle Atem Eyong PUBLICITY SECRETARY:Agnes Achuo Njaba ORGANIZING SECRETARY: Matilda Che CHIEF WHIP: Emmy Kangsen Kisob MUSIC DIRECTOR:?? ASSISTANT MUSIC DIRECTOR:?? CHAPLAIN:??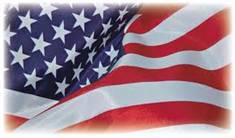 ExSSA-MAL (Members-At-Large)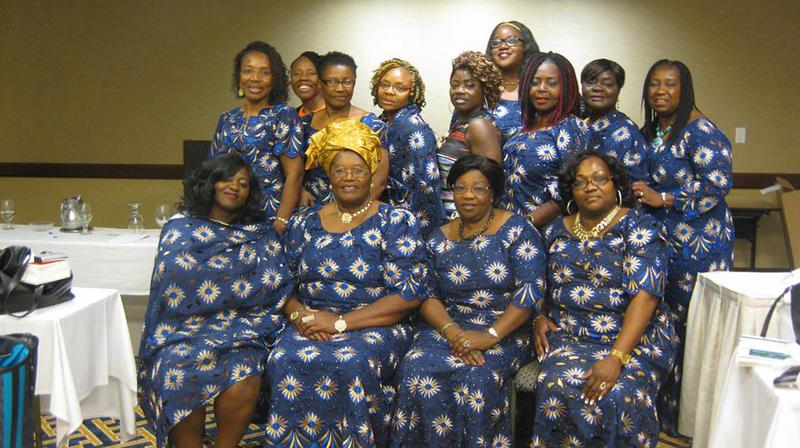 PRESIDENT: Mercy Bekondo Akpo-Esambe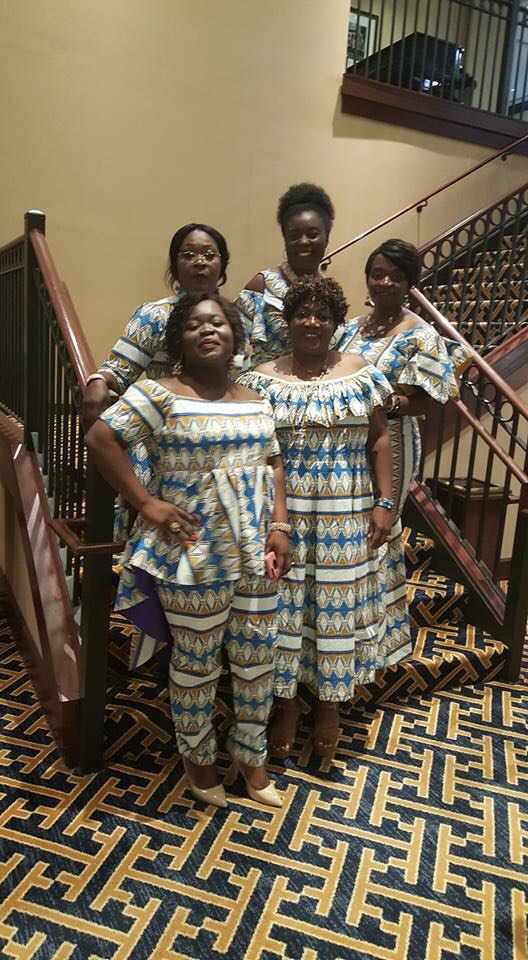 CHAPTER PRESIDENT: Martha Teke Akwa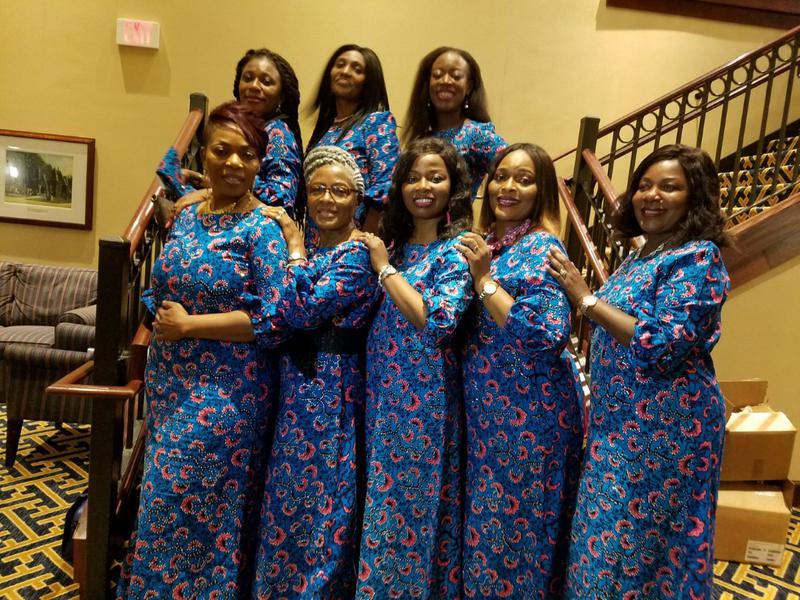 ExSSA - NEW YORK / NEW JERSEY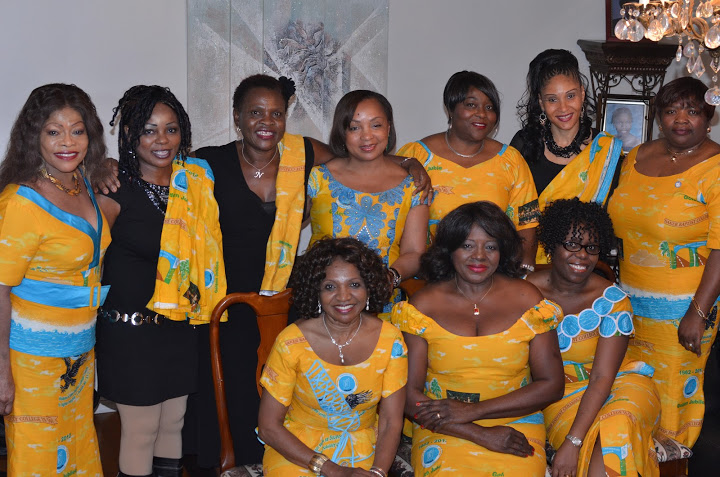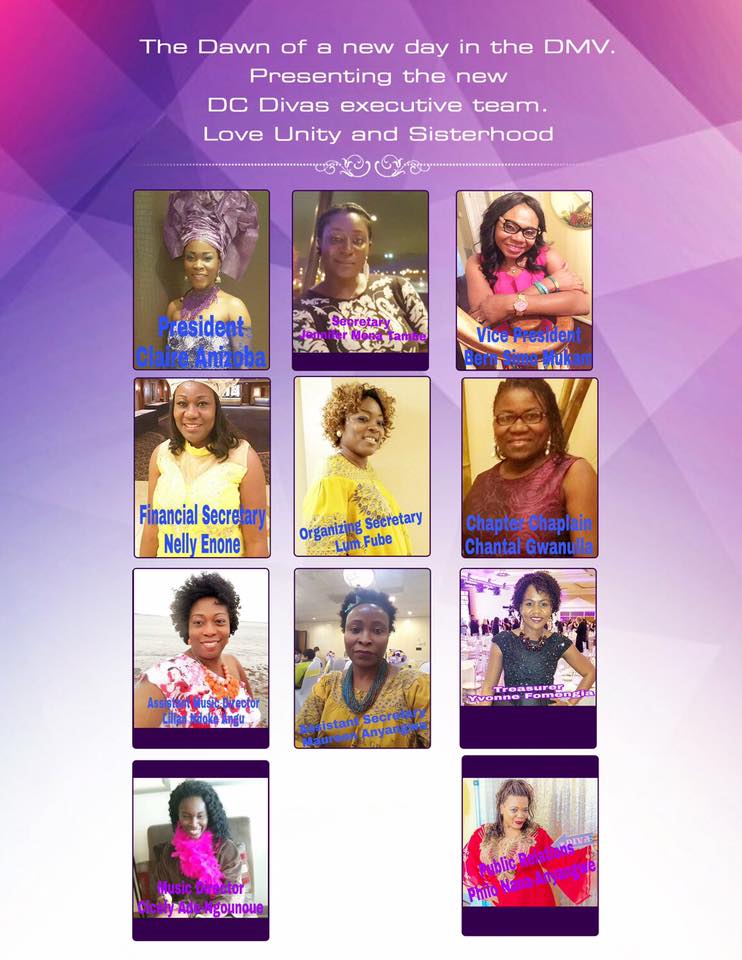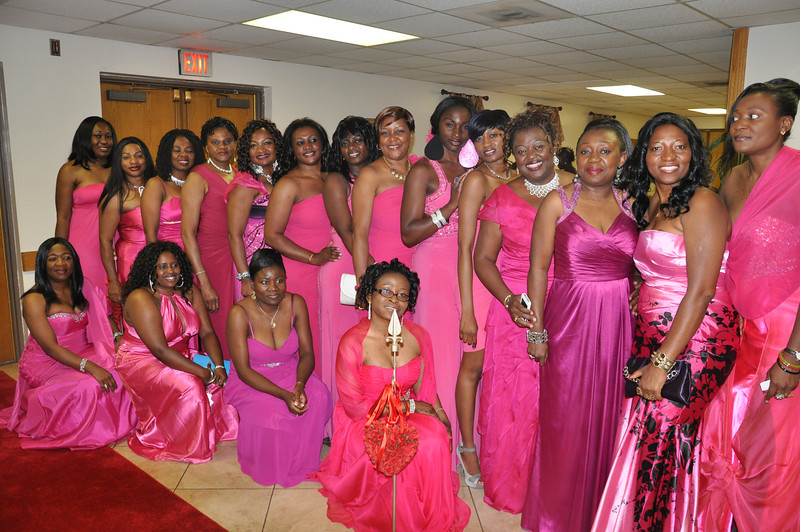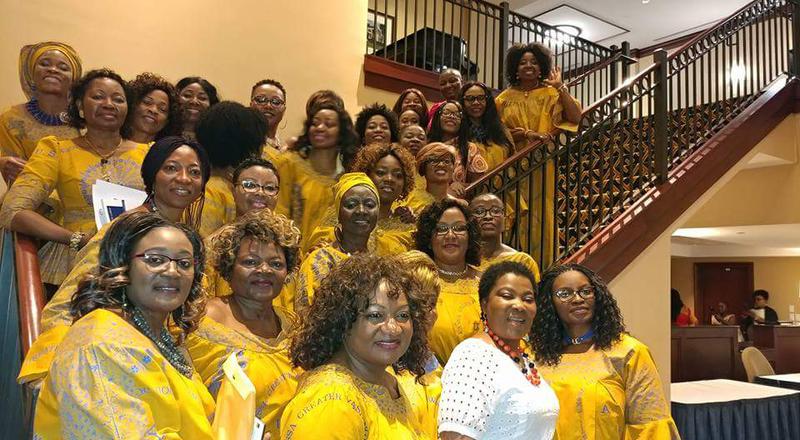 CHAPTER PRESIDENT: Clara Anizoba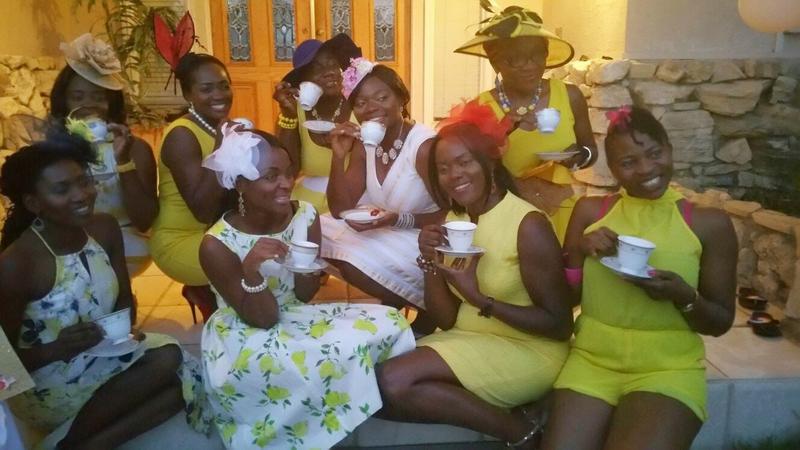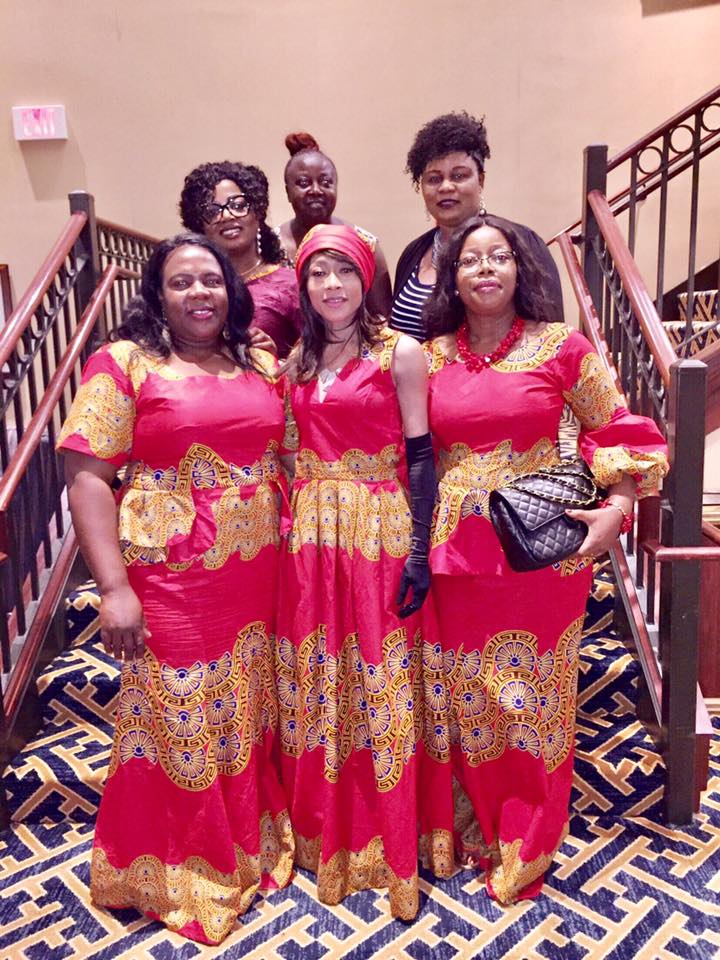 EXSSA MN NEW EXECUTIVE President – Lynda Waindim Vice President – LaBelle Nambangi Secretary – Eleanor Ghangha Publicity Secretary – Isabelle Eyong Treasurer – Lucella Kepe Financial Secretary – Aunty Rosa Befidi Organizing/Social Secretary – Gladys Ndip Music Director – Florence Nchotu Chaplain – ?? Chief Whip – Pam Nkowa Advisors – Sis Rita Akale, Aunty Rosa Befidi NCRT REP – Aunty Rosa Befidi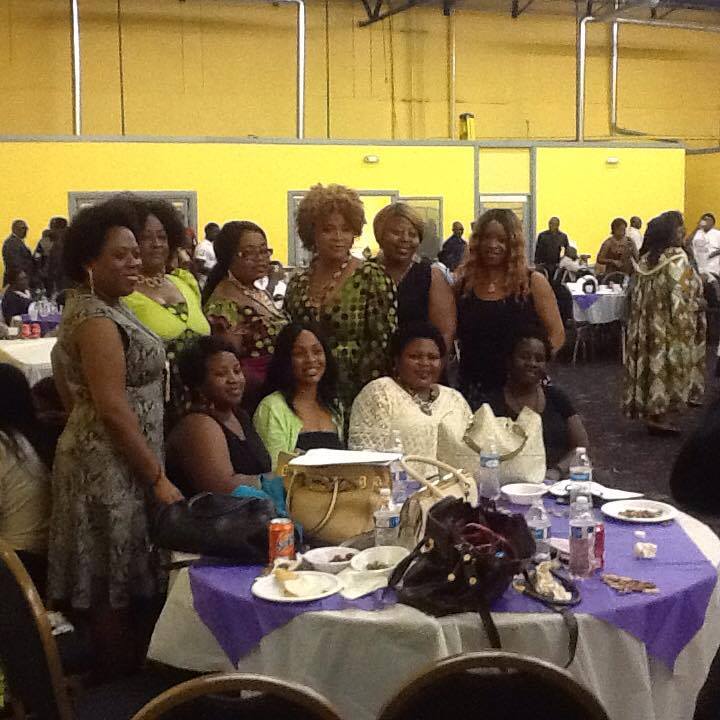 CHAPTER PRESIDENT: Esther Egbe Ayuk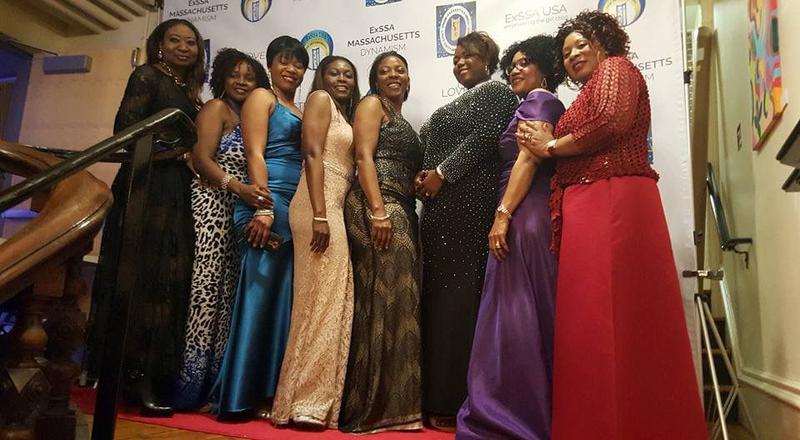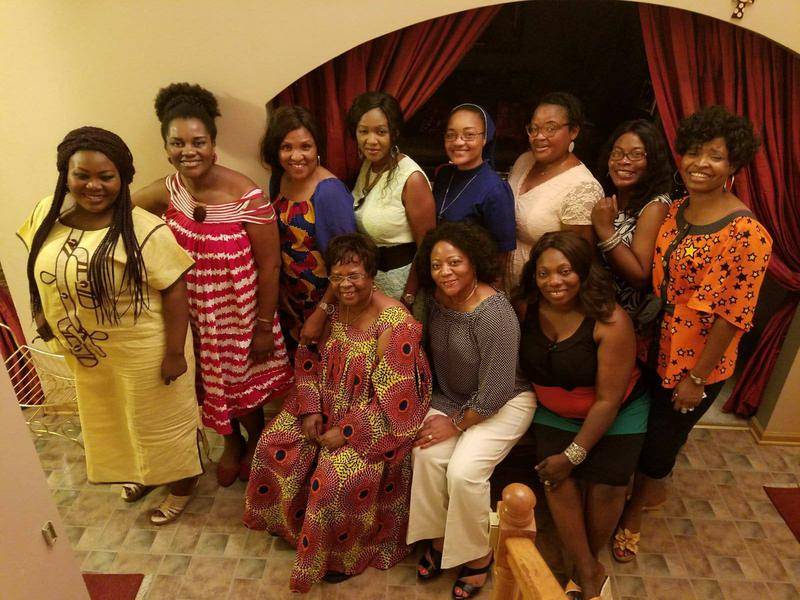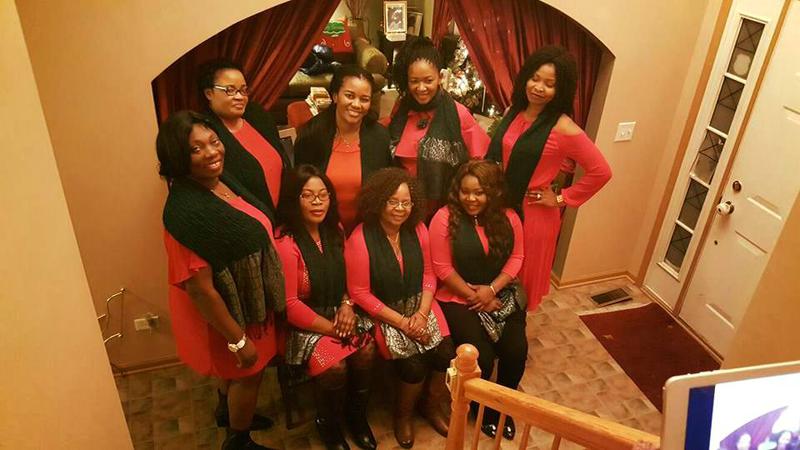 President......Daisy Viyuoh Vice president.........Beltha Nukuna Treasurer.........Rosemary Ajide Financial sec.....Caroline Enoh Fonge Secretary.........Alethia Arrey Onana Publicity Secretary......Juliet Ngollo Music.......Irene Nkansah CHAPTER PRESIDENT: Daisy Viyuoh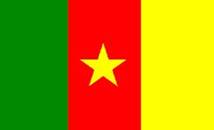 PRESIDENT GENERAL: Betty Muambo Luma
ExSSA CAMEROON NATIONAL EXECUTIVE
SPIRITUAL LEADER: Ms Elizabeth Ngassa VICE SPIRITUAL LEADER: Ms Martina Nfor CHIEF WHIP: Ms Dorah Chu Tambi VICE CHIEF WHIP: Ms Caroline Anyangwe PUBLICITY SECRETARY: Ms Grace Endeley VICE PUBLICITY SECRETARY: Ms Hannah Elame MUSIC DIRECTOR: Ms Florence Weyih Grob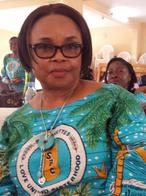 ExSSA CAMEROON NATIONAL EXECUTIVE
PRESIDENT: Ms Betty Muambo Luma VICE PRESIDENT: Ms Magdalene Bache Eno Nkeng SECRETARY: Ms Justine Ndip VICE SECRETARY: ?? TREASURER: Ms Sabina Akung Ekume FINANCIAL SECRETARY: Ms Hilda Epie SOCIAL SECRETARY: Ms Sissako Tamko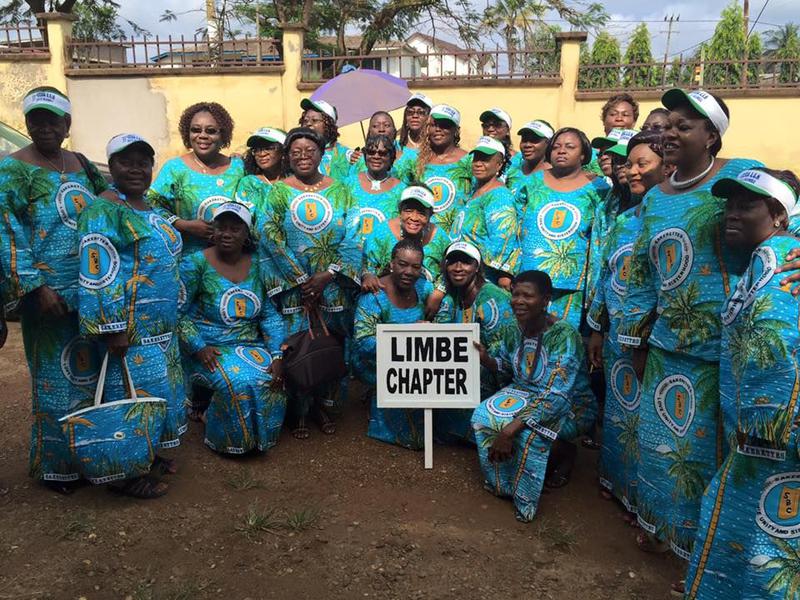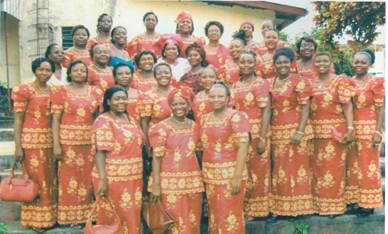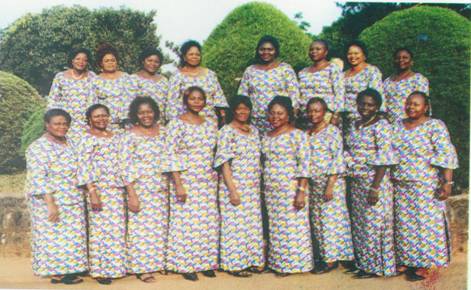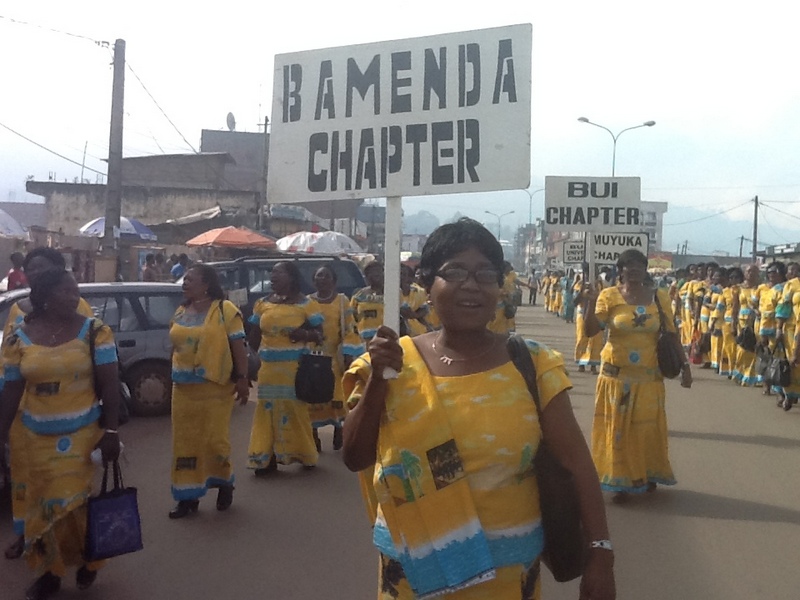 MEMBERS OF ExSSA-BAMENDA BACK IN 1981!!!!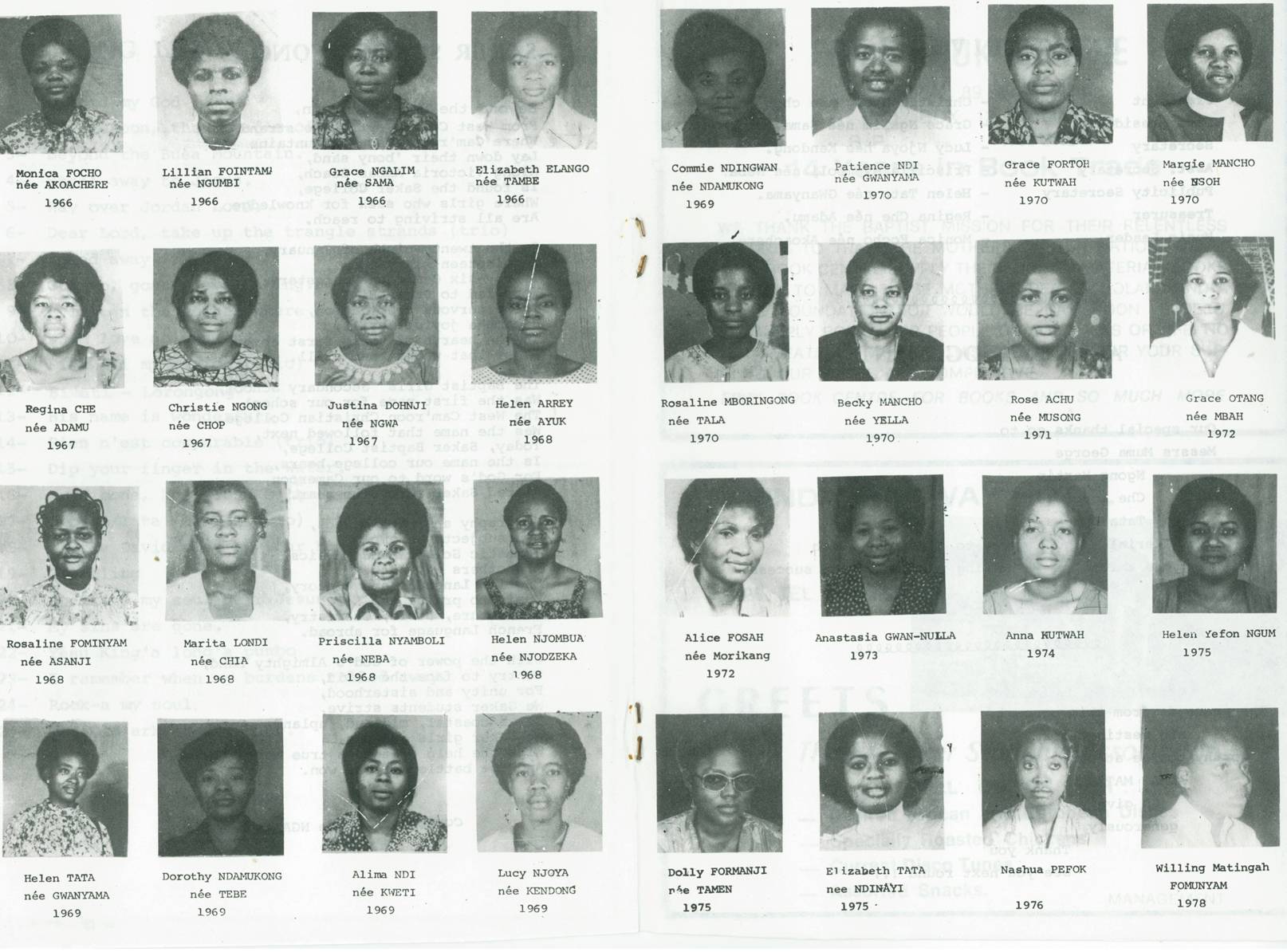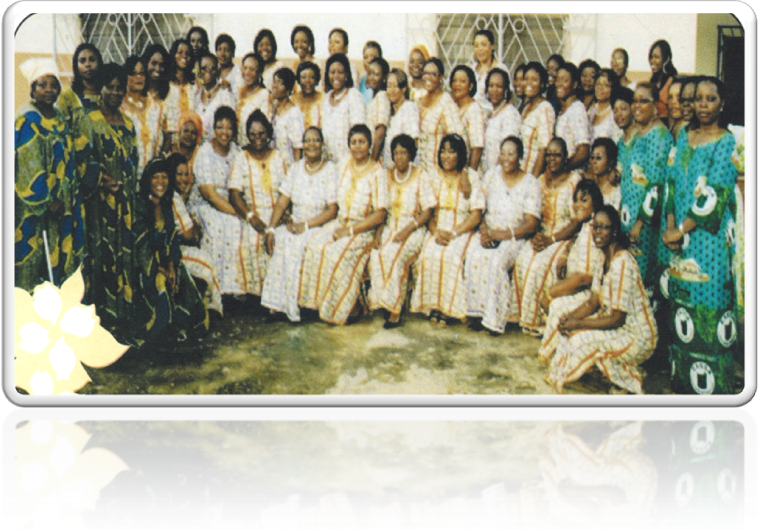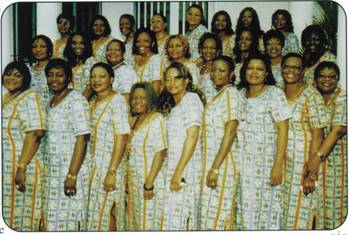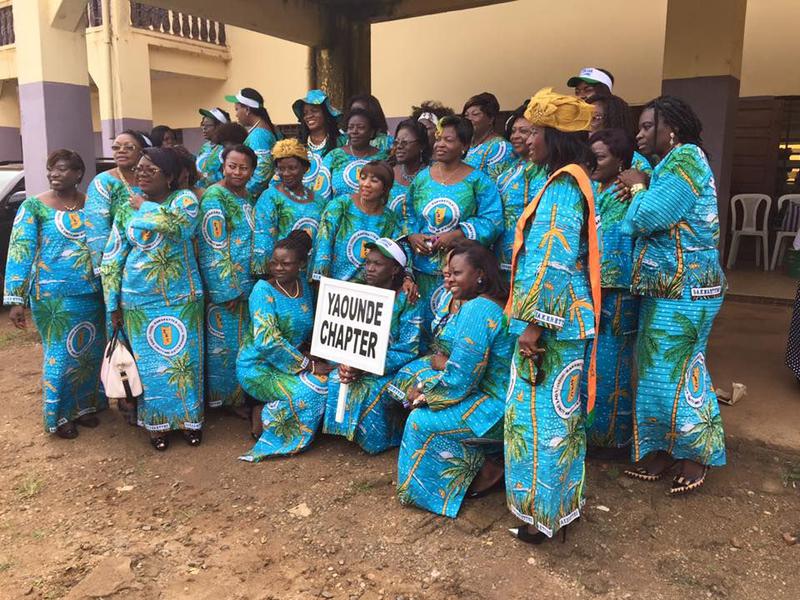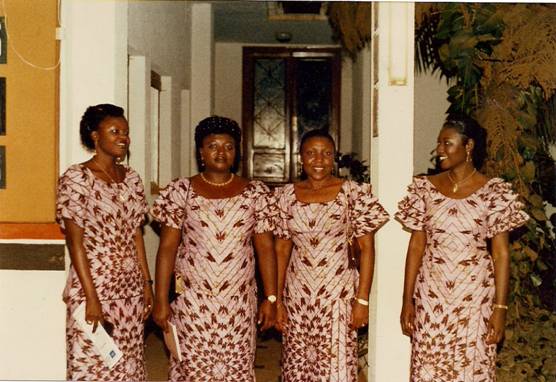 CHAPTER PRESIDENT: Jessie Atogho Ekukole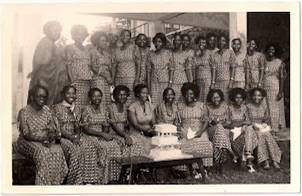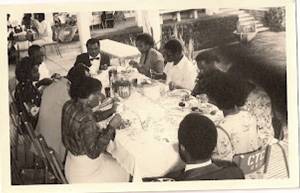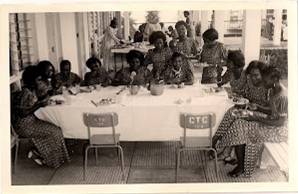 ExSSA-BUEA, "displaying" during their Christmas party on Dec. 6 1980. They sure did things IN STYLE, and the Legacy Continues!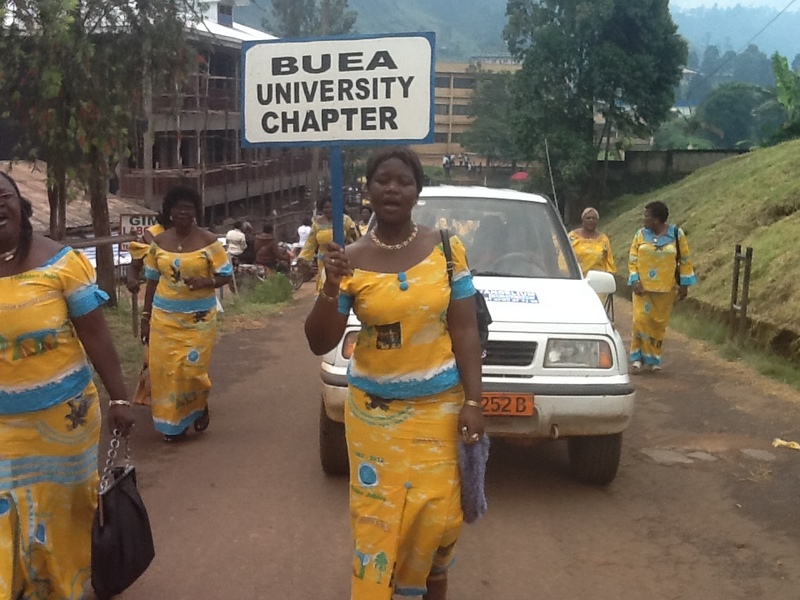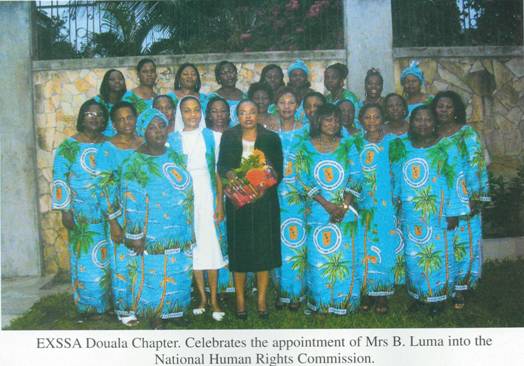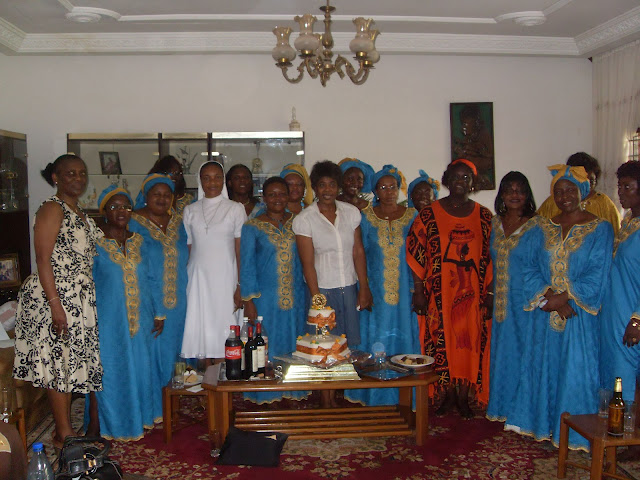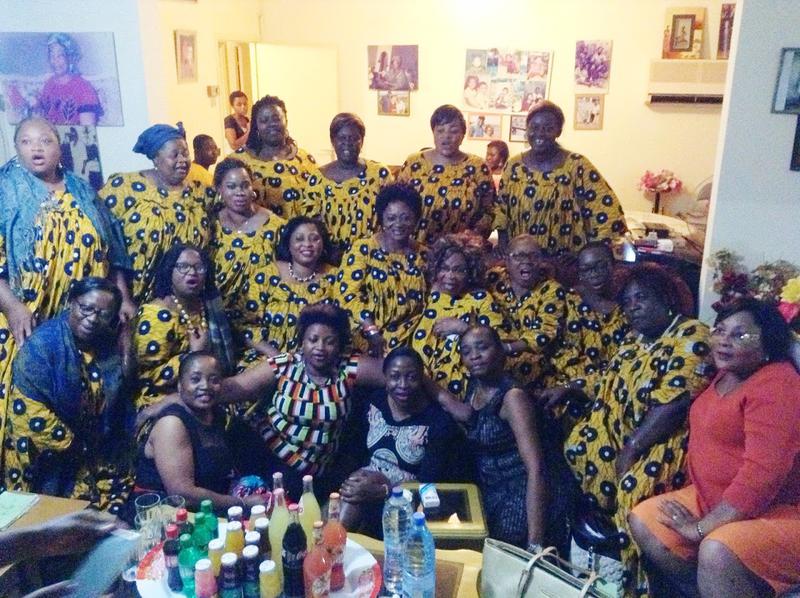 ExSSA-Douala, (plus The 2 Ndando "Bush Faller Gate Crashers"), celebrating Maitre Gladys Che Mabo's Birthday, Dec. 2009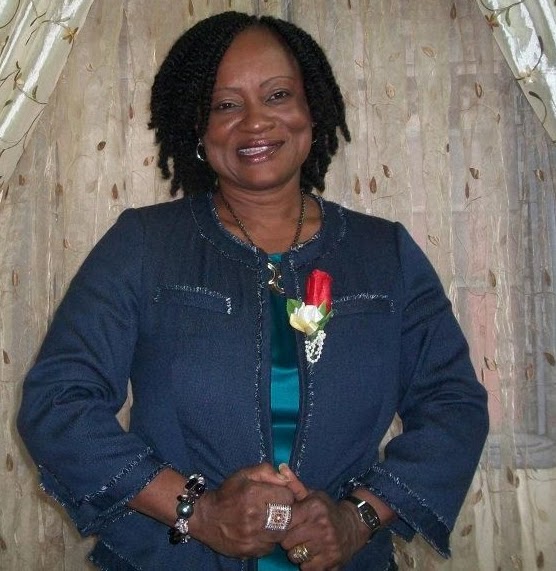 PLEASE CLICK ON PLAY BUTTON TO VIEW SNIPPET OF NATIONAL PRESIDENT'S "INSTALLATION OF THE EXECUTIVE SPEECH"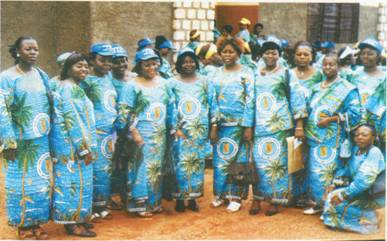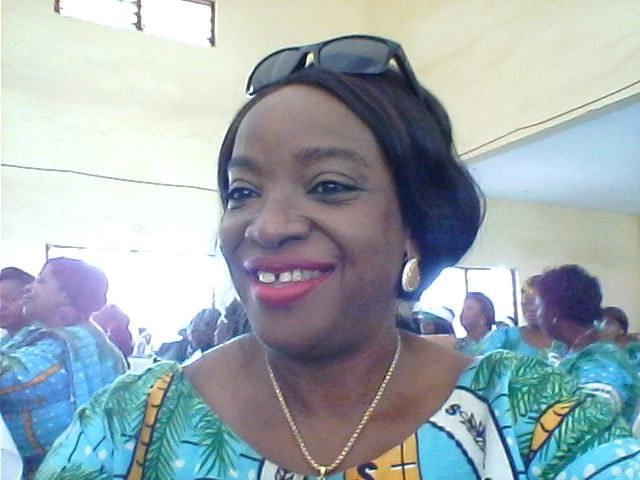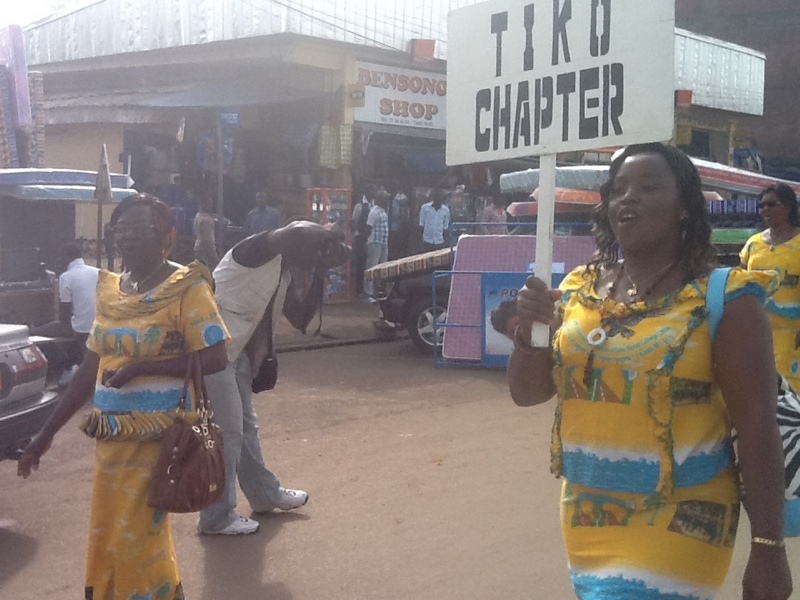 CHAPTER PRESIDENT: Linda Geh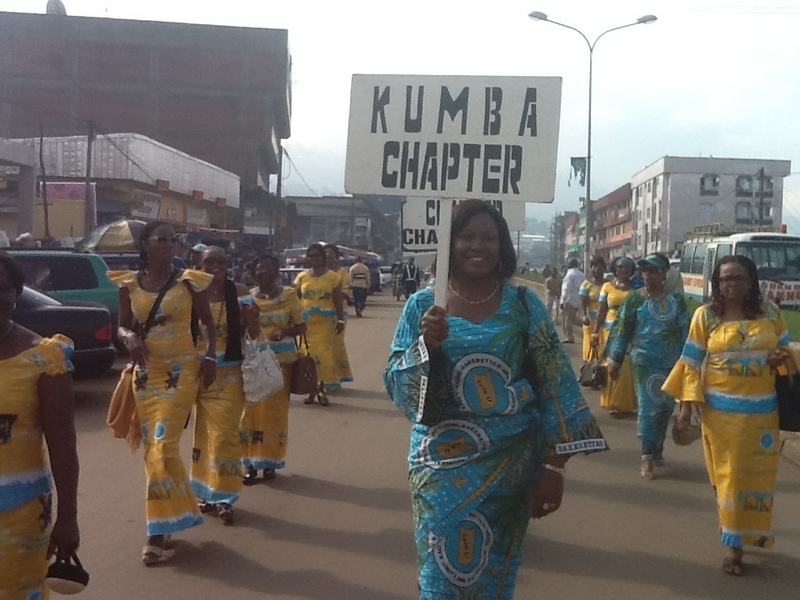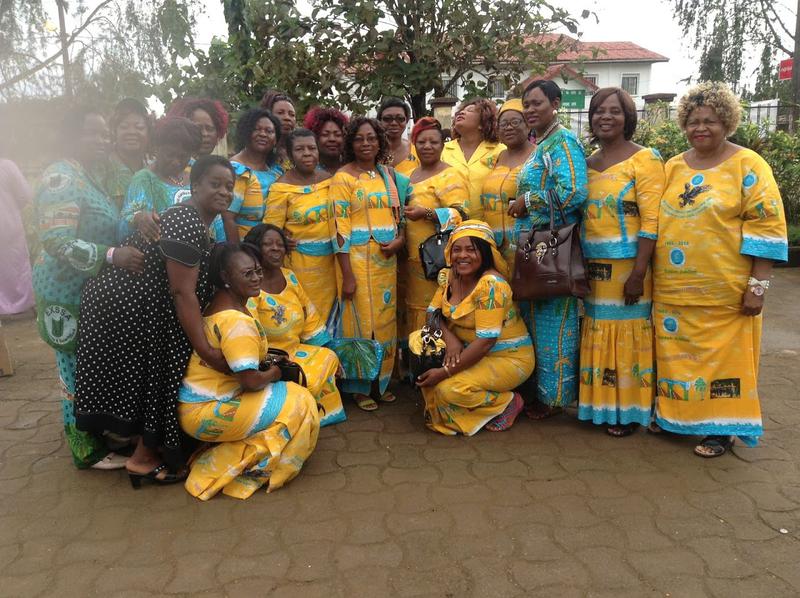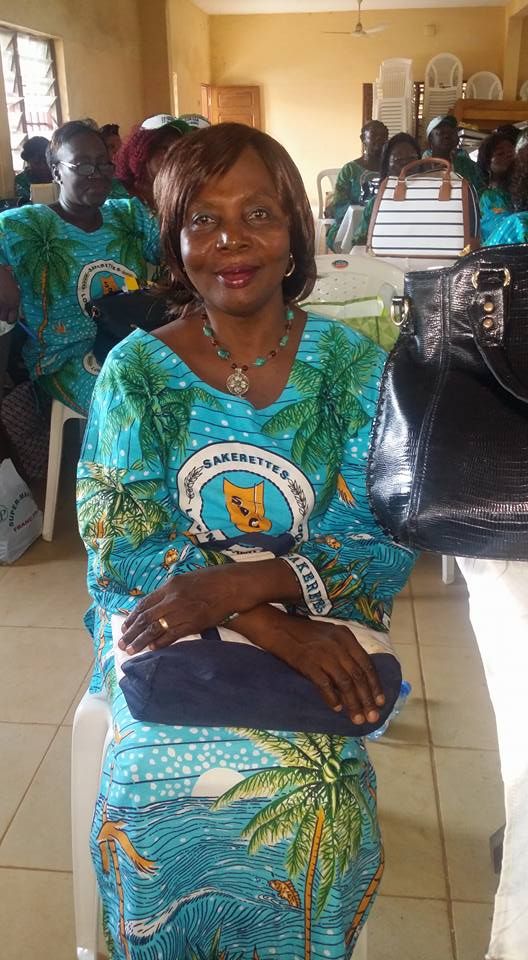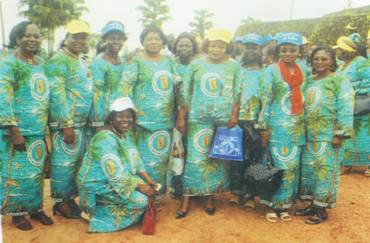 President: Francesca Ngoh Ntuba ExSSA-BUI ExSSA-NKAMBE ExSSA-BAFOUSSAM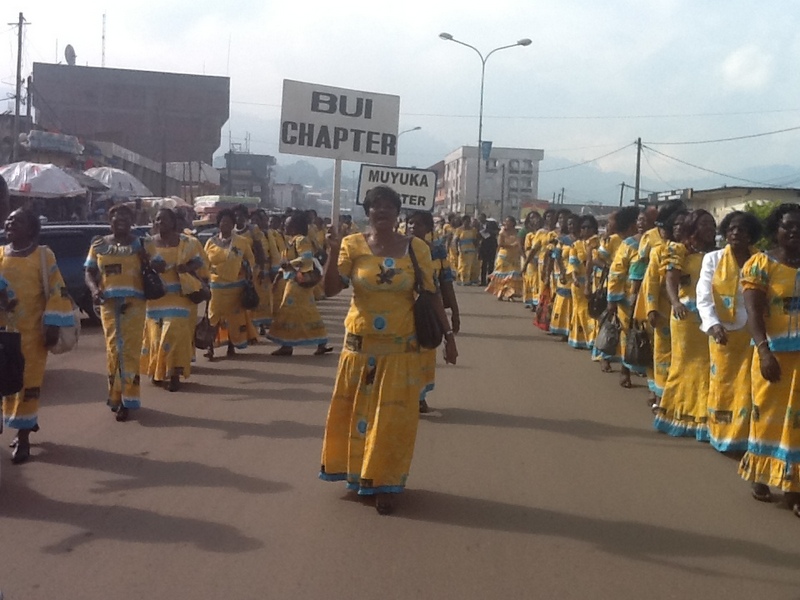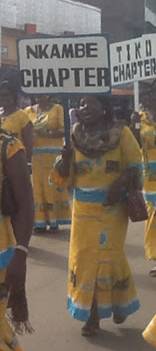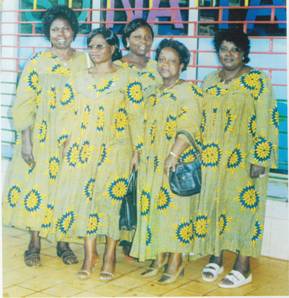 CHAPTER PRESIDENT:?? CHAPTER PRESIDENT:?? CHAPTER PRESIDENT:?? ExSSA-MUYUKA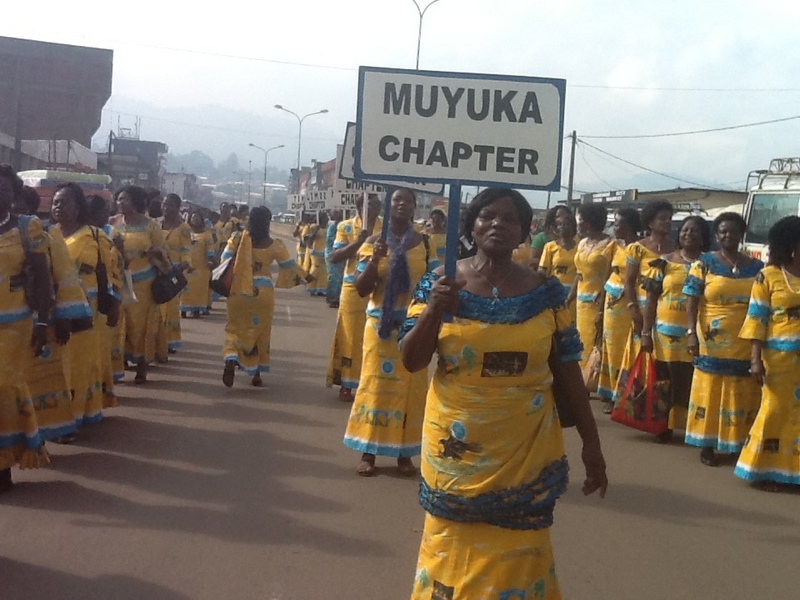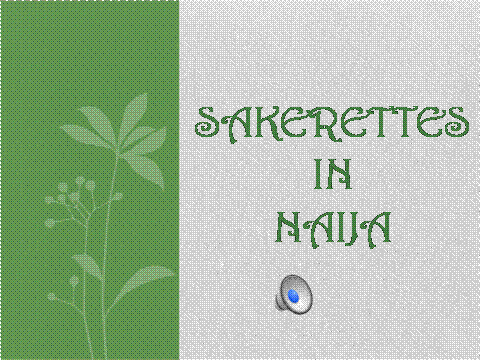 above to view the Power Point SLDE SHOW!!
'KOSSA SING & DANCE! KEYNOTE ADDRESS DELIVERED BY Ms KOFO ANJORIN AT THE EXSSA-UK 2012 CONVENTION IN BIRMINGHAM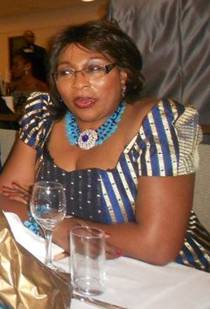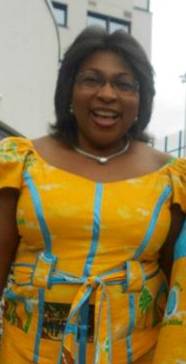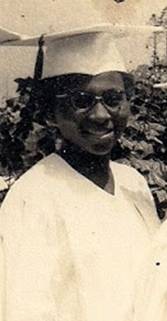 EXSSA !!! Greetings to every one!
I am Kofo Anjorin and I am a Senior Bio Medical Scientist currently working in a London hospital. Most importantly I am a Sakerette, maybe an old one, but as they say - once a Sakerette always a Sakerette and I am extremely proud of my old school SBC. In case you are trying to work out my age, I started at Saker in 1963 which makes me feel very old as I know some of you were not even born when I was in my first year. Firstly, I wish to express my gratitude to Mrs Dialle Mofa-Takang for inviting me to speak before you and for organizing this wonderful occasion with her team. I would also want to pay tribute to those who cannot be with us today, especially those who are no longer with us. (pause for a minute silence) Furthermore, I would like to acknowledge all the past tutors for the impact they have made on all of our lives be they large or small. My tickets to success, my passport to a good education were what I took away when I left Saker in the late sixties on my journey into adult life. When the Baptist missionaries came to Victoria, I wonder if they really could foresee the amazing impact they would make on so many young lives. To be standing here before you now, 50 years on, is truly a privilege and testimony of their passion, belief and vision for the future. As I look around the sea of faces I see both young and not so young gathered at this momentous occasion, further embodying the Saker beliefs of love, unity and sisterhood. As you know, the theme this year is Appreciate, Embrace and Inspire and I shall endeavour to illustrate and elaborate on these three points. In spite of all the pitfalls that we encounter, there is always much to APPRECIATE in our lives. I appreciate being here, being able to speak to you, able to be reunited with so many old friends. Friendship plays an important part in our lives and is what keeps us together in one piece, come what may. I appreciate the fact that we live in the twenty first century, in a high tech world and I finally seem to have mastered the Internet. This leads me to our young sister Egbe who with her amazing web site Saker Pride has opened many doors. Through her painstaking research, she has enabled us to wander down memory lane and above all, to rekindle new friendships. Egbe, on behalf of all those who religiously visit your site I thank you and God bless you for all your hard work. Through her, I have finally made contact again with our dear Miss KERN who is now in her 80s and living in Canada. In life, there are so many things to appreciate – the gift of health, education; a loving family. Saker enabled me to focus on my studies, eventually come to England and become a Senior Bio Medical Scientist. Education was everything to me when I arrived. It was the only way that those of us who came from backgrounds where we had very little could achieve bigger and better things, to create a life- opportunity and fulfillment. That journey was to dedicate every ounce of strength to achieving that dream and those aspirations. The beauty about the United Kingdom is that it offers the opportunity to aspire in all that you want to do and that is why so many of us are still here. My life has had its twists and turns. Every day I thank God for all He has enabled me to do. Indeed, the theme for my 50th birthday was "Count your blessings," based on that well-known Saker hymn. The second part of the theme is EMBRACE. Embrace all those around you, not only in this hall but those around you in your daily life, in your home, in your place of work and in your daily worship. Life is very precious and not to be abused. Take every opportunity without abusing others. Give of yourself and you will be repaid many times over. I have been blessed to have been surrounded by friends who have helped me in times of crisis. I will never forget their acts of kindness, but as they point out, I easily forget the number of times I have had the good fortune to help others myself and as you know, what goes around comes around. Yes, embrace those moments, whether you are at the giving end or the receiving end, as they all contribute to the richness in our lives. Which leads me to a strange coincidence: As I looked on the ex Saker UK e-mail I came across the picture announcing that I would be speaking to you, and to my amazement the photo was that of me and Miss Binder at my graduation. Miss Binder was my sponsor in my last year at Saker, the year that my father sadly died at a young age of 48. At that time, I didn't know where my fees were going to come from. Miss Binder was calling the names of students who had not yet paid their fees. This was done in alphabetical order but she had omitted my name. At the end of this, she asked to see me in private and told me that she would be paying my fees as she knew I had just lost my father. The irony of this all is that the shock of my father's untimely death had left me mute – totally unable to communicate yet the moment Miss Binder told me she would pay my fees my first words uttered were "Thank you Miss Binder." And I've never stopped talking since! But without Miss Binder's great act of kindness who knows where I would be now and for that I sincerely thank her. And finally, we come to INSPIRE. Saker has inspired us to move on to greater things. It has inspired us not to be complacent but to strive for the best in all that we do. It has inspired us to do things well, with love but with humility. The Baptists were inspired to erect a school that aimed to produce successful God-fearing women, women who in turn were inspired by their faith and who were confident in all that they did. We were inspired by the strong sense of sisterhood, by the support and phenomenal singing mainly brought about by those great Hymn writers Moody and Sankey. As St. Augustine said: when you sing, you pray twice and that is why singing has become such an important part of church in general, life at Saker and worship in particular. It cannot be denied that singing is good for the soul and is good for the community Our sister Egbe…… states in her web site that she was inspired by Saker's Golden Jubilee, in her own words "to keep the legacy of these tutors going strong." At the Golden Jubilee, the Education Secretary of the Cameroon Baptist Convention, Paul Haddison Luma, said the creation of Saker Baptist College in 1962 was the first independent venture by the CBC into secondary education and was intended to train a modern Cameroonian woman as a social force influencing future generations in the progressive development of Cameroon among others. I am sure you will agree that this ethos has been maintained. Furthermore, the President of the Cameroon Baptist Convention, also praised the Sakerettes for the contribution that they had made towards the spiritual, academic and economic development of Cameroon. Such inspiration is commendable and is what has led us here today. Perhaps you can also take a look at our present paralympic games and take inspirations from those heroic athletes competing with huge smiles for their country. For me people like these give me inspiration. And so now, I want to leave you with two short Irish blessings that have always inspired me. May the road rise to meet you May the wind be always at your back May the sun shine warm upon your face And rain fall soft upon your fields And until we meet again May God hold you in the hollow of His hand. And now: May God's blessing surround you each day As you trust Him and walk in His ways May his presence within Guide and keep you from sin. Go in peace, go in joy, go in love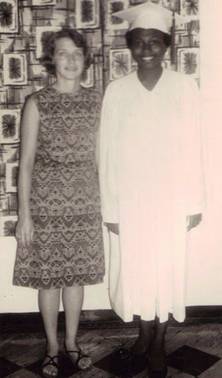 This is the picture Sister Kofo makes reference to in her speech. (It is part of the collection of photo gems in the "SBC TUTORS" Picasa Album on the GALLERY Page of this website)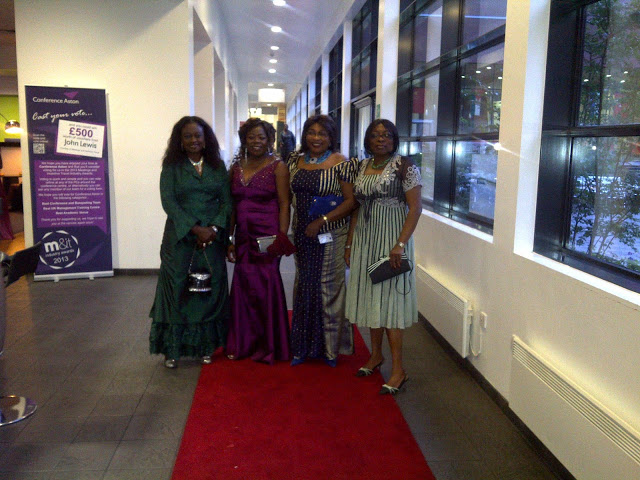 SPOTLIGHT ON ExSSA-LIMBE! IT'S MEETING TIME FOR ExSSA-LIMBE! (JUNE 2014)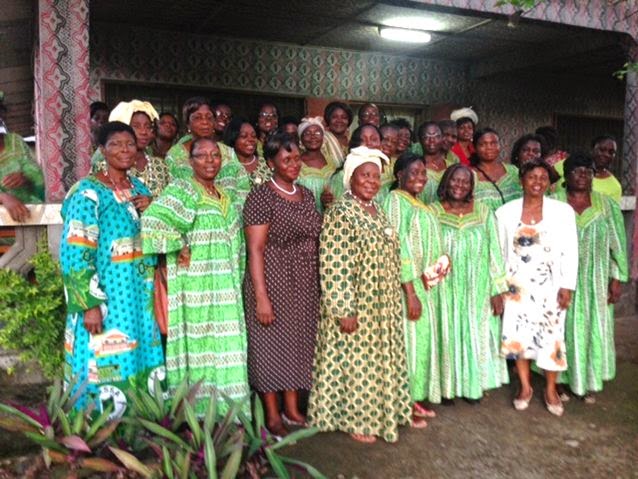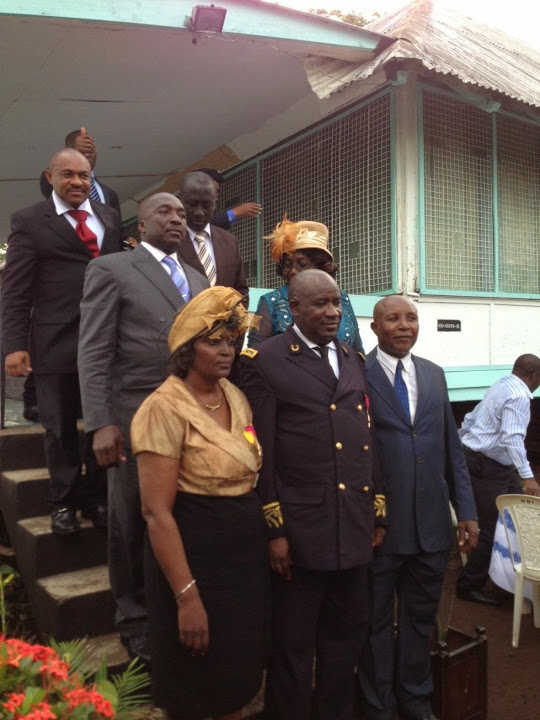 PLEASE CLICK ON PICTURE TO VIEW ALBUM Please Click on Play Button Above to LISTEN to a Snippet of ExSSA-LIMBE's BEAUTIFUL Singing during their Meeting! PLEASE CLICK ON PICTURE TO VIEW ALBUM
ExSSA-LONDON'S OCTOBER MEETING! Click On Picture To View Album! ExSSA-USA NATIONAL IMPACT / COMMUNITY OUTREACH DAY APRIL 2016
Mrs. GWEN ESHIE ELANGO FOR ExSSA-MAL PLEASE CLICK ON THIS PICTURE TO VIEW ENTIRE 2016 ALBUM.
ExSSA-USA NATIONAL IMPACT / COMMUNITY OUTREACH DAY Saturday, April 11 2015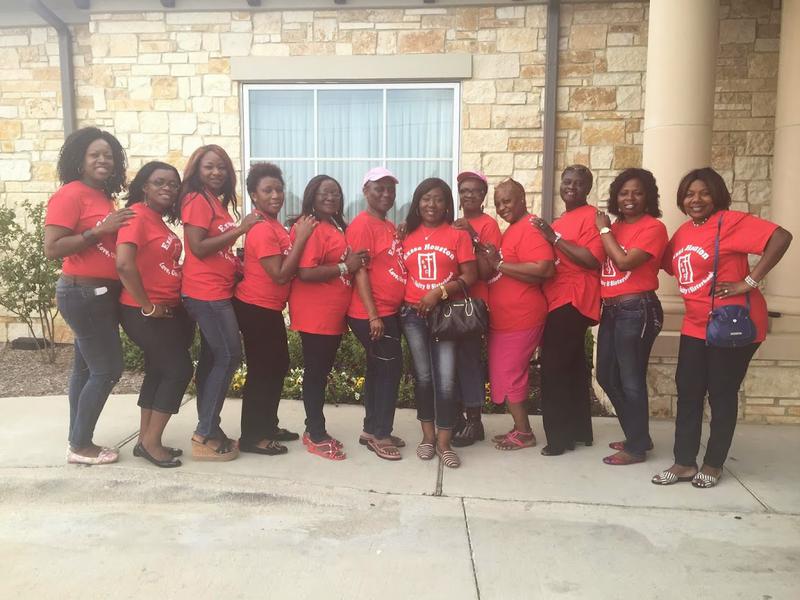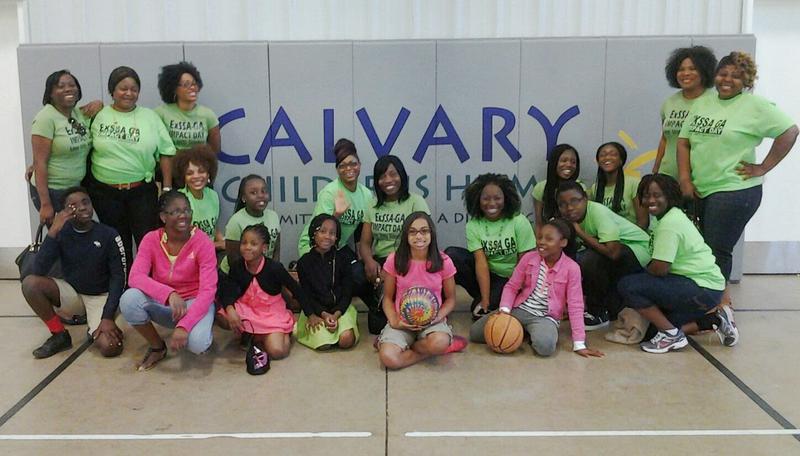 ExSSA-GEORGIA
ExSSA-HOUSTON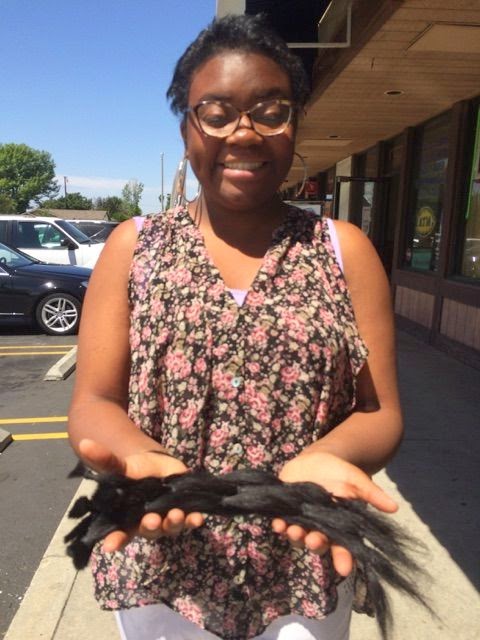 PLEASE CLICK ON PICTURE TO THE LEFT TO VIEW CAPTIONED 2015 IMPACT DAY ALBUM. CARAT Nina Foyabo For ExSSA-L.A.
PLEASE CLICK ON PICTURE TO VIEW 2013 ALBUM.
PLEASE CLICK ON PICTURE TO VIEW 2014 ALBUM.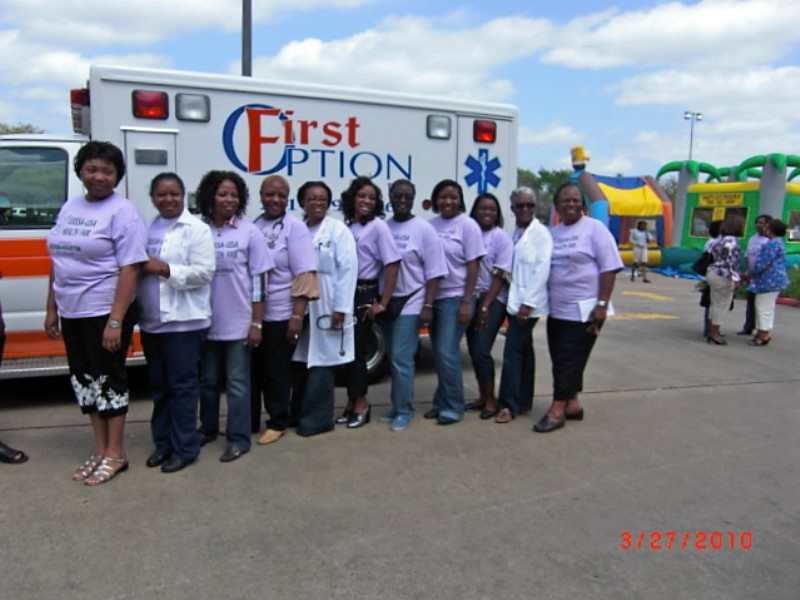 PLEASE CLICK ON ICON ABOVE TO READ THANK YOU LETTER BY ExSSA-USA PREZ AT THE CLOSE OF THE 2010 HEALTH FAIR IN HOUSTON, TX. MARCH 2010 NATIONAL HEALTH FAIR (ExSSA-USA's FIRST EVER), HOSTED BY ExSSA-HOUSTON CLICK ON PICTURE ABOVE TO VIEW ALBUM SAKERETTE SIGHTINGS AROUND THE GLOBE ... EXSSA- CAPE TOWN???!!! After all, doesn't THE GOOD BOOK say "where 2 or 3 are gathered??!! PLEASE CLICK ON PICTURE DIRECTLY BELOW TO VIEW ENTIRE ALBUM!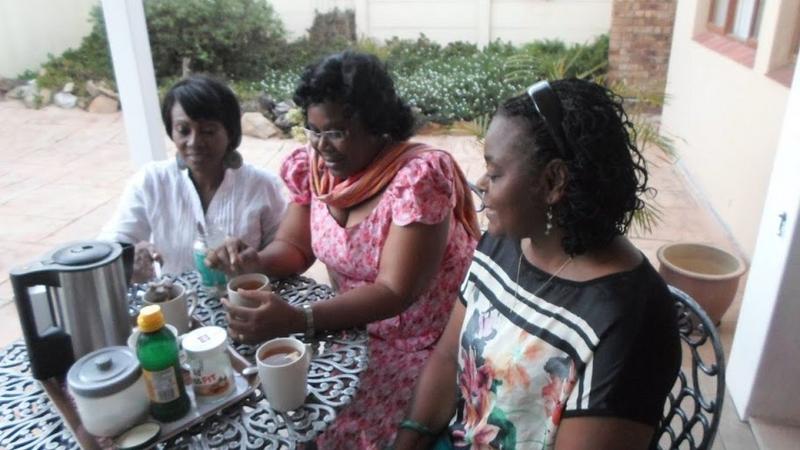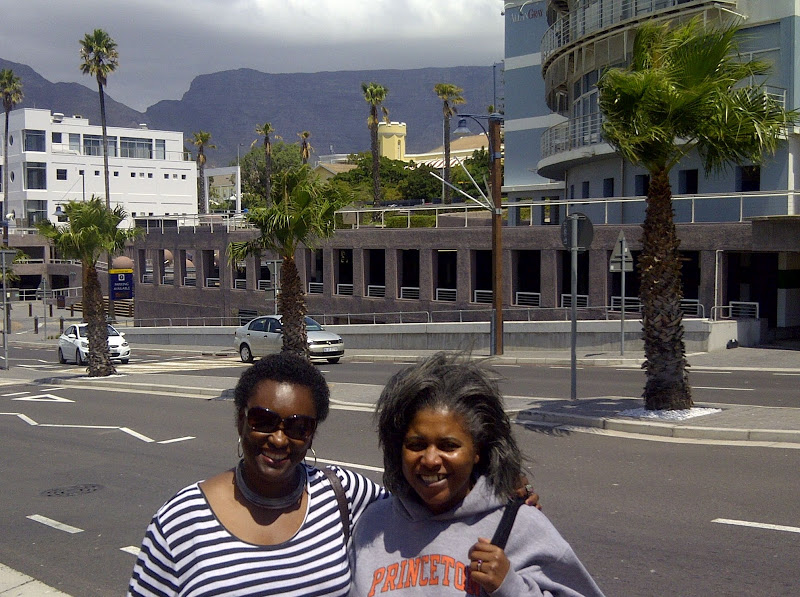 Greater love hath no DULONG for her PETITE than that she should go "waka her" all deh way in Cape Town oh!! Hah! Sis IRENE TAMAJONG and her dulong, Class of '75's Sis KATE LIFANDA!!! Keeping the "KRIO KETTLE NA FIRE" Tradition going oh! HIGH TEA at Class of '74's Sister ELSIE HADDISON WOPE's CAPE TOWN Residence.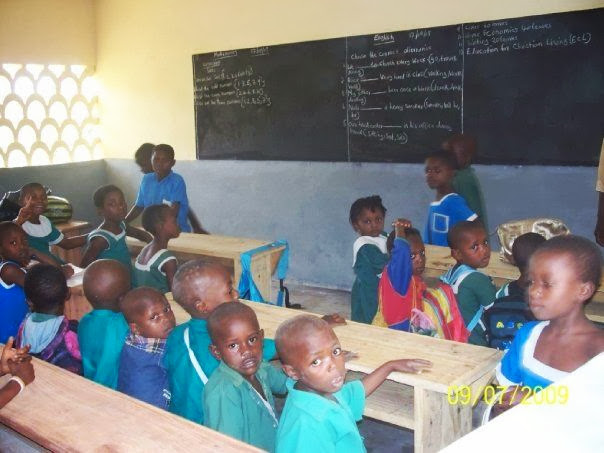 What the school looked like after the Ladies, in partnership with MTN renovated it The decrepit, dilapidated school the class of 95/97 took under their wing. Narrated by Mrs. Marja Etchi Motanga
Our class has been holding regular meetings for as long as I can remember. Almost immediately after we left Saker in 1997, and got into the university.
In 2004 i think, we decided that we needed to start helping out the community more in our own little way. Mind you that 3/4 of us were not working then. We started visiting some orphanages and in 2006, we decided that we should look for a really poor school to help out. Everyone wad to survey their environs and come up with a proposal. Preferably a school in the South West and a baptist school i think we decided. Our mate Delphine Iwoi found this Baptist School in Mile 14. It was really in a deplorable state. It was built with our poorest grade of wood, the roofs leaked and only one class had a cemented floor so you can imagine the puddles on the floor when it rained heavily. There were just 6 classes then because class 3 and 4 shared a class and board LoL. The techers could not afford text books and had to go borrow from other schools and copy out lessons to teach the kids. So you can imagine that the kids had neither themselves.
So, we each decided to raise funds individually so we could buy text books and exercise books for the children.
I was working with MTN when we started the project, but I moved to another job at AES SONEL shortly after. Sarah Stewart was the CFO at MTN then and she loved me to bits. I had harassed my colleagues and friends and already had about 100 K I think, and the Spirit led me to go and see Sarah. After all, he who is down fears no fall, abi! I was a very junior accountant then.
When i told Sarah about the project, she welcomed it but told me that she and her husband would love to go with me to see the school. No 5 frs oh. Na vex been this. I grumbled in me about this white people and their "konto". But i smiled tightly and said of course. She explained to me that she was sorry if she sounded disbelieving but in the UK she contributed to so many organizations for poor children and only half of the money reached them. She said it would also be a good opportunity for her to go to Buea since she had been in Cameroon only for a few months and not had the chance to go around.
On that day in 2006, (I will get the dates later), Sarah and her husband drove behind me as I drove up to Mile 14. As fate would have it, I had also invited a colleague of mine from AES, Ayuk Richard who stopped by that day.
It was a wonderful ceremony. When we arrived, the whole school came out to meet us. The head boy had a moustache already and I remembered laughing my lungs out. The children were so excited to see white people in their midst.
Sarah was appalled! She kept asking me..."Marja, are you sure this is a school? Are you sure that kids actually study here?"
Please Click On Icon To The Left To Continue Reading The Fascinating Story! ExSSA-CANADA'S JULY 2015 MEETING (TORONTO) BABY SHOWER FOR PETRA ARREY ZAMORA (DALLAS 2015)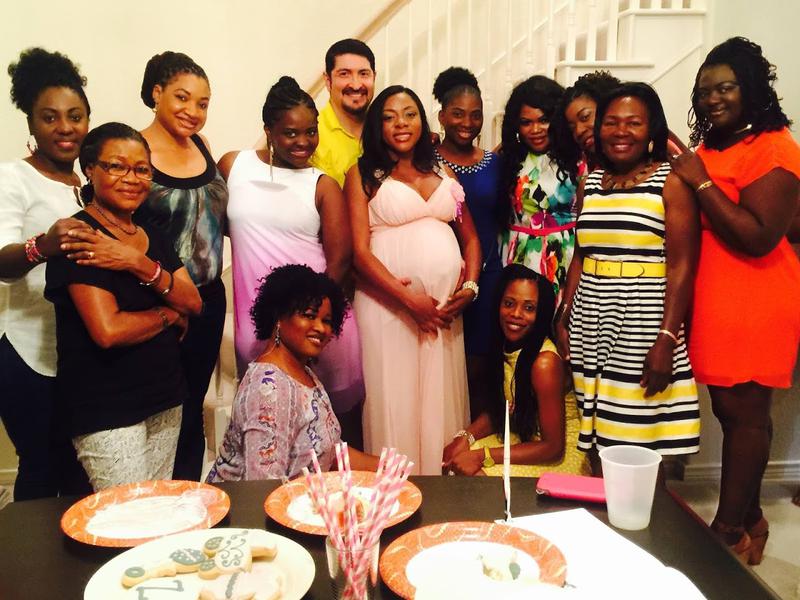 PLEASE CLICK ON IMAGE TO VIEW ALBUM
PLEASE CLICK ON IMAGE TO VIEW MINI ALBUM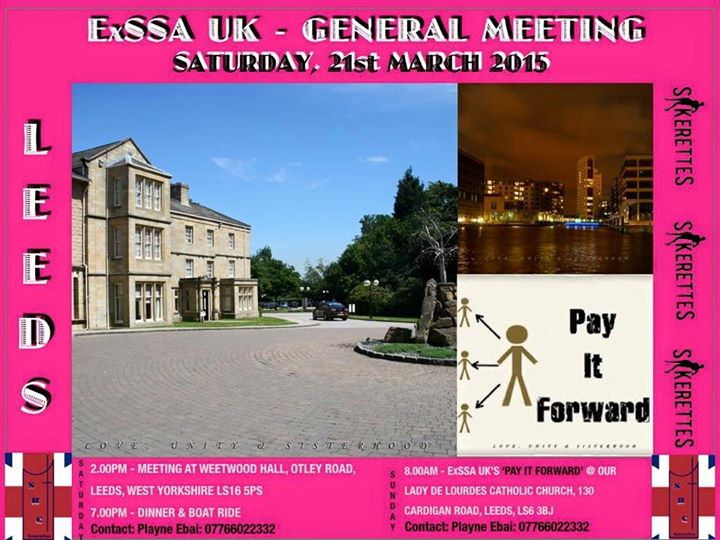 ExSSA-CANADA'S MARCH MEETING AT OWEN SOUND (Saturday, March 14 2015) PLEASE CLICK ON IMAGE TO VIEW ExSSA-UK @ LEEDS ALBUM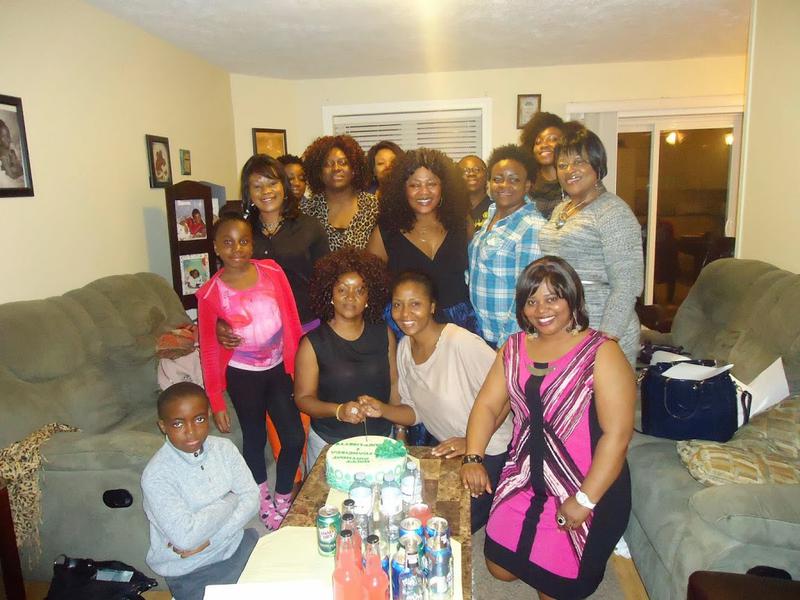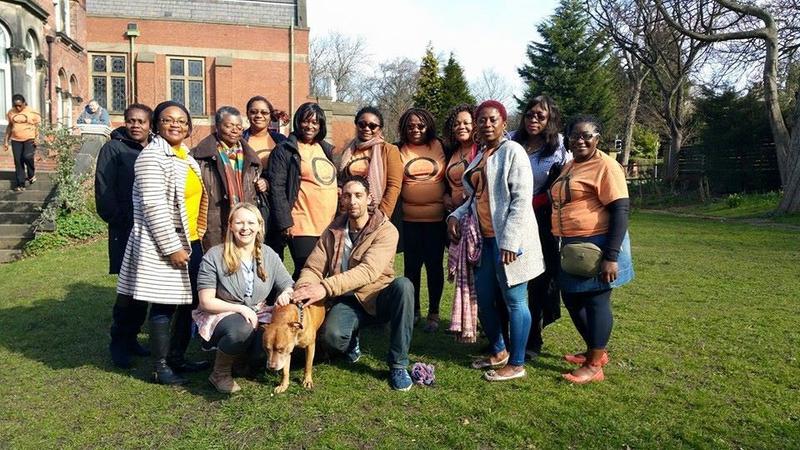 PLEASE CLICK ON IMAGE ABOVE TO VIEW ALBUM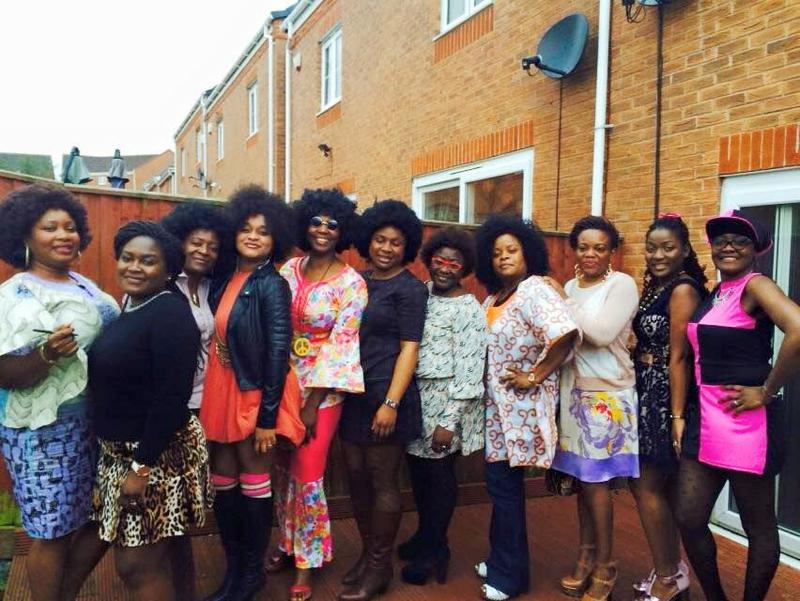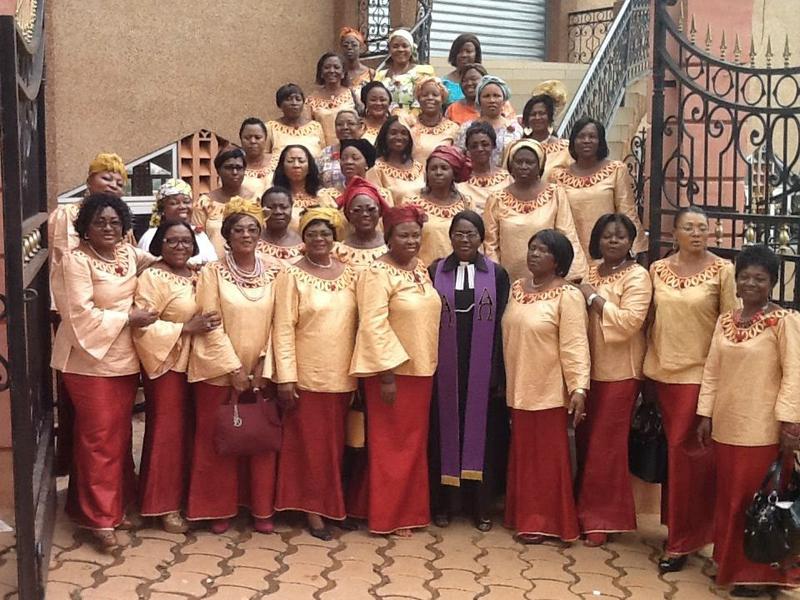 PLEASE CLICK ON IMAGE TO VIEW ALBUM AND/OR GET ON YOUR DANCING SHOES & CLICK ON LINK BELOW TO VIEW SET-TO-MUSIC SLIDESHOW http://1drv.ms/1yotWVp PLEASE CLICK ON IMAGE TO VIEW ALBUM THE PLUCKY (CLASS OF 1977) NATIONAL CONVENTION BUEA - APRIL 27 2013 ​IN ATTENDANCE: Hannah Basame, Bertha Mbange, Esther Ikome, Dora Ewusi, Belinda Oben, Bea Nambangi, Joan Mancho, Alice Fotoh, Agi Mukete, Emilia Mbu, Joyce ( Phebe) Ntale, Lois Ikome & Rose Fomundam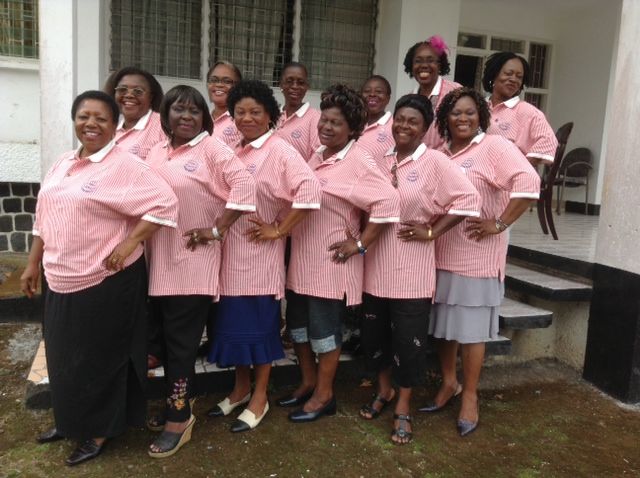 PLEASE CLICK ON THE PICTURE TO VIEW THE ALBUM OF THIS MOMENTOUS EVENT!!! CLASS OF 1981 AT THE FUNERAL SERVICE FOR LATE Mr. MBOME, husband to their Classmate, JULIE NDI MBOME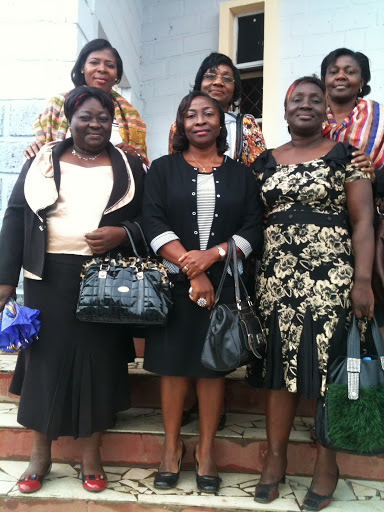 Back Row: Sophina ARREY, Judith GOBINA,& Gloria Ntuba JUA Front Row: Christiana MOKOSA, Dorcas MONJIMBO & Lucy AYUK, aka "Femme Noire"! WAY TO GO,LADIES!
ExSSA-UK MIDLANDERS IN PARMA, ESPAÑA!!! April 24 - 26 2015 PLEASE CLICK ON IMAGE TO VIEW MINI ALBUM PLEASE CLICK ON IMAGE TO VIEW ALBUM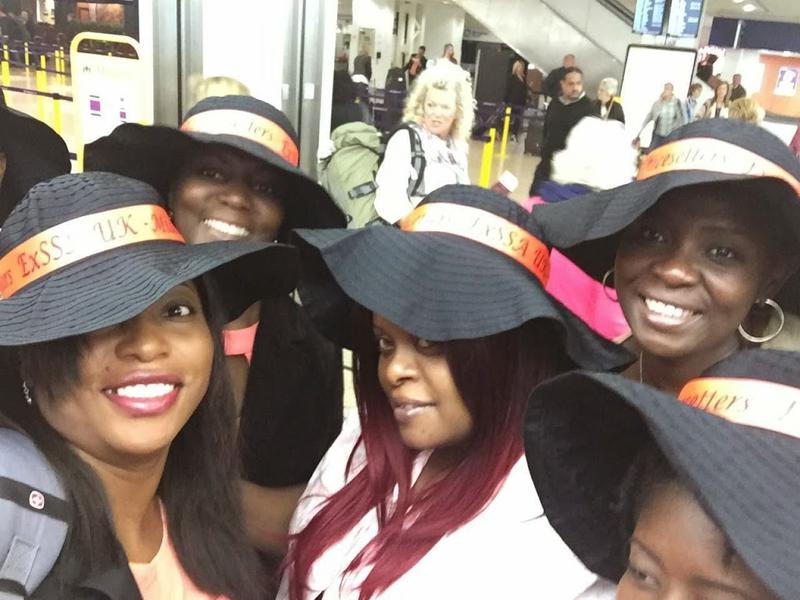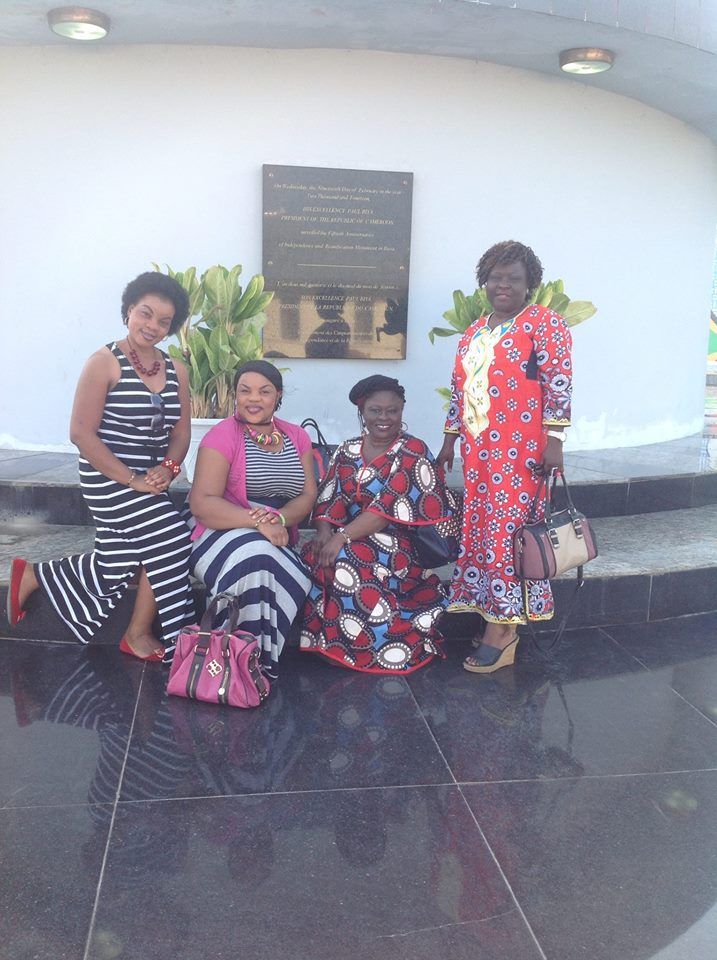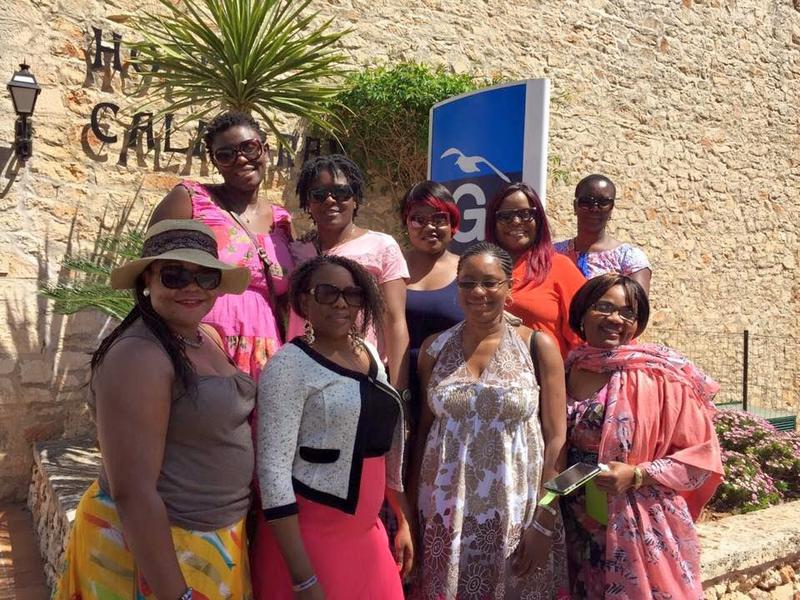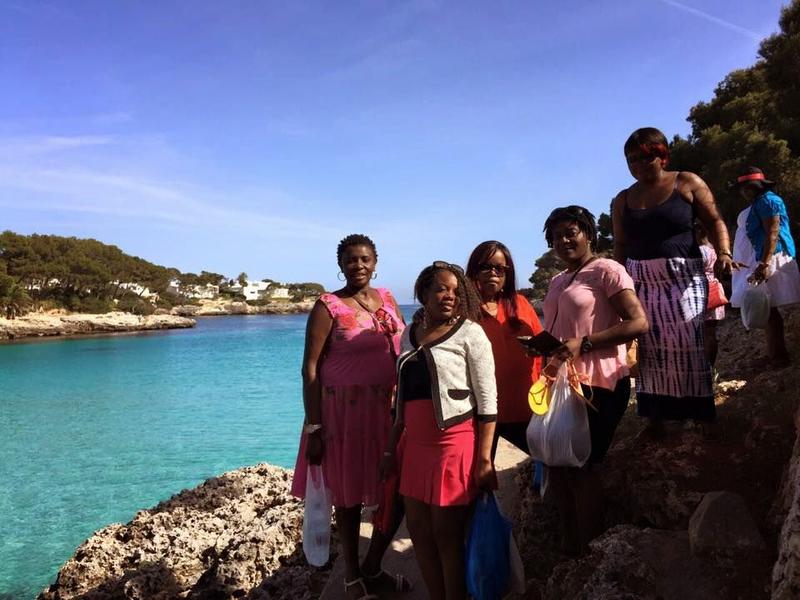 ExSSA-DALLAS MAKES MA BINDER'S MOTHER'S DAY SPECIAL, & YOU DON'T HAVE TO GUESS WHETHER OR NOT SHE WAS THRILLED! READ FOR YOURSELF - IN HER OWN HAND WRITING!!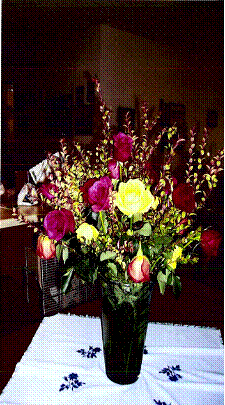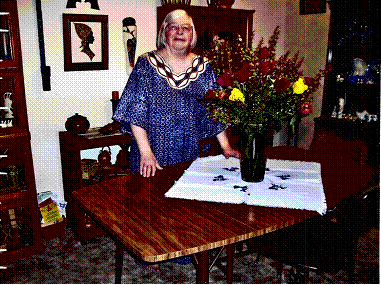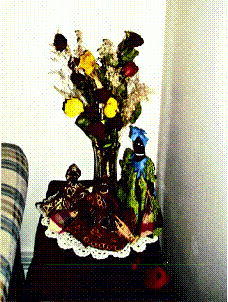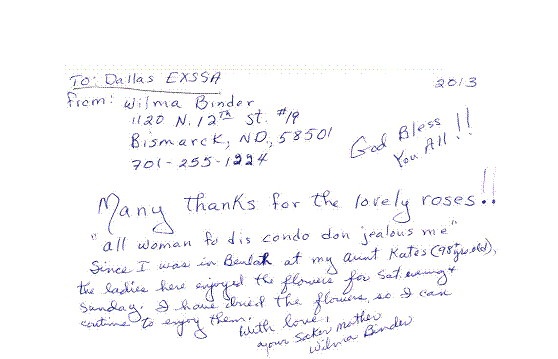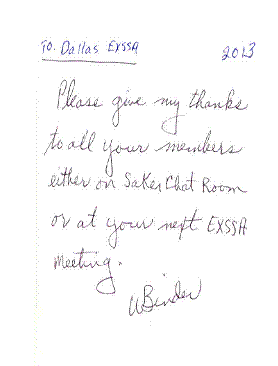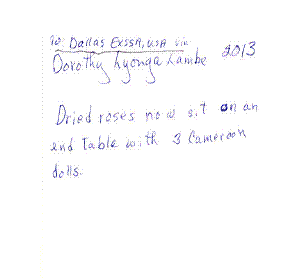 NEVER HAS "LEBBING" LOOKED SO GLAMOROUS & ENTICING ... ExSSA-HOUSTON'S FEBRUARY 2015 MEETING!!!
PLEASE CLICK ON IMAGE TO VIEW SLIDESHOW
PLEASE CLICK ON IMAGE TO VIEW ALBUM
Well, Well, Well! A handful of ExSSA-HOUSTON's TREND SETTERS missed their February 2015 Meeting to which a Professional photographer was invited to take "official" pictures of the group! As can be expected, when the pictures showed up, (SEE ALBUM ABOVE), the "LEBBERS" came close to melting from "LANGA" and when they could bear it no longer, they decided to "compensate" - in a MIGHTY way! Here, in good sport, is what they came up with. LOL! AND NOW, HERE BELOW, IS THE PHOTOSHOP MAGIC WROUGHT BY THE PHOTOGRAPHER, TO BRING ALL THE TREND SETTERS TOGETHER IN ONE PICTURE. STUNNING, I'D SAY! CLASS OF 1978's GLADYS NKIRU UGWU CELEBRATED HER BIRTHDAY ON SATURDAY APRIL 4 2015 IN NEW JERSEY! PLEASE CLICK ON IMAGE TO VIEW ALBUM!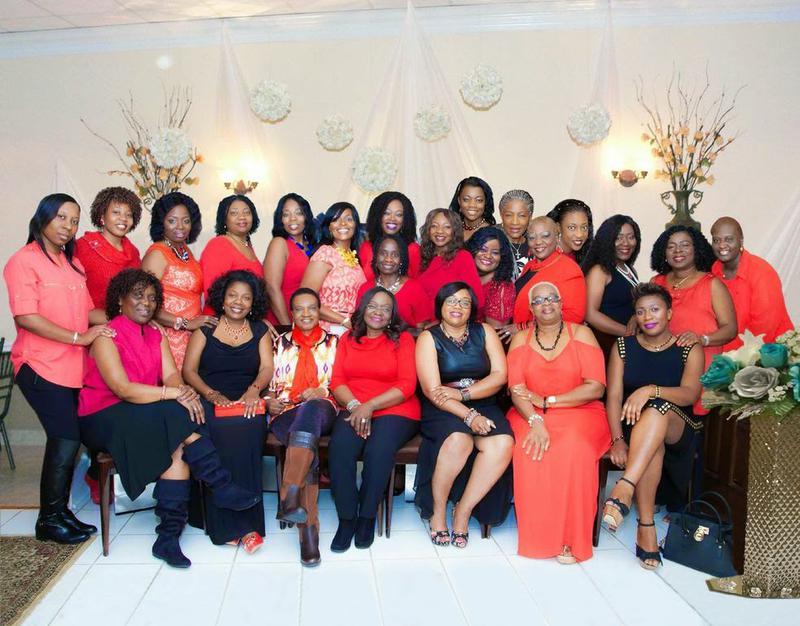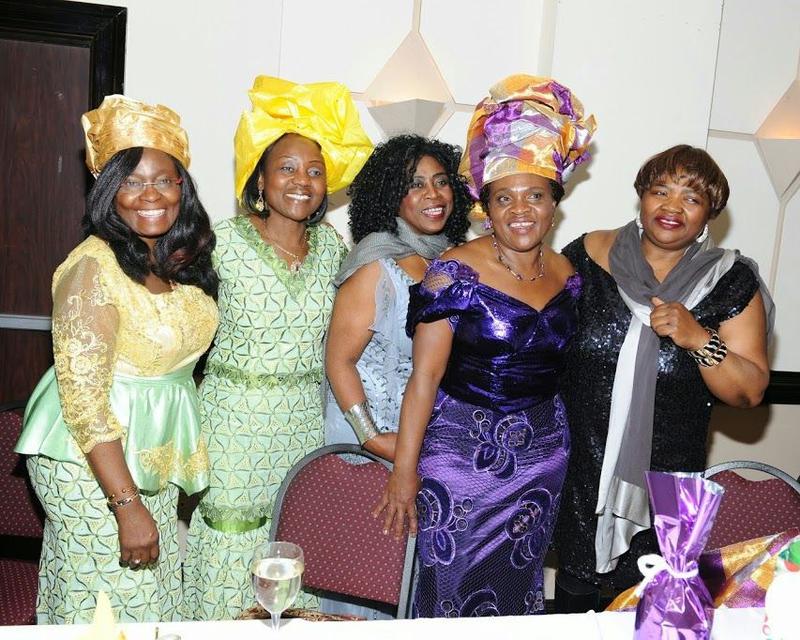 ExSSA-YAOUNDE'S FOUNDERS DAY 2015 OUTREACH AT SAKERETTE-OWNED QUEENSWAY INTERNATIONAL COLLEGE! ExSSA-YAOUNDE'S FIRST 2015 MEETING!!!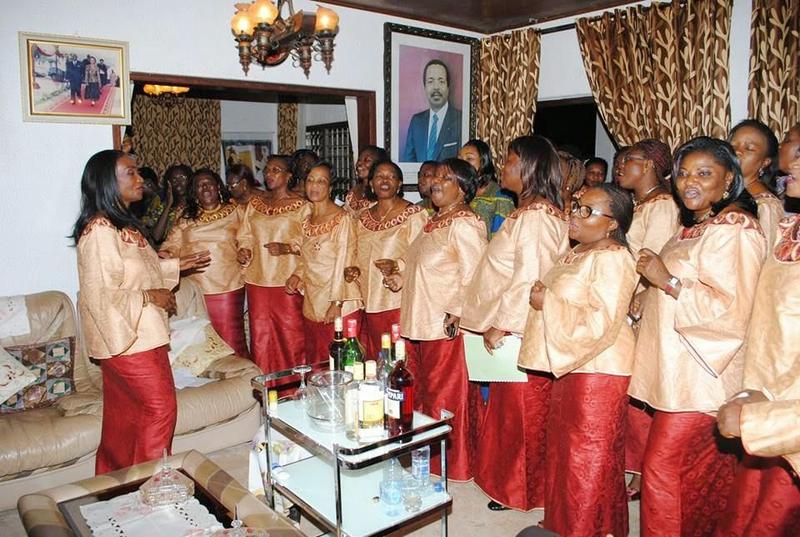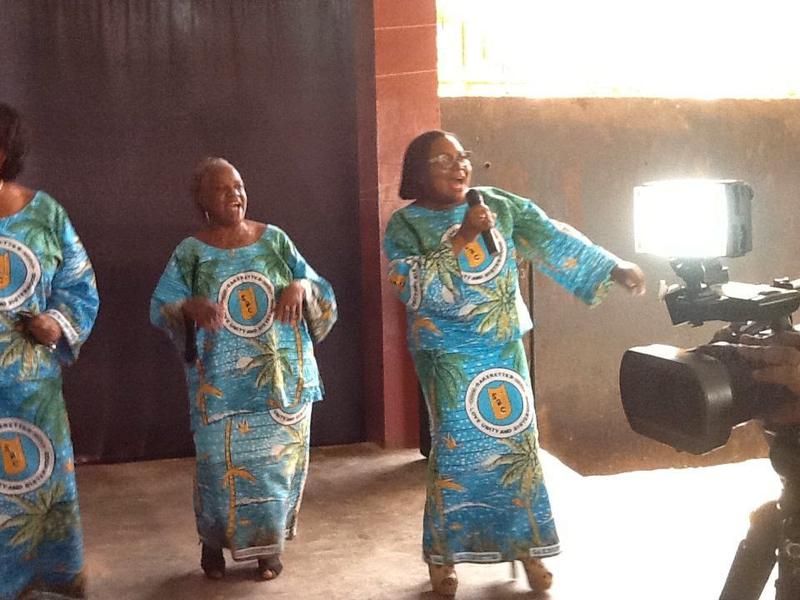 PLEASE CLICK ON IMAGE TO THE LEFT TO VIEW ALBUM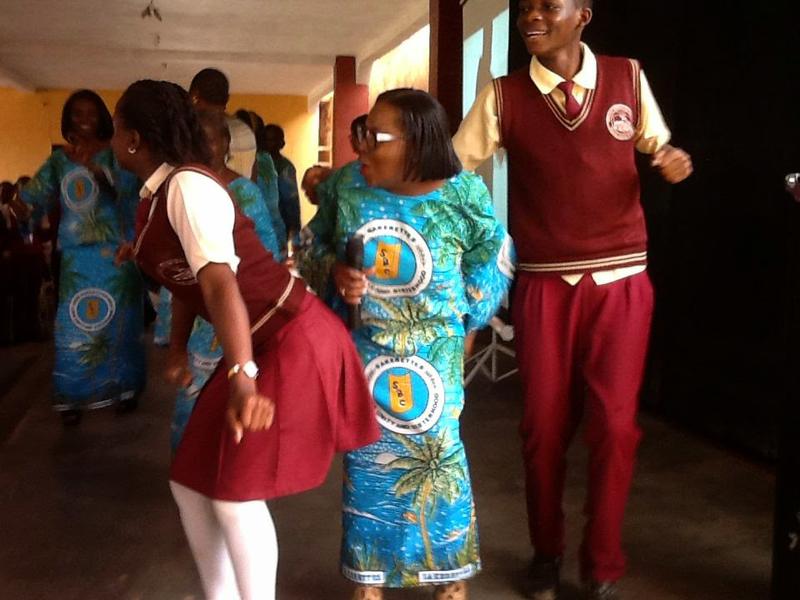 PLEASE CLICK ON IMAGE ABOVE TO VIEW ALBUM PLEASE CLICK ON IMAGE TO THE RIGHT TO VIEW VIDEO SNIPPET